How do you feel when you get asked to work as a group on an assessed piece of work? Are you filled with enthusiasm or a sudden sinking feeling? Our MSc Public Health cohort is an impressive mix of people. We are all different, ages, professions, and nationalities, with differing undergraduate degrees. Early on in the course we had an overnight field trip where we bonded over getting drenched in the Peak district, which helped us get to know each other and we are quite a friendly chatty group.
I started the MSc in Public Health after 15-years out of education: my distant memories of group work were vaguely negative, so, when we were given our first assignment for the Global Health Module as group presentation I didn't know what to expect. I was asked by three of my course mates to be the fourth person in their group. Our assignment brief was to choose a global public health challenge and give a twenty-minute presentation about it. I was really struggling to come up with a good idea but wanted to do something a bit out of the ordinary.
The first thing we did as a group was to set up a chat group on the social networking platform WhatsApp, so that we could start discussing possible topic choices. One person suggested looking at tuberculosis and another suggested looking at the link between depression in young people and social media. When the two of us without a suggestion then picked which we preferred, the problem was that still left us with a 50/50 split. We discussed flipping a coin, but instead we took both ideas to our course leader, hoping she would choose for us. After discussing each topic, she agreed that the topics were both good ideas and wished us luck with deciding. So, in pairs we then did a pitch of our preferred topic in the form of a quick essay plan. We found it easier to put together the outline-plan for the social media idea, so that's the one we picked.
One person naturally became team leader, I've heard of storming norming and performing, but we just seemed to get along from the start. Maybe it was because we had similar approaches to learning. The four of us are quite laid-back, which meant we were flexible and positive, but with interest in the topic and motivated to put together a good presentation; this helped as it meant we were all prepared to put the hours in. Being quite confident, I really enjoyed working with a team leader who listened and checked everyone was on the same page before making decisions, and as someone who is prone to putting my foot in it, I was pleased to find everyone was open to giving and receiving feedback. As a group we all had work or childcare commitments outside of the course, and long journeys in to campus; at one point we even got snowed off, so we had brainstorming sessions with only three of us but always kept the missing person in the loop via WhatsApp.
The team leader set up a spreadsheet for references, so we could each put in papers as we read them – this was useful, as we could easily go back later to find information. Each one of us managed to find something no one else had. Discovering an alarming lack of evidence of an actual causal link between social media and depression made the project more challenging.
We still had to try to adhere to the marking scheme whilst showing critical analysis of the data. Just to be sure that we were heading in the right direction, we got further feedback from our course leader. We then set up a Google Slides shared file, so we could all work on it at once, and divided up the number of slides and worked on one section each. We then discussed the order and moved items around, and wrote rough drafts of our scripts. The team leader also booked rooms, so we had time to practice the presentation together; for all four of us to be there we had to fit this in between lectures, an hour here and there. But this meant we could run through several times giving feedback on each other's script and getting our timing accurate, and just about have time to brainstorm possible questions from the audience.
When we came to give our presentation, we remembered almost all of our lines and finished on time. We congratulated each other and talked about how much we had enjoyed working together.  It got me thinking, for such a mix of people, is there something we all have in common that helped, or was it that we were able to "encourage an atmosphere of openness to diversity and new ideas" when working collaboratively together (Savin-Baden & Major, 2004, p. 77)?  Being able to work well in a team is an important skill not only in an academic environment but looking forward to our future career paths. It would be interesting to look further into the theory behind what makes working in groups productive and enjoyable, but for now there's another assignment waiting to be written.
Leave a comment
---
The first transition for me was moving from my home country, Nigeria, to England to study – it was very daunting to begin with. The initial decision to come to England to study for a Masters was very different from the decision I made to stay to further my studies and start a PhD. When I came to England to study for my Masters, I wanted to gain further skills and knowledge – the decision was based on the challenge to get better academically, and in turn to inform my future career path. The decision to further my education and embark on a PhD was based on the skills and knowledge I had acquired during my Masters degree. The wide range of resources available to students to make learning convenient at the University of Salford was beyond expectations. As a postgraduate student, I had unlimited access to an extensive range of books, e-books, journal articles, and government publications to help me study, as well as request for articles that are not licensed to the University.
The major influence in deciding to apply for a PhD was based on the final semester of my Masters programme, when I conducted a research study for my dissertation. The research study examined the associations between sitting at work and mental wellbeing. I loved the idea of looking into a problem and trying to find out as much as I could about it, and looking into something that there was little previous research on. That's the joy of being a researcher (although it is not always as simple as it sounds!).
The progression from a postgraduate taught degree to a postgraduate research degree is a big step in one's education, because the doctorate degree is seen as the highest level of educational achievement. The move from a 'regimented and structured' life of a taught programme to the 'unstructured' life of a PhD can be scary. This is because the structure of deadlines and assignment submissions is no longer there – you have to carefully plan your own time and set your own targets. It can be quite overwhelming at times, sitting in an office every day of the week, rather than attending classes for two to four hours every day. I am in an office with other PhD students, many of whom are working in studies that are not related to my field – this can make the PhD journey lonely at times, but also interesting because I get to learn about things outside of my own area of research.
When I started my PhD, all of a sudden I was exposed to all these opportunities and changes. The PhD involves independent research and that means a lot of input from me as a researcher – like I said, it can be quite scary if you face it all alone. The University has provided various workshops and study skills sessions to help me adapt to the system, without feeling too overwhelmed! Also, there is an allocated staff member to stand in as a personal tutor to help discuss any issues that may affect one's studies. I have made use of these resources and intend to keep making use of them. So far so good, it's been an interesting journey and I hope it will get even better!
In the first year of Abolanle's PhD, she has had the work from her Masters study accepted at the International Conference on Ambulatory Monitoring of Physical Activity and Movement (see poster), and has recently submitted work from her first PhD study to the International Society for Physical Activity and Health Congress.
Leave a comment
---
As part of the extended induction programme, the MSc Public Health students took part in a two-day field trip that was designed to provide an immersive experience for students to orientate towards the discipline (with a real word example of a past public health situation), get to know each other, form friendship groups, and begin to work in teams.
Students learned about the control of an infectious disease in history, and one village's unique approach to dealing with the plague crisis. This was designed to enable students to learn lessons that can be applied to infectious disease today.
The field trip took us to Eyam, a small village in the Derbyshire Dales within the Peak District. In 1665, the village experienced an outbreak of the bubonic plague, and the villagers chose to isolate themselves to prevent the spread of infection. During the outbreak, 260 villagers died (double the rate of those who died in London from the bubonic plague).
On day one, the students took part in a guided transect walk around the village to learn about the history of the village, some of the key places, and the decisions that were made during the outbreak of the bubonic plague. The great British weather made this a very wet two hours, but a few hardy souls made it to the boundary stone, and we all learned a lot along the way about how the village dealt with the situation.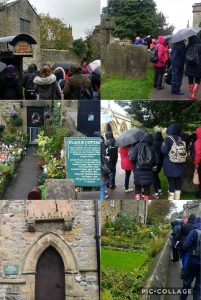 'This event has brought public health to life in terms of location of historical plague being very real with houses in the village, the well etc."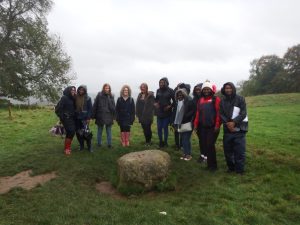 Upon warming up with cuppa soup, teas, and coffees back at the Youth Hostel, the students started completing more detailed maps in groups to present to the judges (the lecturing staff), and provide their overview of the village based on the transect walk. As you can see the judging was intense!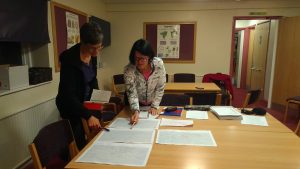 The final activity of day one involved an outbreak game: could our students and staff survive being infected by those who were the source of the outbreak? Our very own Margaret Coffey was infected twice, but was deemed allowed to stay in the Youth Hostel, once the class had worked out who were the sources of the outbreak, and how it had spread around to those infected.
'The outbreak activity was a lot of fun! It helped us understand how infections spread and the concept of having carriers who come into contact with a specific infection but do not get sick'
On the second day, those who were unable to join us, and were based back at the University, carried out similar activities to those who were in Eyam. The students were split into groups to create a presentation related to either: the data and risk factors related to the plague outbreak in Eyam; or the modern spread of the plague, looking at Madagascar as a current case-study. Having a student from Madagascar on the trip with us really brought this work home for everyone, with their explanation of some of the measures that were currently in place.
'The group work on the Plague worked very well, especially presenting in the order that we did – historical plague to current issues re: global plague. Definitely a learning experience'.
Finally, we finished off with a trip to the local museum to round up all the learning before people headed back to Salford on the coach. Despite the weather, we all had a great time getting to know each other, learning about Eyam, and thinking about how this relates to modern Public Health.
'I feel like I know more people and am more relaxed around them'.
'It has helped us get together. I think we will work together more effectively'.
The trip received overwhelmingly positive feedback, with 68% reported their experience on the trip as 'excellent' and 26% as 'good'. Participants especially valued the chance to get to know each other.
'I feel more confident now about my MSc programme and want to give my best in order to succeed'
'I believe I am 100% ready to study this course. I have developed a better understanding and a new love for it. I know it's going to be an enjoyable course. Looking forward to it'
We hope you will be able to join the MSc Public Health course in the future and come with us to learn more about the history of public health, and experience some of the English countryside. You even get to stay in a mini castle for a night that is owned by the Youth Hostel Association.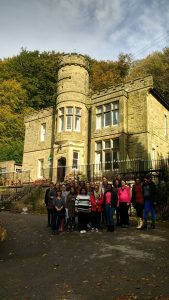 Leave a comment
---
This blog post is written by four of our current MSc Students – Aneela Khanum, Cynthia Poolay Mootien, Gloria Serwah Asare & Ella Train
The public health conference on 'social prescribing, social movements, shaping attitudes and behaviours' organised by the Salford Professional Development team and the University of Salford, was chaired by Professor Penny Cook, and centred around finding innovative and alternative ways to treat and care for patients outside of healthcare settings.
Chris Easton, from Tameside Hospital NHS Foundation Trust, opened the talk by discussing the implementation of a system wide approach to self-care. He stressed the need to change the public's perception and behaviour towards clinicians and hospitals, and for more instituitional integration, which will only be successful if both the health and social needs of patients are considered. He also pointed out that more emphasis should be placed on stimulating a fundamental paradigm shift between the people and their communities, as well as the healthcare system. The issues brought up by Chris showed an interesting perspective of the healthcare system that challenges clinical pathways to have self-management at their core, and would encourage doctors to take a more holistic approach when treating their patients.
Alan Higgins, Director of Public Health, Oldham Council, discussed the importance of health as a social movement to empower patients and citizens, strengthen communities, improve health and wellbeing, and eventually moderate the rising demands on the NHS. Another speaker at the event was Siobhan Farmer, a Public Health Consultant for Salford City Council, who talked about the importance of influencing population health by focusing on education in early years, including more person-centred approaches to health and lifestyle behaviours. She further explained the role of Salford City council in health and social care, which gave us further insight on the many health inequalities present in Salford.
The event was also a great networking opportunity, where we met many professionals from various fields in the public health sector. We had the privilege of talking to Professor John Middleton, President of the UK Faculty of Public Health, following his inspiring talk about encouraging an asset-based approach to improving health and wellbeing through social prescribing. The various other speakers at the conference also advocated for a change in the healthcare system, with a more comprehensive community-centred approach, where social prescribing could help change and shape attitudes and behaviours towards health and wellbeing.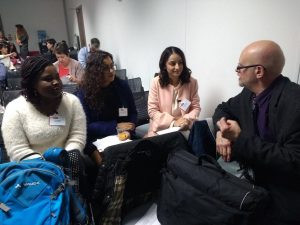 The conference ended with a highly inspirational presentation by Chrissie Wellington, Global Lead for Health and Wellbeing Parkrun, and Doctor Simon Tobin a General Practitioner with strong ties to Parkrun, who both stressed the benefits of exercise and outdoor activities for better health. Dr. Tobin emphasised the need for doctors to take a more social approach to improving patients' healthcare, instead of over-diagnosing and overprescribing without first exploring the hopes, wishes and needs of the patients. The conference concluded with a challenging note, to not only change other people's attitudes and behaviours towards healthcare, but to also change our own stance on health and social prescribing, for better health and wellbeing in the long-term.
The conference was a wonderful opportunity, to meet public health professionals and academics, as well as be part of an informative forum with many speakers from various fields in public health. Our sincere thanks go to Professor Penny Cook, Dr. Margaret Coffey, Dr. Anna Cooper-Ryan, and Alex Clarke-Cornwell for organising and promoting a very thought-provoking and worthwhile conference.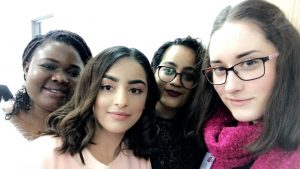 Leave a comment
---
With its numerous and diverse cultures, Winston Churchill wrote "Uganda is truly the Pearl of Africa" and went on to say "The Kingdom of Uganda is a fairy tale. The scenery is different, the climate is different and most of all, the people are different from anything elsewhere to be seen in the whole range of Africa….what message I bring back…concentrate on Uganda". Over one hundred years later this is still true, and Uganda, relatively untouched by tourism, retains a taste of Authentic Africa.
The University of Salford has been working with charity Teams4U for over eight years. Recently, the University's partnership with Teams4U has been developed to allow students to gain hands-on experience of delivering a public health intervention programme in rural Uganda, learning how to break down cultural barriers and to communicate with the people they serve in order to make the programme a success. Students on our BSc Public Health and Health Promotion course have the opportunity to take a subsidised ten day trip to Uganda (the student pays £200 towards the cost).
The Teams4U Uganda programme is the brainchild of honorary Salford graduate Dr Dave Cooke, who wondered if physical activity could help primary school children to achieve better results at school. Since it began, the programme has evolved and changed to tackle some of the underlying issues that lock communities in a cycle of poverty.
Small changes make a big difference
The experience of handing a football to a child that has never touched a ball is something that is difficult to describe. Before the programme began, children in rural primary schools in the Kumi district of Uganda didn't have PE lessons; with class sizes at over 100 children per teacher, finding an activity that they could all take part in was difficult. To make matters worse, the budget for most schools is just £1.50 per child for the whole year, meaning they can't afford basic sports equipment like footballs. Often the schools aren't funded at all – the money just 'disappears'.
The concept of the programme is simple, but the impact on the children is profound – headteachers have even said they felt inspired to change the way they teach as a result. However, this is where students can get involved in vital research, as many questions still need answering: does the experience of the teachers of the programme change their attitudes to physical activity? Does the donation of balls for football, netball and other activities have an impact on physical activity and sports in the schools?
Breaking the cycle of poverty
The programme also revealed other barriers to education that children in the community face. While both girls and boys are often kept off school to help out at home or work in the fields, girls in particular are not always encouraged to attend school. To add to this, we found that a big problem keeping girls from school was the lack of feminine hygiene products and limited access to water, meaning that they were missing up to a quarter of their schooling.
Keen to break the cycle of poverty where children drop out of school, girls have babies very young and have large families that they can't support, the team set up two separate programmes to tackle these issues. The first, 'Develop with Dignity', provides washable pads for girls to use, meaning they now feel comfortable going to school on their period. Secondly, we organised educational sessions with parents, children and community leaders to discuss the importance of staying in school.
Again, research is needed to understand exactly how these interventions work: does the intervention increase school attendance, for girls in particular? Are parents and the community more aware of the importance of education?
Join a trip to Uganda
You can join in and help run the sports and Develop with Dignity programmes. If you come as part of the BSc Public Health and Health Promotion, you can also help us do research to evaluate the programme.
Our volunteers often find that while they go to Uganda with the intention of serving, they end up gaining more than they give: the experience of sharing time with children who get so much joy from the simple gift of your time and attention.
Find out more
Watch this video about the University of Salford's public health and health promotion opportunities in Uganda
To find out more about the other public health and health promotion work that the University of Salford and Teams4U have carried out in Uganda, go to our related blog posts
Find out more about Teams4U and Develop with Dignity
Leave a comment
---
John's PhD research: wellbeing at work
Realistic workloads, supportive managers, fairness, and a bit of recognition for good work: are things like this too much to ask for employees? I've always been interested in work psychology, even before I knew it was possible to study it; after all, who wouldn't be interested in making work better and less 'stressful'? Despite recommendations from the National Institute for Health and Care Excellence that preventative interventions (strategies that target potentially stressful working conditions rather than employees' ability to cope with them) should be prioritised, there is relatively little research of this type. Many years later, and having just completed my PhD looking at how employers might improve work for employees, and I'm probably a bit more realistic about how challenging that can be!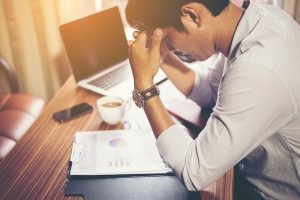 Who wouldn't be interested in making work better and less 'stressful'?
Can we make work better?
I was initially surprised when I started my research that the evidence for methods of improving work for employees and supporting their psychological health and well-being was rather mixed; some studies reported reasonable results, but many seemed to suggest they didn't do any good at all. I soon found that this is in part because preventative approaches are usually very complex and involve lots of people and decisions, as well as relying on effective implementation. On top of that, there are likely to be many contextual and practical factors that can influence the process: unexpected events, organisational changes, limited resources, and even cynical employees, have the potential to derail even the most careful plans. So my initial focus on whether or not preventative approaches were effective quickly shifted to look at why even the most well-intentioned efforts can lead to disappointing results. My research aimed to add to our understanding of the factors that can derail them and learn lessons that can help with future efforts.
It's certainly not all bad news, because there are things that employers can do to improve things, they just need to be aware of some of the pitfalls and get the planning and implementation right. For example, ensuring that employees have a say in identifying what aspects of the workplace should be prioritised, rather than senior managers deciding what's best for them. Then there are seemingly obvious things – that are often forgotten – which can make a huge difference: communication, and follow-up. If you're going to start a project to improve your workplace, it is vital to keep employees up to date on plans and progress, and that any promises are followed-up – fail to do that and employees might see yet another 'well-being initiative' introduced with great fanfare before it silently disappears under layers of new priorities. Is it any wonder employees might be cynical at times? There's no one-size-fits-all solution, it's incredibly complex, but thankfully the evidence suggests there are things that can be done.
Research in the 'real world'
It can also be challenging to conduct research in organisations – although well worth doing – because, let's face it, they are not there for the benefit of researchers. They naturally have their own priorities. For example, in my research, the organisation I worked with were supportive of my work and very keen to take action to improve things for their employees. However, because they were severely hampered by substantial cuts to their budget during my PhD project it meant large-scale restructuring was required, making it very difficult for them to fulfil all their original plans. As a researcher this was hugely frustrating, particularly as I had to complete my work within a set timescale, but it was obvious the organisation was being stretched and doing their best under very difficult circumstances. As a result, things didn't happen when they were supposed to, or didn't happen at all in some cases; welcome to the 'real' world of research! However, it taught me so much and it is probably a better piece of work because of some of these challenges, to be honest. There were also some positive outcomes (and plenty of lessons) for the organisation to use as they continue with their work to support employee well-being. And, as I graduated at The Lowry on the 18th July 2017, and having progressed to a lecturing post at Staffordshire University, I was able to look back with so much pride and wonder how on earth I got there!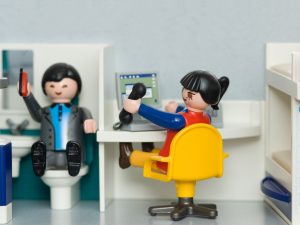 The organisation was very keen to take action to improve things for their employees
Why the Lindsey Dugdill award is so special
The graduation was made all the more special by receiving the Professor Lindsey Dugdill award for my PhD thesis. Knowing how much Lindsey meant to her many friends at Salford, it's quite hard to adequately express how much more this award means as a result. I was fortunate to meet Lindsey during my PhD, but I'd like to finish with an experience that took place several years previously when I submitted a proposal for a different PhD to the university. I had lots and lots of questions, and I was advised to contact Lindsey as the proposal was in her field. She was incredibly generous with her time and advice – spending her own time talking through my ideas and giving feedback. It is worth emphasising that this is despite Lindsey not being involved in the project, and had never even met me before – I was just a potential student with an interest in Lindsey's field of expertise (or one of them!). It would be a better story if my application had been successful but circumstances at the university meant the funding was unavailable – Lindsey still got in touch with some encouragement. I cannot tell you how much I appreciated the time and trouble she took to help someone she didn't even know, and I was delighted to be able to tell her in person when I actually joined the University a couple of years ago. Having met Lindsey, and having worked alongside so many of her close friends in Public Health and Psychology, I know this sort of support and encouragement was not a one off, which says it all really. A lovely person.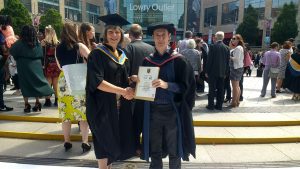 John Hudson receives his award from Dean of Health Sciences Kay Hack
By John Hudson
Leave a comment
---
If you're interested in studying MSc Public Health  at the University of Salford, join us on Facebook on Wednesday 12 July to see our live interview with the Programme Leads and Admissions Tutor from our MSc Public Health course. Dr Anna Cooper and Dr Margaret Coffey will answer questions about the course, the modules you will study and how it could help with your career.
For a limited time we are also offering two students the opportunity to receive a 50% reduction in the course fees for the MSc Public Health (closing date Monday 7th August). You can find out more about this on our website
The Facebook Live session starts at 3.00pm (GMT) on Wednesday 12 July, simply join our Facebook page and watch. If you aren't able to join us, the session will be recorded for you to watch at a time that suits you.
Leave a comment
---
James is a researcher with experience using both qualitative and quantitative research methods and an understanding of the social determinants of health, particularly the role of work and how the psychosocial work environment impacts on employees' mental and physical health and wellbeing.
His PhD explored the impact of working in a social enterprise on employee health and wellbeing through the lens of 'good' work, culminating in the development of an empirically informed conceptual model that illustrates how working in a social enterprise may lead to improved health and wellbeing outcomes.
Following the completion of his PhD, he secured the role of Researcher at the Work Foundation, a think-tank based in London, which is dedicated to promoting the concept of 'good' work and its benefits for employees and employers alike. Drawing on the knowledge and research skills acquired through his PhD, he is, primarily, focused on developing evidence-based policy recommendations relating to the health and wellbeing at work agenda. Recent projects include: overseeing the development of an 'early intervention toolkit' designed to make the case, using the example of musculoskeletal conditions, for the implementation of early intervention services across the European Union; and a service evaluation of a newly-formed early intervention clinic, based in Leeds, which aims to get people signed-off work with a musculoskeletal condition back to work as soon as possible. To read more about this see – http://earlyinterventiontoolkit.com
About James
James was awarded a BA (Hons) in History and Politics from Keele University in 2008 and an MA in Political Economy from the University of Manchester in 2010. His MA dissertation explored the relationship between income inequality and health, which focused his interest on the areas of public health and health inequalities. Prior to starting a PhD in Public Health at the University of Salford, James conducted a literature review for the university in 2011 on the impact of working for a social enterprise on employee health and wellbeing – this project served as a platform for his PhD research.
Twitter – @jbchandler
Details of James's PhD
His PhD explored the experience of working for a social enterprise – an organisation with social aims that uses profits for that purpose – and whether these organisations provide good quality work conducive to employee health and wellbeing. Using a mixed-methods approach, comprising (i) a mapping study that identified social enterprises active in the Greater Manchester region, (ii) semi-structured qualitative interviews, and (iii) a survey completed by social enterprise employees across the region, the research finds that social enterprises provide good quality work environments conducive to employee health and wellbeing – furthermore, when compared to a national sample of individuals working in non-social enterprise organisations, social enterprise employees report significantly higher levels of control over their work, support at work, job satisfaction and job-related wellbeing.
Leave a comment
---
By Penny Cook
Team work
The Teams4U motto is 'real people making a real difference', and one of the aims of the programme is to give the volunteers a life-changing experience. Some of the volunteers already knew each other and have done this trip before; others, like me, are new. It is amazing how quickly everyone has bonded and started to work as a real team. See my previous post for more information about the interventions. The games that we play with the children during the morning continue to be enormous fun, both for the volunteers and the children. The 'Develop with dignity' element has been refined and developed as we go along. The team members that deliver this element include a doctor, a nurse, a teacher as well as me. The final team member is a social worker from the local area. Fortuitously between us we have a combination of relevant skills, knowledge and experience.
Training the teachers
On day three, our usual format of our day was to be extended–after the main school programme, we went to a different school where we delivered a training session to all the senior female Primary 6 teachers in the district. The Head of Education in the district is a big supporter of the programme, and has strongly encouraged the teachers to come and facilitated their journey to the school where the training is to take place. P6 children are the target of the intervention–they can range in age from 12 up to 17 (because those who do not pass their exams do not move up to the next class). Whilst this was going on, other Team4U members did games, stories and face painting with the school children.
For the train the trainer session we decided to give an overview of our aims and then present the same material as we present to the children to the teachers, so that they could see exactly how we delivered the intervention. It seemed to go well and was enjoyable from my perspective. At the end we asked the teachers for their views and feedback. We had a long discussion about the other contexts of the child's life, and how for some children there is a lack of encouragement to go to school. Some are given no money to buy the necessary equipment, many have no food for the middle of the day. Teachers commented that some children were spending the time away from school, with neither the school nor the parents knowing where they are. This potentially puts girls in situations where they are at risk of rape. Teachers often saw their school girls alone after dark–again this is risky. The teachers felt that we needed an intervention for parents, a suggestion that we agreed to take back for consideration. We had a long discussion about whether the intervention was aimed at the right age, and while there was a feeling that some children at that age were innocent (and it was tempting to ask why they needed to know about sex and condoms), there was general acceptance that children of this age can and do get pregnant. We heard a shocking story of a 9 year old girl who had given birth recently.
Mud huts
On the way home we stopped and visited one of the little mud hut settlements in a very rural area. A father showed us around. He allowed us to see into each hut: the smallest was where there was a simple fireplace made of stones on the floor. The cook pot rests upon stones, and the smoke is chokingly thick. Three children were in one of the other huts and the father had his own hut. His wife and baby slept in a different hut.
Day four and a Ministerial visit
The Games in the morning were great–the smile and excitement on the girls' faces when they had a ball in their hands was just a picture, and it is so hard to put into words the satisfaction that we get from doing this. It seems to be reciprocated! The headmaster of today's school made a special effort to tell us how important this visit was for him and the school, and a senior teacher told us that they will be adopting the games to play with the children every Monday from now on. I loved the pink uniforms in this school!
In this school many children received a school lunch, for which the parents have to make a modest payment. We learned that in some schools parents do not pay for lunches, and nor do they send food from home. School days are from 8am until 5pm in Uganda, which is a long time to go without food.
Other Team activities proceded as usual including the HIV counselling and testing. We have tested hundreds of people this week, both school children and their parents, and it is really good to be able to report that we have found very few people with HIV. About 7% of adults are estimated to be living with HIV in Uganda. Substantial progress has been made with testing and treating HIV, so that between the years of 2005 and 2013 the number of Aids-related deaths dropped by 19%.
In the afternoon were were honoured with a visit from Vaughan Gethin (Cabinet Secretary for Health, Wellbeing and Sport, Welsh Government) and Jon Townley (from Wales for Africa).  They were able to see Teams4U at their best, with an action-packed afternoon of HIV/AIDS & TB testing, Reproductive & Sexual Health Education, our Develop with Dignity programme; and of course, the smiles of hundreds of children having enormous fun with our enthusiastic volunteers!
2 Comments
---
By Penny Cook
I have been given the amazing opportunity to take part in some practical public health interventions in rural Uganda, with Teams4U, an organisation with many years' experience of work with poverty. My aim is to get some insight so that I can plan trips in the future for University of Salford's public health students.
Day one
Our journey here from Kampala had taken us 5 hours, during which we had glimpsed some of the poverty that is a reality of everyday life in rural Uganda: the roads were dirt tracks; people were pumping and carrying their water; children were dressed in rags; homes were shacks with little in the way of a decent roof.
Day one of the field-work happens to be Sunday. On Saturday night, the leader of our team of volunteers discovered that we were expected to be at a local Church for the 7am service. Thus, at 5.45am we were up, ready to set off at 6.30am. We learned that no practical intervention in the community can happen around here without the involvement of the church–it is the hub of the community, and it serves as a means to spread practical messages to the local people. The priest will be working with us all week in the various schools that we will be visiting. The church service lasted 2 hours, during which we had to get up at the front and introduce ourselves to a few hundred people. It was through the church that the community had been told about our visit, and invited to one of the local schools for a day of fun and activities.
Games
By 10am we were at the school. Being a Sunday, we were uncertain of how many people would turn up. In a very well organised operation we started to play team games with the children. There were hundreds. We did the games with batches of 8 children (for each of the 14 team members). We did this 3 times–first with some smaller boys (aged 5 to 12), then with girls (9-14) and then with some older boys (10-16). The games all involved running up and down, sometimes with a ball. They varied in each set, depending on age and gender; for example, games were more complicated for the older ones, and we had been warned that girls often did not own underwear, so we did not do any games involving somersaults. We were on the field without a break for nearly two hours, in the heat: absolutely exhausting but really good fun.
The games served as a draw to the local community, and while the fun was going on, adults were being tested for HIV, and if needed, able to obtain antiviral drugs straight away. We now also had the opportunity to do some basic health interventions with the children, after the games were over.
'Develop with dignity' intervention
Sanitation is very poor at this school. There is no water and open pit latrines. Once the girls have started their monthly menstrual periods, the lack of facilities, and lack of any means to manage their periods causes them to leave school for a few days each month. Girls typically manage their period using rags to absorb the blood. Fear of soiling clothing and embarrassment keep them away from school, causing them to miss up to quarter of their education. The aim of our intervention was to explain some basic facts about puberty, sex and management of menstruation. The highlight of the intervention is when we supply the girls with their own pack of re-usable, washable 'Afripads', and knickers to hold the pads in place. We also had a sack of  donated bras, which the girls were absolutely delighted with!
As we left the school, children squabbled over our empty water bottles, which appeared to be a much sought after prize, reminding us how much we have and how much we take for granted. When we saw small groups of children we were able hand out little toys and gifts.
See the next blog post on my Uganda trip here.‎
3 Comments
---