14 September 2017
John's PhD research: wellbeing at work
Realistic workloads, supportive managers, fairness, and a bit of recognition for good work: are things like this too much to ask for employees? I've always been interested in work psychology, even before I knew it was possible to study it; after all, who wouldn't be interested in making work better and less 'stressful'? Despite recommendations from the National Institute for Health and Care Excellence that preventative interventions (strategies that target potentially stressful working conditions rather than employees' ability to cope with them) should be prioritised, there is relatively little research of this type. Many years later, and having just completed my PhD looking at how employers might improve work for employees, and I'm probably a bit more realistic about how challenging that can be!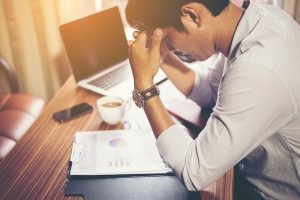 Who wouldn't be interested in making work better and less 'stressful'?
Can we make work better?
I was initially surprised when I started my research that the evidence for methods of improving work for employees and supporting their psychological health and well-being was rather mixed; some studies reported reasonable results, but many seemed to suggest they didn't do any good at all. I soon found that this is in part because preventative approaches are usually very complex and involve lots of people and decisions, as well as relying on effective implementation. On top of that, there are likely to be many contextual and practical factors that can influence the process: unexpected events, organisational changes, limited resources, and even cynical employees, have the potential to derail even the most careful plans. So my initial focus on whether or not preventative approaches were effective quickly shifted to look at why even the most well-intentioned efforts can lead to disappointing results. My research aimed to add to our understanding of the factors that can derail them and learn lessons that can help with future efforts.
It's certainly not all bad news, because there are things that employers can do to improve things, they just need to be aware of some of the pitfalls and get the planning and implementation right. For example, ensuring that employees have a say in identifying what aspects of the workplace should be prioritised, rather than senior managers deciding what's best for them. Then there are seemingly obvious things – that are often forgotten – which can make a huge difference: communication, and follow-up. If you're going to start a project to improve your workplace, it is vital to keep employees up to date on plans and progress, and that any promises are followed-up – fail to do that and employees might see yet another 'well-being initiative' introduced with great fanfare before it silently disappears under layers of new priorities. Is it any wonder employees might be cynical at times? There's no one-size-fits-all solution, it's incredibly complex, but thankfully the evidence suggests there are things that can be done.
Research in the 'real world'
It can also be challenging to conduct research in organisations – although well worth doing – because, let's face it, they are not there for the benefit of researchers. They naturally have their own priorities. For example, in my research, the organisation I worked with were supportive of my work and very keen to take action to improve things for their employees. However, because they were severely hampered by substantial cuts to their budget during my PhD project it meant large-scale restructuring was required, making it very difficult for them to fulfil all their original plans. As a researcher this was hugely frustrating, particularly as I had to complete my work within a set timescale, but it was obvious the organisation was being stretched and doing their best under very difficult circumstances. As a result, things didn't happen when they were supposed to, or didn't happen at all in some cases; welcome to the 'real' world of research! However, it taught me so much and it is probably a better piece of work because of some of these challenges, to be honest. There were also some positive outcomes (and plenty of lessons) for the organisation to use as they continue with their work to support employee well-being. And, as I graduated at The Lowry on the 18th July 2017, and having progressed to a lecturing post at Staffordshire University, I was able to look back with so much pride and wonder how on earth I got there!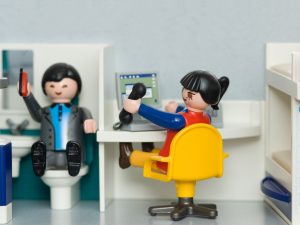 The organisation was very keen to take action to improve things for their employees
Why the Lindsey Dugdill award is so special
The graduation was made all the more special by receiving the Professor Lindsey Dugdill award for my PhD thesis. Knowing how much Lindsey meant to her many friends at Salford, it's quite hard to adequately express how much more this award means as a result. I was fortunate to meet Lindsey during my PhD, but I'd like to finish with an experience that took place several years previously when I submitted a proposal for a different PhD to the university. I had lots and lots of questions, and I was advised to contact Lindsey as the proposal was in her field. She was incredibly generous with her time and advice – spending her own time talking through my ideas and giving feedback. It is worth emphasising that this is despite Lindsey not being involved in the project, and had never even met me before – I was just a potential student with an interest in Lindsey's field of expertise (or one of them!). It would be a better story if my application had been successful but circumstances at the university meant the funding was unavailable – Lindsey still got in touch with some encouragement. I cannot tell you how much I appreciated the time and trouble she took to help someone she didn't even know, and I was delighted to be able to tell her in person when I actually joined the University a couple of years ago. Having met Lindsey, and having worked alongside so many of her close friends in Public Health and Psychology, I know this sort of support and encouragement was not a one off, which says it all really. A lovely person.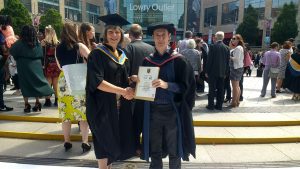 John Hudson receives his award from Dean of Health Sciences Kay Hack
By John Hudson