22 November 2022
By Umm E Arbab
Hello everyone! My Name is Umm E Arbab, and I am currently studying MSc public health and I came from Pakistan. The main reason I took the important decision to study at the University of Salford was to explore studying internationally and to become a qualified professional, who can really make a difference to people's lives. When I arrived here I was honestly blown away by it. Coming to Salford was my big dream. I was scared because moving to new place is a daunting task and starting a new career is an exciting challenge. Being away from home can be difficult for international students. However, a good environment can help the student adjust to this new chapter of life.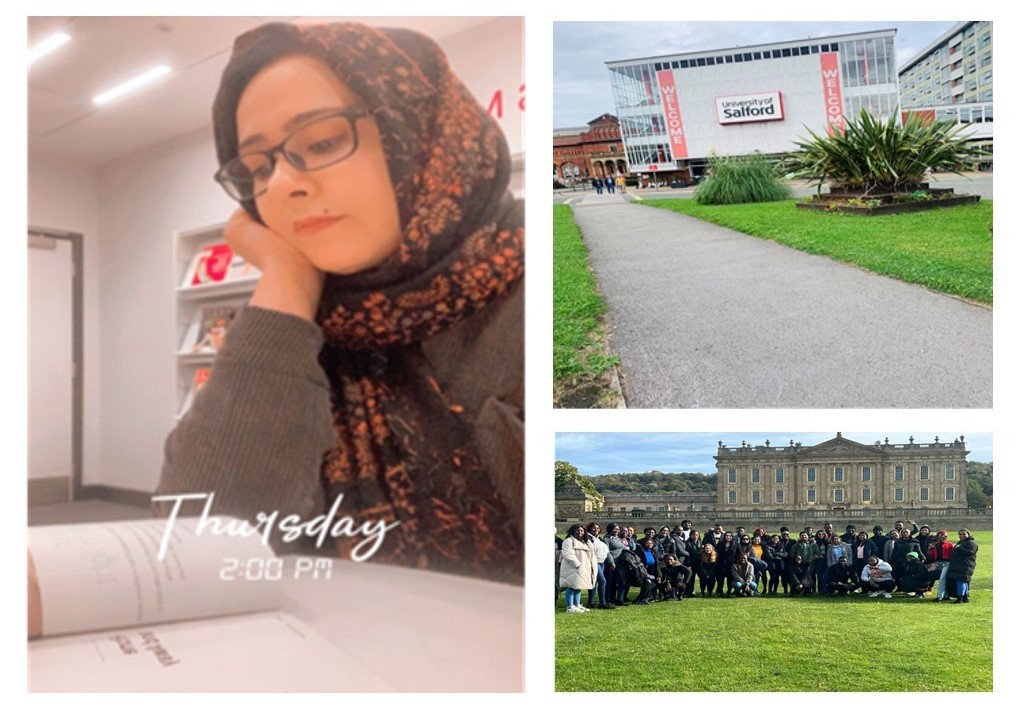 On my first day, I was nervous, but on campus I was greeted by friendly student host staff who guided me and taught me about the campus. I was pleased by the welcome week and all the events related to it like the campus tour, live music and games, where I met plenty of people and enjoyed free fairground rides, popcorn, and more. On the induction day, I met my tutors, all of whom are friendly and helpful, and who are always willing to assist us and answer our questions in person and via email. I was impressed to see wide diversity of students from other countries. Fortunately, I have found have some wonderful friends to chat with.
One of the first things I noticed after few weeks in the university that we are given a support from teachers and have an assigned personal tutor for every student. If you are confused or depressed about a particular assignment or exam, don't be afraid to seek assistance. They are always ready to help us. Sharing my experience, my university organised a career fair event where we could meet different employers for better job opportunities. There is so much to get involved in. The School of Health and Society organise a free field trip to Eyam Village in Derbyshire (see previous post). We had a very informative walking tour of the village, which is delightful in its own right. Moreover, during Academic writing skill section, my tutor allows us to discuss the topic with all other classmates and with them, obviously in a mutually respectful way. I think this is great as it teaches us how to use these skills to write assignments. Even the way learning is assessed is very varied and practical.
One of the things I find most interesting is the university's faith centre, which provides spiritual support to students regardless of their beliefs. It is a great opportunity to meet people from different backgrounds. For me, stepping out of my own country and culture I was like a fish out of water. However, thanks to the public health department team, all my tutors, and the university's friendly environment, I now feel less homesick. During these past two months I have learned much about life, writing skills, new languages and opportunities.
I was nervous about getting around Manchester because I had never used public transportation before moving to the UK. But Salford crescent Station is located right between Peel Park and Fredrick Road campuses and I can easily take the bus home.
To round off this blog, I would like to tell you that coming to Salford is my best decision; it feels more like home now for me. The "ASK US" department is the best place to ask any questions regarding your personal or accommodation needs. So, folks, do not worry; every international student has anxiety and depression at first, but keeping yourself motivated is key to success.
Thank you for reading.