This blog post is written by four of our current MSc Students – Aneela Khanum, Cynthia Poolay Mootien, Gloria Serwah Asare & Ella Train
The public health conference on 'social prescribing, social movements, shaping attitudes and behaviours' organised by the Salford Professional Development team and the University of Salford, was chaired by Professor Penny Cook, and centred around finding innovative and alternative ways to treat and care for patients outside of healthcare settings.
Chris Easton, from Tameside Hospital NHS Foundation Trust, opened the talk by discussing the implementation of a system wide approach to self-care. He stressed the need to change the public's perception and behaviour towards clinicians and hospitals, and for more instituitional integration, which will only be successful if both the health and social needs of patients are considered. He also pointed out that more emphasis should be placed on stimulating a fundamental paradigm shift between the people and their communities, as well as the healthcare system. The issues brought up by Chris showed an interesting perspective of the healthcare system that challenges clinical pathways to have self-management at their core, and would encourage doctors to take a more holistic approach when treating their patients.
Alan Higgins, Director of Public Health, Oldham Council, discussed the importance of health as a social movement to empower patients and citizens, strengthen communities, improve health and wellbeing, and eventually moderate the rising demands on the NHS. Another speaker at the event was Siobhan Farmer, a Public Health Consultant for Salford City Council, who talked about the importance of influencing population health by focusing on education in early years, including more person-centred approaches to health and lifestyle behaviours. She further explained the role of Salford City council in health and social care, which gave us further insight on the many health inequalities present in Salford.
The event was also a great networking opportunity, where we met many professionals from various fields in the public health sector. We had the privilege of talking to Professor John Middleton, President of the UK Faculty of Public Health, following his inspiring talk about encouraging an asset-based approach to improving health and wellbeing through social prescribing. The various other speakers at the conference also advocated for a change in the healthcare system, with a more comprehensive community-centred approach, where social prescribing could help change and shape attitudes and behaviours towards health and wellbeing.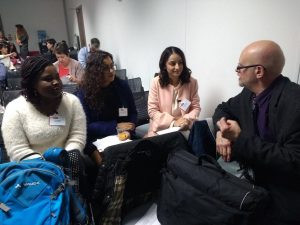 The conference ended with a highly inspirational presentation by Chrissie Wellington, Global Lead for Health and Wellbeing Parkrun, and Doctor Simon Tobin a General Practitioner with strong ties to Parkrun, who both stressed the benefits of exercise and outdoor activities for better health. Dr. Tobin emphasised the need for doctors to take a more social approach to improving patients' healthcare, instead of over-diagnosing and overprescribing without first exploring the hopes, wishes and needs of the patients. The conference concluded with a challenging note, to not only change other people's attitudes and behaviours towards healthcare, but to also change our own stance on health and social prescribing, for better health and wellbeing in the long-term.
The conference was a wonderful opportunity, to meet public health professionals and academics, as well as be part of an informative forum with many speakers from various fields in public health. Our sincere thanks go to Professor Penny Cook, Dr. Margaret Coffey, Dr. Anna Cooper-Ryan, and Alex Clarke-Cornwell for organising and promoting a very thought-provoking and worthwhile conference.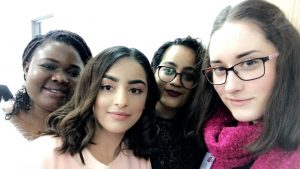 Leave a comment
---