PhD/GTS students
Faye Prior 
My background is in the self-management of long term conditions, with a focus on physical activity. I completed a BSc in Sport & Exercise Science and an MSc in Clinical Exercise Physiology, followed by several years working as a researcher in the health technology industry. I have now returned, as a university student for one last time, to complete my PhD in the area of exercise referral evaluation. Exercise referral schemes are one of the most common approaches to increasing physical activity levels in people with long term conditions, providing access to individualised exercise programmes and support from qualified exercise professionals. However, the evidence base underpinning the effectiveness of these schemes is poor, requiring further research in to which schemes are effective and in what way. My PhD is a mixed methods evaluation of Tameside's "Live Active" exercise referral scheme, and aims to evaluate the scheme in a more holistic manner, examining the impact on both traditional and adjunct outcomes. Twitter @fayeprior
John Yaw Obeng
I started my PhD in Public Health at University of Salford in January 2017 I am looking at the perceptions, views and experiences of health professionals and recently delivered women about safe maternity care in Ghana. It has been an amazing year of my life. I experienced a huge shift in my sense of identity and in my career, having previously worked for 5 years as health service personnel in Ghana. The study intends to empower the voice of health professionals and women by offering the opportunity for them to air their views and opinions regarding access to safe maternity care and the issue of maternal mortality. This will include sharing their suggestions for potential solutions and preventive measures in Southern part of Ghana. The focus of this research emerges from the gaps identified from literature related to maternal mortality in Ghana. A review of the literature on maternal mortality and maternity care services in Ghana revealed several factors contributing to the high maternal death in Ghana.
Joanna Bragg
Having studied originally for a music degree, Joanna went on to follow a career in Education Research at the University of Manchester where she acquired an MSc in Educational Research Methodology (2008) and gained a broad range of practical research experience. Much of this research concerned the relationship between education and social disadvantage. In addition, a developing interest in the emotional wellbeing of young people and therapeutic intervention work formed the foundation for her current PhD research which focuses on adolescent alcohol misuse.
Joanna is a Pathways to Excellence student in the School of Health Sciences and her study is entitled: It's My Life: Staying in Control. Developing a school-based intervention to facilitate adolescent behaviour change with respect to alcohol consumption. The aim of the intervention is to reduce alcohol consumption by influencing the attitudes of young adolescents as they make the transition into secondary education (age 11-12). The intervention will draw upon Motivational Interviewing as a therapeutic technique designed to influence intrinsic motivation and will incorporate role play as a means of developing awareness of and attitudes towards alcohol misuse. It is hoped that young adolescents will adopt healthier attitudes towards drinking alcohol which will influence their future behaviour (many 11-12 year olds will not yet consume alcohol and it is hoped that the intervention will halt or reduce their anticipated trajectory of alcohol consumption). The intervention will be evaluated using a randomised controlled trial methodology. Twitter: @barrow_jo
Tamara Brown
Tamara's PhD project aims to revise an existing cost-benefit analysis model to enable it to capture and analyse the effect of Vocational Rehabilitation (VR). VR has been advocated as an effective means to address ill-health within the workplace; however, there is a paucity of research exploring its cost-effectiveness. This is limiting the utilisation of VR within the workplace.  An economic model, using evidence based assumptions would assist in developing an evidence base, as well as enable organisations to assess the cost-effectiveness of VR services they utilise. Tamara is a lecturer in Physiotherapy and Vocational Rehabilitation. Alongside, her lecturing, Tamara works clinically as a Specialist Health and Wellbeing Physiotherapist.  Tamara has worked on a number of research projects including: Working Well; Evidence-based information and advice to reduce sickness absence; Evidence-based information and advice to reduce sickness absence: a feasibility study for a clinical trial in physiotherapy practice; and a systematic overview of Telehealth and the effects on clinical outcomes, cost effectiveness and the patient experience. Additionally, Tamara is interested in the cost-benefits of Vocational Rehabilitation and is further exploring this through her PhD studies. The title of her PhD is: 'The revision of a cost-benefit analysis model in order for it to be capable of analysing the effects of Vocational Rehabilitation: monetising outcomes and testing the model.'
Alan Price
Swapping Larousse Gastronomique for the DSM.
This is the beginning of a new and entirely different chapter in my career. Having worked as a chef for the last fifteen years, I now find myself pondering the question: What is the impact of neglect in the cognitive functioning of children with foetal alcohol spectrum disorders (FASDs)? This is the title of my thesis at the University of Salford, where I have managed to secure a scholarship having completed my psychology degree at Edge Hill University. FASDs are a range of conditions caused by prenatal exposure to alcohol, the best-known and most severe of which is foetal alcohol syndrome. Mothers with alcohol misuse issues sometimes have a wide range of behavioural problems, which can very sadly lead to their children being neglected during early infancy. The problem I will be dealing with is that the effects of prenatal alcohol exposure and early infant neglect are very similar, and we do not yet have a full understanding of how they can interact.
Aside from this being an important research question, this will be a learning experience for me personally, as I continue the transition between two very different vocations.
Twitter: @alandavidprice1  Researchgate: https://www.researchgate.net/profile/Alan_Price3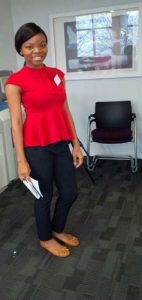 My interest in Public Health came from the idea that there is more to preventing disease and helping people make healthier decisions that affect their life. I studied for my first degree at the University of Lagos, Nigeria, and my Masters in Public Health was undertaken at the University of Salford. The concluding period of my Masters particularly influenced my decision to apply to study for a PhD. My Masters dissertation examined how office workers spend time sitting and its association with mental wellbeing. This study informed my PhD research, which looks into areas where activity could be incorporated into the  everyday life of a working individual, not just to reduce sedentary behaviour but also to encourage and increase physical activity. My PhD focusses on commuting, how it contributes to total moderate to vigorous physical activity (MVPA) and its impact on associated health outcomes. Active commuting is one of the means of increasing physical activity in daily life, and the primary aim of my PhD is to determine how much MVPA can be accumulated during commuting and explore if the amount accumulated is enough to affect health outcomes.