PhD students
John Yaw Obeng
I started my PhD in Public Health at University of Salford in January 2017 I am looking at the perceptions, views and experiences of health professionals and recently delivered women about safe maternity care in Ghana. It has been an amazing year of my life. I experienced a huge shift in my sense of identity and in my career, having previously worked for 5 years as health service personnel in Ghana. The study intends to empower the voice of health professionals and women by offering the opportunity for them to air their views and opinions regarding access to safe maternity care and the issue of maternal mortality. This will include sharing their suggestions for potential solutions and preventive measures in Southern part of Ghana. The focus of this research emerges from the gaps identified from literature related to maternal mortality in Ghana. A review of the literature on maternal mortality and maternity care services in Ghana revealed several factors contributing to the high maternal death in Ghana.
Joanna Bragg
Having studied originally for a music degree, Joanna went on to follow a career in Education Research at the University of Manchester where she acquired an MSc in Educational Research Methodology (2008) and gained a broad range of practical research experience. Much of this research concerned the relationship between education and social disadvantage. In addition, a developing interest in the emotional wellbeing of young people and therapeutic intervention work formed the foundation for her current PhD research which focuses on adolescent alcohol misuse.
Joanna is a Pathways to Excellence student in the School of Health Sciences and her study is entitled: It's My Life: Staying in Control. Developing a school-based intervention to facilitate adolescent behaviour change with respect to alcohol consumption. The aim of the intervention is to reduce alcohol consumption by influencing the attitudes of young adolescents as they make the transition into secondary education (age 11-12). The intervention will draw upon Motivational Interviewing as a therapeutic technique designed to influence intrinsic motivation and will incorporate role play as a means of developing awareness of and attitudes towards alcohol misuse. It is hoped that young adolescents will adopt healthier attitudes towards drinking alcohol which will influence their future behaviour (many 11-12 year olds will not yet consume alcohol and it is hoped that the intervention will halt or reduce their anticipated trajectory of alcohol consumption). The intervention will be evaluated using a randomised controlled trial methodology. Twitter: @barrow_jo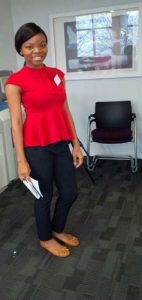 My interest in Public Health came from the idea that there is more to preventing disease and helping people make healthier decisions that affect their life. I studied for my first degree at the University of Lagos, Nigeria, and my Masters in Public Health was undertaken at the University of Salford. The concluding period of my Masters particularly influenced my decision to apply to study for a PhD. My Masters dissertation examined how office workers spend time sitting and its association with mental wellbeing. This study informed my PhD research, which looks into areas where activity could be incorporated into the  everyday life of a working individual, not just to reduce sedentary behaviour but also to encourage and increase physical activity. My PhD focusses on commuting, how it contributes to total moderate to vigorous physical activity (MVPA) and its impact on associated health outcomes. Active commuting is one of the means of increasing physical activity in daily life, and the primary aim of my PhD is to determine how much MVPA can be accumulated during commuting and explore if the amount accumulated is enough to affect health outcomes.
Jessica Thompson
In my day job I'm the Director of City of Trees, a movement which aims to create a greener Greater Manchester. A big part of this is about facilitating opportunities for people to access the many benefits that the natural environment brings. In 2008 I completed my MSc in Dementia at the University of Salford, which I focused on public realm greenspace as an enabling environment to improve the lives of people living with dementia. I loved the MSc and I was very fortunate to have the opportunity to develop my academic work by undertaking a PhD, which I'm undertaking part-time. My study uses a Contribution Analysis, mixed methods, approach to explore the wellbeing impacts – using the 5 Ways to Wellbeing – of civic environmentalism using City of Trees and the RHS Bridgewater as case studies. People from all walks of life get practically involved in developing, managing and nurturing urban greenspace and the study will develop a way of capturing the wellbeing impacts of this activity. This is really important in an age where Public Health is prioritising prevention of ill health and looking for innovative ways to promote and encourage activities for population 'wellness', to help tackle health issues upstream and address health inequalities. Social prescribing may be a mechanism to integrate civic environmentalism into health and social care and this forms part of the study too. I'm passionate about connecting people to the natural world and I feel extremely lucky to be able to bring this under the academic lens to improve the evidence and contribute to the green health agenda.
Louise Mitchell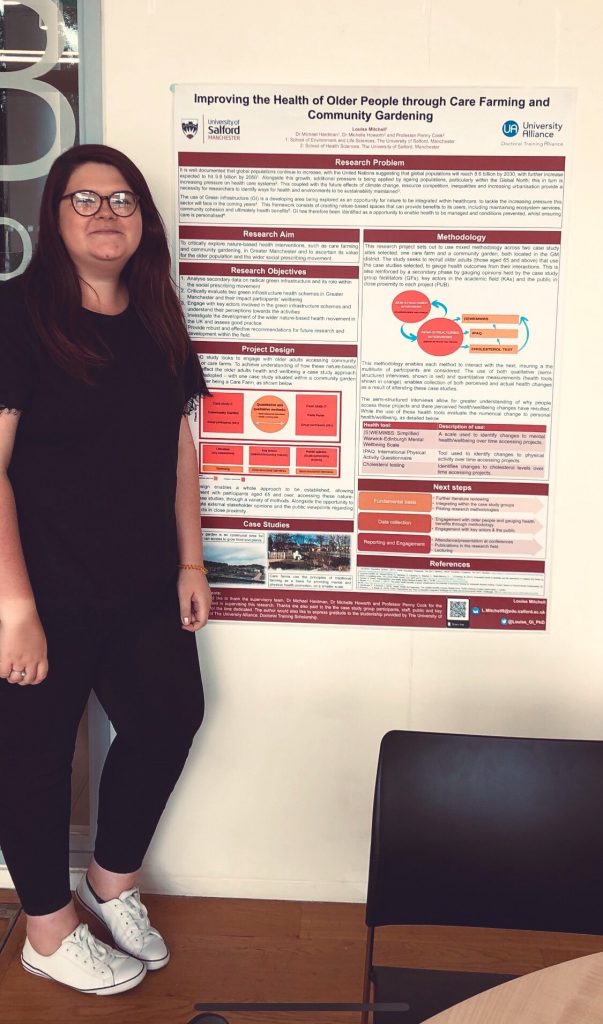 I started my PhD at the University of Salford in October 2018, a collaboration between The Schools of Health and Society and the School of Science, Engineering and Environment. My academic background covers environmental conservation and management, having just completed a Master of Science in Environmental Sustainability at The University of Edinburgh. Whilst studying these subjects I developed a passion for understanding community interactions with the local environment. This makes me enthusiastic to research possible opportunities to improve the health and wellbeing of populations through natural spaces.
My PhD project adopts a cross-sectional case study approach within a Greater Manchester context, with investigation of how practices carried out within community gardening or farming projects affect the health of older adults. This provides an opportunity to view natural spaces through a health lens, ultimately identifying the positives we can gain from their use.
An in-depth investigation will be carried out using a mixed methodology. The results will enable understanding of perceived and actual changes to physical and mental health as a consequence of gardening/farming, whilst also engaging with stakeholders across the research field.
The project illustrates my desire for cross-disciplinary research, whilst focusing on sustainability for current and future generations. Therefore, I would also welcome collaboration on other projects – you can contact me on L.Mitchell8@edu.salford.ac.uk or on Twitter: @Louise_GI_PhD.