My Salford adventure started on August 2017 when I got awarded of the Chevening Scholarship that permitted me to pursue a post-graduate study of Public Health in the United Kingdom. The Chevening Scholarship is the UK government's global scholarship program, funded by the Foreign and Commonwealth Office (FCO) and partner organisation that aimed to provide opportunities to leader, scholar, researcher and influencer from 144 countries worldwide to fulfil their dream to study in the UK. The application process for this life-changing opportunity was very demanding and competitive but I was driven and strengthened by my desire to experience the best that the UK has to offer in terms of academic life, career opportunities, culture, history, and leisure activities. Therefore, I challenged myself to fulfil all the requirements that was necessary in order to be awarded of such honour to study in the UK, where so many researchers, influencers, scholars, and leaders have shaped our modern world through their astonishing achievement – for example Sir Isaac Newton, Alexander Fleming, Sir Charles Darwin, Sir Alex Ferguson, or John Lennon.
Through my Chevening application process, I had to choose the UK universities that could provide me with the platform to achieve my lifetime project. I, therefore, conducted a thorough search of all UK Universities to find the one that could help me to fulfil my academic and professional goal. My search for the most appropriate university was based on my professional and academic background of public health and occupational medicine. In addition, I was looking for a University that could provide me with the skills and knowledge to strengthen the health system in my country Madagascar, particularly in terms of health at work and well-being, disease surveillance, epidemiology, data monitoring and statistics.
The University of Salford, particularly the Department of Public Health, stood among all UK universities as my first choice. Indeed, during my search for the best university, I discovered that the Salford Department of Public Health delivered a specific module about Health at Work and Well-being led by Dr Margaret Coffey – a well-known and respected researcher in the field of public health. Therefore, I contacted the University of Salford about this module that interested me. The public health team at Salford were keen to enlighten me with additional information through the module leader Dr Margaret Coffey and the programme leader Dr Anna Cooper-Ryan. I was surprised to discover that the module Health at Work and Well-being had been integrated into a particular module called 21st Century Global public health challenge. This module, led by Dr Anna Cooper-Ryan and Dr Margaret Coffey looked at the challenges of public health on a global scale. Because the Chevening Award represents a global initiative to promote tolerance, excellence in research, leadership and diversity, the choice of the Department of Public Health of the University of Salford became obvious to me as it promotes this global vision of public health by giving opportunities to international students, such as myself, to gather skills and knowledge, and to share my experience of public health among my peers. Definitely, the University of Salford was the place to be to achieve my master's degree of public health.
When I first arrived in Manchester, and I met the public health team, my choice of the University of Salford was reinforced by the level of expertise of the lecturers, the university's cutting-edge facilities, the amazing students Union, and the International Society activities. In addition, the city of Manchester appeared a vibrant city for the average student, which promoted diversity and tolerance, and provided a wide range of entertainment and leisure. This had a positive impact on my well-being as a student when the master's study became more demanding. The high level of academic support and the workshops provided by the University of Salford helped me also to achieve a successful academic life.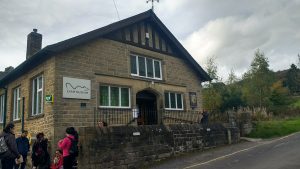 One of the memorable periods of my academic life in Salford, was our field trip in Eyam when all the teaching staff and the students went on a public health field trip. Not only did the field trip help me to understand in a practical way the "nitty-gritty" of public health and epidemiology, but also permitted me to develop warm relationships with my lecturers and classmates, which strongly contributed to my academic success and well-being later. Apart from the field trip in Eyam, the dissertation project at the end of the academic year was also one of the best moments of my academic life at the University of Salford. During this dissertation project, I had the privilege to work with and to take advantage of the expertise of my supervisor, Dr Margaret Coffey, about the experience of part-time employment in the UK in respect of health and well-being. This project provided me with an in-depth understanding of the challenges that part-time workers might face in terms of health and well-being at work, and the drivers that might explain the level of commitment and satisfaction of the workers for their chosen career. Through this thesis project, I have gathered all the knowledge and skills I needed to go any further in the career of public health with a particular focus on health at work and well-being. In addition, it permitted me to reinforce my research skills and to learn to tackle efficiently all the issues that may occur during a research project that involves a systematic review methodology. I was also astonished by the high level of supportmy supervisor and all the teaching staff provided to me to achieve this memorable success in academic research.
In a nutshell, my academic year at Salford was full of success and was one of the best moments of my life so far. It permitted me to work and to learn from the experience of well-known researchers in public health. It taught me to think outside the box when a public health issue occurs and prepared me to address serenely any public health challenge. This experience helped me to grow, to be more confident, to be bold and to get ready to fight against all form of inequities, inequalities and injustices.
Leave a comment
---