Facemask with improved communication
Below are instructions for making an improved facemask that allows for lip-reading while attenuating sound less. This is an open-source facemask design using commonly available materials and simple manufacturing methods.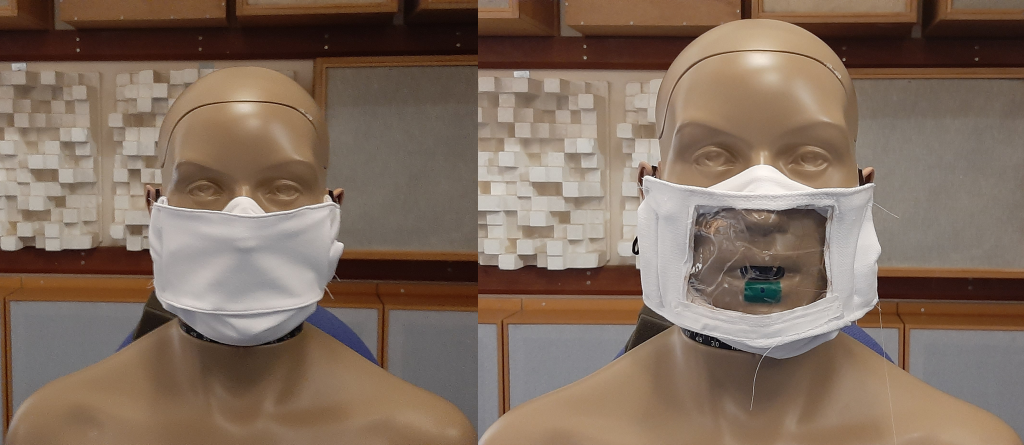 The main features of the new open-source faskmask design are:
Visually and audibly improved conversations

Using an optically transparent panel made from Tuftane. A more acoustically-transparent material which allows for lip-reading and interpretation of conversational cues.

Improved comfort and fit

Using high thread-count cotton as a base material featuring adjustable ear toggles and aluminum nose wire for a customised fit.
Video showing how to make the mask
Measurement sheets and templates
These are in three sizes: large (adult), medium (small adult/adolescent) and small (young child). They need to be printed on A4 paper with no scaling.
For each size there are 4 files:
(1) and (2) "COTTON MASK 1………" and "COTTON MASK 1………" : these contain the shapes of the two halves of the breathable material and the paper needs to be taped or stuck together to make the full template.
(3) "Clear Flexible…." : this is the template of the transparent panel. It should have the thickness of about 3 layers of "cling film" (transparent foodwrap).  Lightweight plastic bag will suffice (polyethylene).  We used thermoplastic polyurethane film, marketed in the UK under the trade name "Tuftane" (thickness 50 microns.
(4) "Clear rigid ….." : this is the template for a stiffer transparent plastic panel which will require holes to be cut in it. It serves to stiffen the mask across the mouth area to prevent the flexible panel flapping with breathing and talking, or buckling with the weight of the cotton material surrounding it.
Large
Medium
Small
Recommendations on choice of breathable cloth
A good material is a knitted rather than a woven cotton. This gives a depth to the stitch and an indirect path for the air to flow, leading to slowing of the flow, allowing more entrapment. Two layers of material are recommended.
Cotton fibres tend to have smaller fibres sticking off them: these appear to act to enhance the filtration efficiency. These presence of these smaller fibres can be enhanced by special finishes to the cotton, e.g. the brushing in in "jersey" or "winceyette" cottons. The cottons used in "t-shirts"  tend to be woven and with a jersey finish.
BUT:
(a) avoid synthetic materials, their tighter, more uniform fibres appear to be not so good at filtration, and tend to clog with water vapour. (an exception is for the synthetic fibres used in surgical masks, and traditional PPE masks with FFP2 (N95) or FFP3 (N99) filtration ratings since the fibres are randomly deposited in multiple layers, and not woven or knitted).
(b) avoid cotton materials with a rectangular weave. The holes between the fibres crossings are large, but this open area is small compared to the size of the fibres, leading to large pressure drops across the mask, causing it to "flap" with breathing in & out. This effect can be reduced by increasing the amount of filtration area.
(c) avoid printed materials. The inks tend to glue the fibres together making the fibres less breathable, as well as reducing the moisture trapping ability.
(d) avoid stretchy materials, such as cotton containing elastane. With stretching, the pores open up, reducing filtration efficiency.
Acknowledgements
Project team:
Dr Michael A Stone (Project lead, University of Manchester)
Prof Alys Young (University of Manchester, d/Deaf user experience)
Prof Trevor Cox (Acoustic engineering, University of Salford)
Mr Michael Walsh (Maker Space, University of Salford)
Mr George Dodgson (Maker Space, University of Salford)
Prof Mark Miodownik (UCL, materials advice)

Funder: U

KRI/EPSRC-funded grant : Improved face-worn PPE designs for use by the public and professionals to reduce audio-visual communication difficulties.  Grant : EP/V051571/1