Structure-borne sound from wind turbines
Full title: Structure-borne sound and vibration from building-mounted micro wind turbines
Sponsor: DECC/ Defra/ CLG
Collaborators: Encraft Ltd
Budget: £134k
Duration: 1 year
Start date: October 2009
Summary
Noise continues to be a significant factor in the development of wind energy resources. In the case of building-mounted wind turbines, in addition to the usual airborne sound there is the potential for occupants to be affected by structure-borne noise and vibration. The project was jointly funded by three UK government departments for energy, environment and local government. The aims were to derive a methodology for prediction of structure-borne sound and vibration inside attached dwellings from micro wind turbines. The investigation comprised: long term monitoring of two small wind turbines in the field, a measurement survey of transfer functions for masonry buildings, laboratory measurements of mast properties and a field survey of micro wind turbine installations. A method for characterising the wind turbines was developed and tested. A prediction method was also developed. Results are presented in full in the project reports (Part 1 Part 2 Part 3) and on the Defra website.
Structure-borne sound source characterisation
The in situ blocked force method, developed at Salford, was used to characterise the wind turbines (WT) as sources of structure-borne noise. Vibration and sound levels in buildings are not intrinsic characteristics of the machine. However, the in situ blocked force method allows intrinsic characteristics of the WT, the blocked force, to be calculated from vibration levels measured in situ for example on the MWT mast. Other methods cannot be used because of the need to mount the WT realistically and operate in representative wind conditions.
Building transfer functions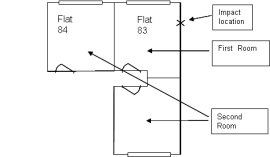 The transmission of sound through the building was characterised by measurement of transfer functions. The building is struck with a special sledge hammer which includes a force sensor and the resulting sound pressure is measured in rooms nearby.
Publications: Structure-borne sound and vibration from building mounted wind turbines. Environmental Research Letters, 2011
[Work funded by the Department for Communities and Local Government, the Department of Energy and Climate Change and the Department for Environment Food and Rural Affairs.]
Contact: Dr Andy Elliott