Wed 15th June 13:00 – 14:00 UK Time
This seminar will be streamed via Teams – Click here to join the meeting.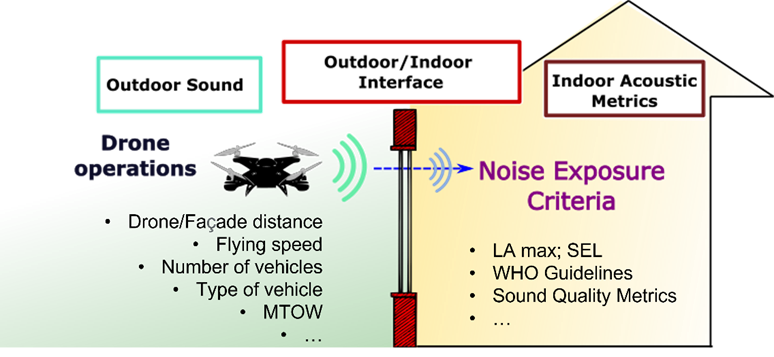 Abstract
The drone industry is rapidly expanding, with several applications in the pipeline: parcel delivery, blue light services, surveillance, and even people transportation. They are expected to bring important benefits such as reduction of overall CO2 footprint and local air quality emissions for last-mile transportations and a medical delivery to remote areas. However, the wider deployment of drones will add a new and unconventional source of environmental noise, which is likely to lead to important challenges for the health and well-being of exposed communities.
From first data observations, some of these novel air vehicles present an unconventional sound footprint, with remarkable tonal and high-frequency content over the most sensitive frequency range for the human receivers. With this assumption, it is necessary to start on the analysis of the current and novel metrics of noise, designing tools and regulations for certification and operation based on the sound perception of the exposed community.
This research aims to address the noise issues related to the design and operation of drones, to aid drone stakeholders to ensure community acceptance, and contribute to the sustainable expansion of the drone sector.
This seminar will present the preliminary results of a modelling framework for the estimation of drone noise exposure indoors. From this estimation, the aim is to inform operational constraints, such as the optimal distance to avoid significant acoustic impact on communities inside dwellings, e.g., noise annoyance and sleep disturbance.
Bio
Carlos Andrés Ramos Romero is a Postdoctoral Research Fellow in Acoustics at the Acoustics Research Centre of the University of Salford. His research focuses on the linking between the source's aeroacoustics phenomena, acoustic propagation, and psychoacoustic response, in the framework of the EPSRC project DroneNoise (EP/V031848/1): Addressing Public Health and Wellbeing Harms for a Sustainable Drone Sector.
He has experience in noise analysis of conventional urban noise sources, such as road traffic noise. His latest research was focused on automatic asphalts distress detection by Tyre/road noise signal processing and Artificial Intelligence algorithms.
Dr Ramos Romero obtained a Doctoral degree in Mechanical Engineering at "Universidad Politécnica de Madrid" (Spain-2021) with the Ecuadorian Government SENESCYT International Postgraduate Grant – 2017. He was a member of the Instrumentation and Applied Acoustics Research Group i2a2. Prior, he coursed a Master in Acoustics and Vibrations at "Universidad Austral de Chile" (Chile-2017) and the Engineering Bachelor in Sound and Acoustics at the "Universidad de las Américas" (Ecuador-2011).
Research areas: Traffic Noise, Drones and Urban Air Mobility Noise, Environmental Noise Modelling, Psychoacoustics, Computational Acoustics, DSP, Machine Learning.
Twitter: @cramosromero
Research Gate: https://www.researchgate.net/profile/Carlos-Ramos-Romero
Orcid: https://orcid.org/0000-0003-4795-4306
Google Scholar: https://scholar.google.com/citations?user=51biXWgAAAAJ&hl=en