by Noé Jiménez
This webinar took place 12:30-1:30pm (UK time) on 21st April 2021. It was recorded and you can watch it back at https://youtu.be/EHz5npkQ4Aw.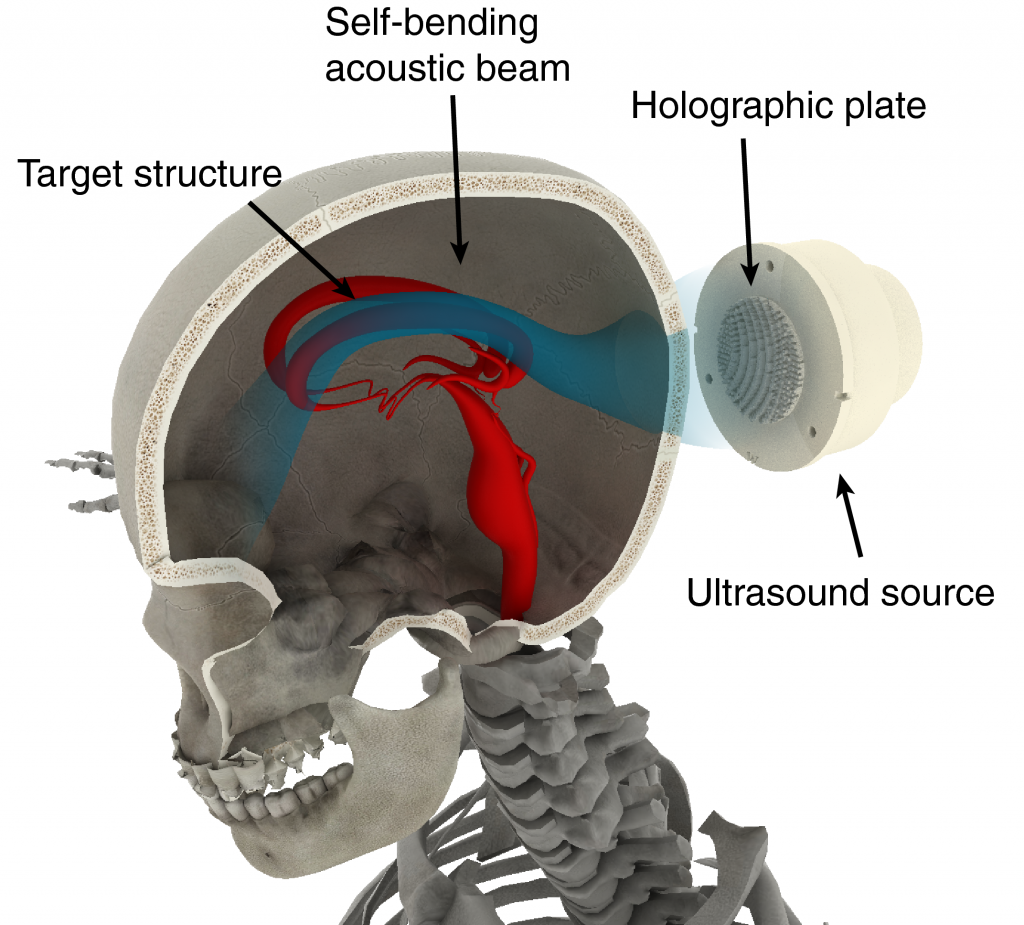 Abstract:
Optical holograms can modulate light wavefronts to generate visible images. In the same way, acoustic images can also be synthesized by holograms, shaping the areas where mechanical waves present a high amplitude, and areas where the media is at rest. Acoustic holograms have found recent application in biomedical applications, in particular in emerging therapeutic applications of focused ultrasound. In this seminar, we will present the recent advances of acoustic holograms for the non-invasive treatment of neurological disorders. When targeting acoustic beams into the brain, accurate focusing is mainly limited due to the strong phase aberrations produced by the refraction and attenuation of the skull. Acoustic holographic lenses can overcome these limitations by synthetizing aberration-free ultrasonic fields of complex spatial distribution inside the skull. Our results show that, using low-cost 3D-printed lenses, ultrasonic beams can be focused not only at a single point, but overlapping at one or various target structures simultaneously, e.g., left and right hippocampi. Other complex fields such as vortex beams for trapping small objects can also be obtained. These results open new paths to spread emerging therapeutic ultrasound applications including blood-brain barrier opening or neuromodulation using low-cost systems.
Noé Jiménez, received his Ph.D. degree from the Universitat Politècnica de València, (Spain) in 2015. Noé Jiménez is currently "Juan de la Cierva" post-doctoral fellow at Spanish Research Council. In 2015 he joined the CNRS (UMR6613, France) for a post-doctoral position to research on acoustic metamaterials. He has been visiting researcher at Columbia University (NY, USA), and at the University of Salford (Manchester, UK), where he developed deep-subwavelength sound diffusers based on metamaterials. He has worked for the European Space Agency for noise reduction systems at the launch pad using sonic crystals and metamaterials. He was awarded by the Spanish Royal Society of Physics in 2019 for his scientific contribution to transcranial ultrasound propagation using holographic methods. His research interests concern from fundamental research in acoustic waves in complex, structured media, and metamaterials, to focused ultrasound for biomedical applications.