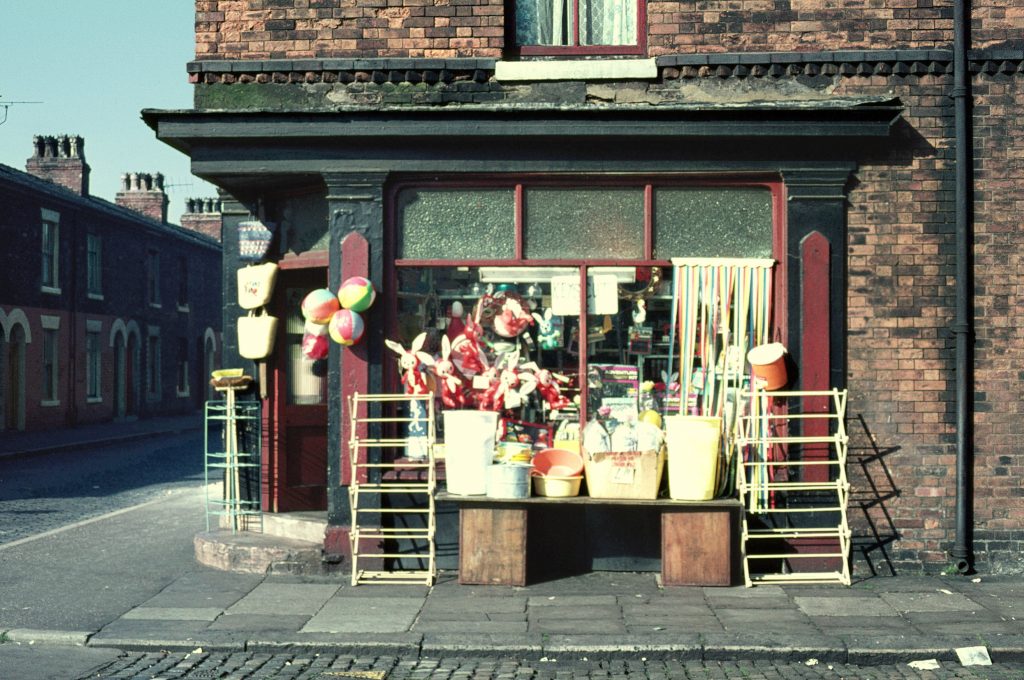 Michael Goodger photographed this corner shop in 1967. It seems to have sold common household items and toys. What I find most fascinating are some of the fashionable goods of the late 1960 in comparison to some items, we still find today for sale. There are, for example the colourful beachballs hanging from the entryway and on the right hand side of the shopping window – is this a colourful plastic curtain that people hung into their doorways? On the other hand, the close rack-design and of course the brooms and plastic buckets have changed little.
Can someone guess where the shop used to be, what they sold and who the owners where? Were there other corner shops and do you have photographs of it – any time in the past would be interesting.
UPDATE: Walter Shoesmith, 92 Phoebe Street, Salford
After posting about the Corner Shop above, Duncan (thank you!), who works at the Salford Museum and Art Gallery, send us the photo below. More such photos can be found on Digital Salford. It seems that it is a photo of the same shop taken much earlier, in 1889.
If anybody has additional photos of Salford Shops and their owners, please get in touch. We would be interested to learn about the shops, their histories and the families that run them.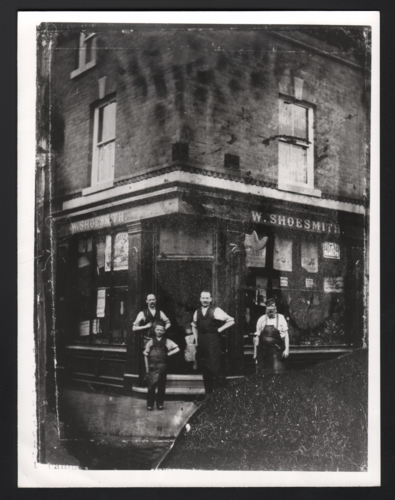 ---
If you would like to receive notifications of new blog posts email 'SUBSCRIBE' to themodernbackdrop@salford.ac.uk
We are interested in what you have to say about our posts. Please use the comment box below. Comments in our blogs and material sent to us will be displayed anonymously in an exhibition at Salford Museum and published in an exhibition catalogue.
We are also collecting personal memories, photographs, postcards, letters etc. from people who remember the daily life in Salford during the 1950s, 60s and 70s. If you would like to share a memory or a family photograph, please contact us: themodernbackdrop@salford.ac.uk