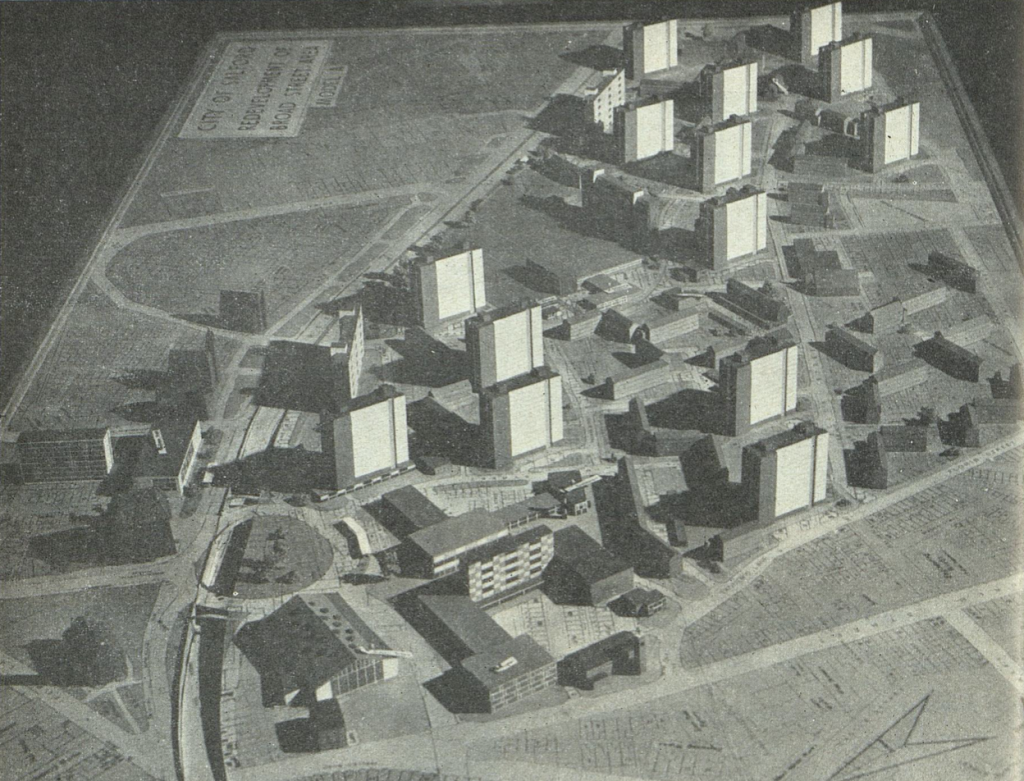 This architectural model shows a development plan that had been approved in 1960 by the City Council of Salford. It shows plans for 90 acres south of Broad Street. The plan was to provide with 2,300 dwellings in 15, 12 and 4 storey blocks. The image was published in The Architects Journal. They explain that there will be a large shopping centre (seen at the bottom of the image) with 150 shops and a lot of other infrastructure such as a swimming pool, licensed restaurant and hotel. There was also the hope:
… that the eventual redevelopment of the area will include plans for a new town hall and that this will form the nucleus of a centre which is at present entirely lacking in the city.
The proximity of Manchester's large shopping and civic centre has prevented the rise, in Salford, of any well-defined central area to which the inhabitants are naturally attracted.
I am finding this assessment of Salford in 1960 quite interesting. It says that there was no city centre in Salford (nucleus) and that Manchester and its shops prevented Salford to grow. What I would like to know is if there ever was a 1960s built swimming pool, licensed restaurant and/or hotel in this area? Also, is their assumption about the lack of a city centre and the relationship between Manchester and Salford entirely correct? It might be perceived this way today but was it like this in the 1950s – when this plan was developed?
This is the reference to the article: Redevelopment in Salford, The Architects' Journal (May 12, 1960) 130:3395: 722.