Eddy Rhead of the Modernist Society has written our guest post for this week. Eddy writes about cinemas in Salford and specifically The Ambassador. For some it might bring back memories, for others it casts a light on a golden age of cinema architecture. Feel free to share your comments.
At the height of their popularity there were around 10 cinemas in the 'central' area of Salford .
Many of them were centred around the (then) thriving Cross Lane. In the 1920's, on Cross Lane alone, there were two theatres and three cinemas. Many of the cinemas in Salford were not the 'fleapits' that one would perhaps associate with such a working class area. The larger cinemas and theatres on Cross Lane were grand affairs with one, The Palace Theatre, having been designed by the renowned theatre architect Frank Matcham. Often cinemas would be conversions of music halls and theatres but as the popularity of cinema grew in the 1920s purpose built cinemas began to be built – often to a very high quality.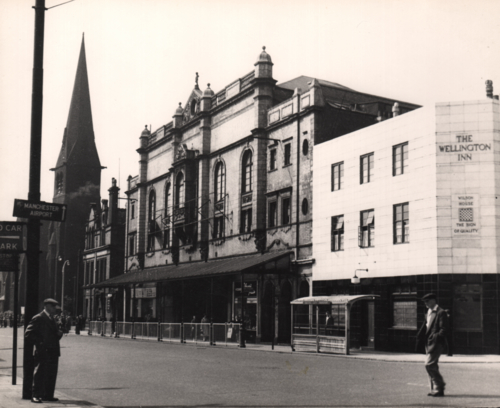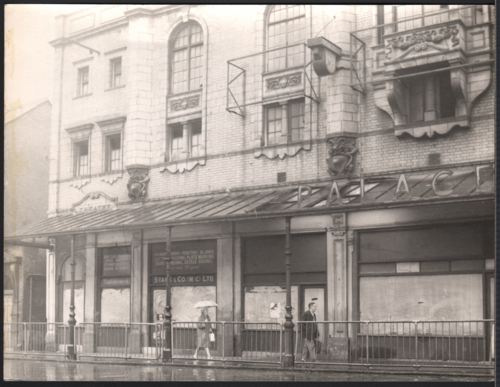 Moving pictures became hugely popular in the first couple of decades of the 20th century and with the invention of 'talkies' its place in the cultural landscape was cemented. Movies were big business and so was the industry associated with exhibiting them. Entrepreneurs, both big and small, aimed to cash in on the phenomenon and whilst some smaller independent cinemas were very basic and down right grotty (hence the expression 'fleapit') local and national chains began building more luxurious and technologically advanced buildings.
Film-going was very democratic and almost every strata of society could, for a modest charge, enjoy the magic of the movies. The middle classes could watch films in comfort in the city centre and suburban 'picture palaces' but even in working class areas like Salford the competition was fierce to attract patrons and thanks to the huge audiences films could attract, the cinema trade became very lucrative.
Movies had mass appeal. Saturday morning matinees for children would see packed houses – over seen by authoritarian commissionaires in smart uniforms – fruitlessly trying to contain the excitement of hundreds of small children.
Cinemas were a space women felt comfortable in and were positively welcomed. In working class areas the pub was often the reserve of the men and it was very rare for a lone woman to enter a pub. The cinema, however, was a haven for many women, who could, with female friends or even alone, and enjoy a hour or two of escapism (think of Celia Johnson in Brief Encounter and her weekly trips to a matinee) For young courting couples the back row of the cinema was the only place they could get a small amount of privacy to 'progress' their young love.
As the 1920s progressed converted music halls and theatres were not considered suitable or modern enough for the more discerning cinema going so purpose built buildings began to be built. Big chains such as ABC, Granada and Odeon grew very quickly and each competed with each other to built grander and more luxurious cinemas. Smaller, local chains also competed for business and were no less ambitious in the buildings they built.
On Christmas Eve 1928 the Snape and Wade circuit of cinemas opened Salford's first 'Super Cinema' – a purpose built cinema using all the latest technology and offering an unrivalled level of comfort and facilities. It was The Ambassador at the very north end of Langworthy Road. It could hold 2000 people and was built at a cost of £35000.As well as showing films The Ambassador was equipped with a large stage to accommodate live variety shows with a large orchestra pit housing an impressive Jardine organ. There was a smart cafe on the first floor and the foyer had grand marble staircase. The exterior was clad in faience tiles and decorated with Art Deco and Italianate flourishes.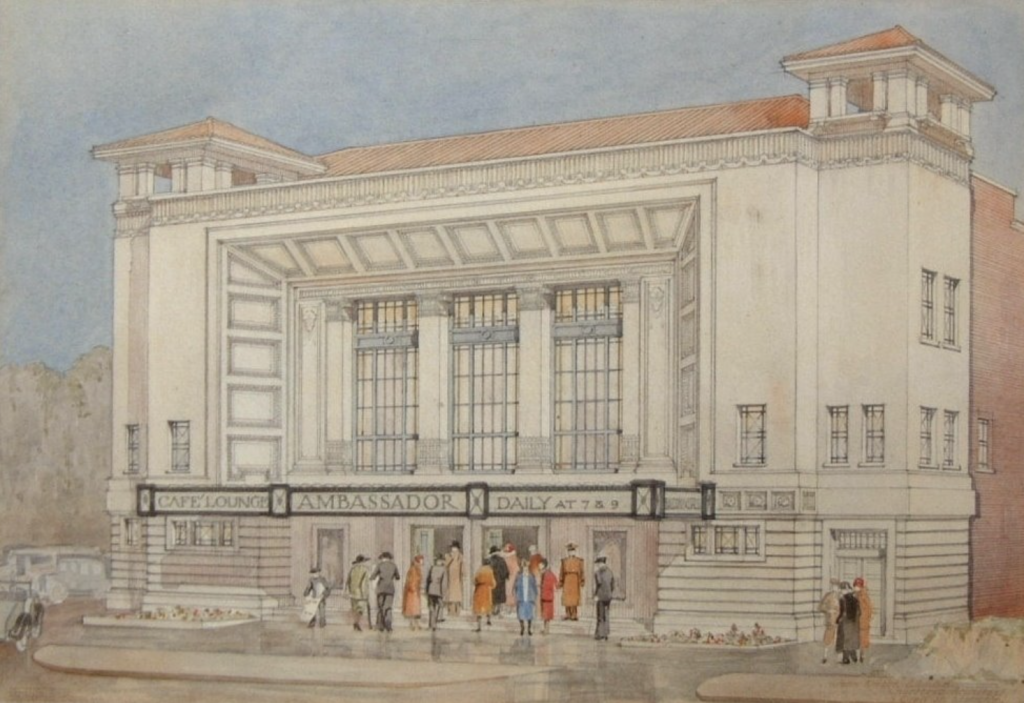 A young Violet Carson, later to become Ena Sharples in Coronation Street, played piano at The Ambassador and my own nanna was an usherette there in the late 1930s. It was by far Salford's poshest cinema.
It continued as a cinema until the early 1960's. The 1960's saw the closure of a huge amount of cinemas as leisure tastes changed and The Ambassador, like hundreds of other cinemas, ceased showing films and went over the growing craze for bingo. The Ambassador actually stayed as a bingo hall nearly as long as it did as cinema but once again changing tastes meant it closed to bingo in the early 1990's. After its closure, because of its high quality and well preserved interior, it was Grade II listed but it struggled to find a new use. In the early 2000s a group of locals, including myself, set up a campaign for the building to be taken into community ownership – with the hope of turning it into a much need cultural venue. Sadly, without any support from the local council and with property developers circling it became clear that the group had little hope of acquiring the building. The final blow was when the building was controversially and inexplicably de-listed – leaving the council free to grant permission to demolish this beautiful old building. It was finally demolished in 2004 and replaced by very mediocre housing.