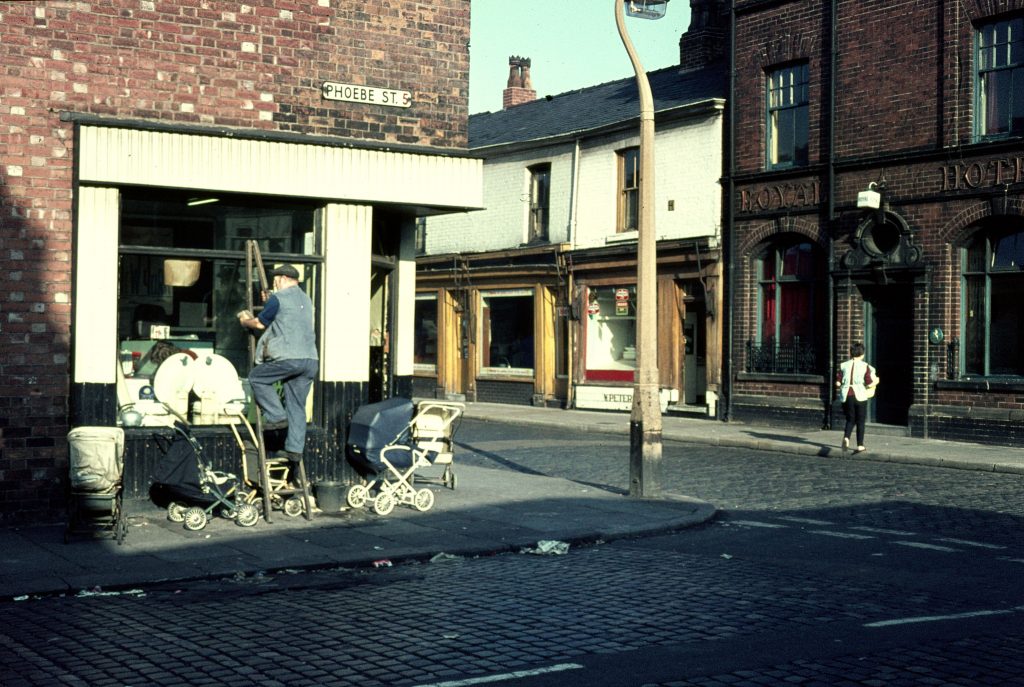 This street scene shows us not only another occupation in Salford but also several shops. The window cleaner appeared to have been – as the knocker-upper – a middle-aged gentleman. Perhaps he was retired and supplemented his pension or this was outside his working hours.
The window he is cleaning seemed to have been a shop that sold prams but when looking at the display in the window it seems to have been a household goods store – there is a kettle on display. However, some of the prams look new and other appear second hand.
The person walking across the street seems to walk towards the "Royal Hotel." She seems to carry a plastic tub with textiles. Next to it is a shop – a butcher perhaps – but only part of the name is visible "W Peter…"
Any information, memories, photographs etc about Phoebe Street, its shops, the Royal Hotel and the people who lived and worked there would be interesting to us.
---
If you would like to receive notifications of new blog posts email 'SUBSCRIBE' to themodernbackdrop@salford.ac.uk
We are interested in what you have to say about our posts. Please use the comment box below. Comments in our blogs and material sent to us will be displayed anonymously in an exhibition at Salford Museum and published in an exhibition catalogue.
We are also collecting personal memories, photographs, postcards, letters etc. from people who remember the daily life in Salford during the 1950s, 60s and 70s. If you would like to share a memory or a family photograph, please contact us: themodernbackdrop@salford.ac.uk