Vibro-acoustics
Vibro-acoustics is about the generation, transmission and radiation of sound from acoustic and vibratory sources, and lies at the interface of acoustics and structural dynamics. Our research covers many applications, including: automotive, rolling-stock, marine, aerospace, domestic products and building acoustics.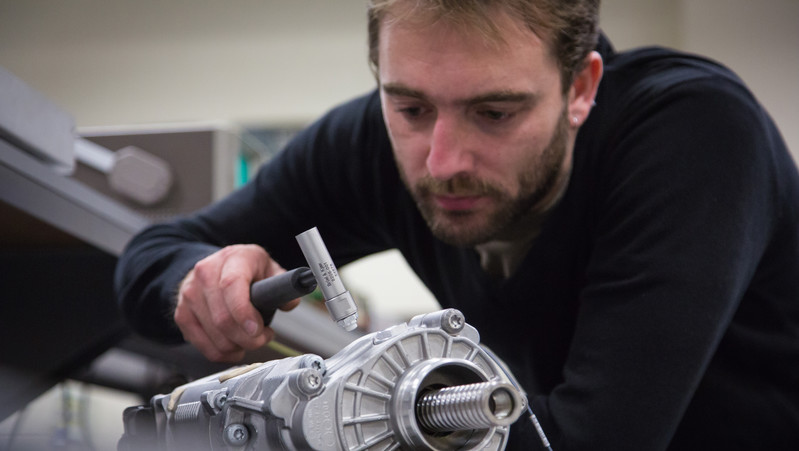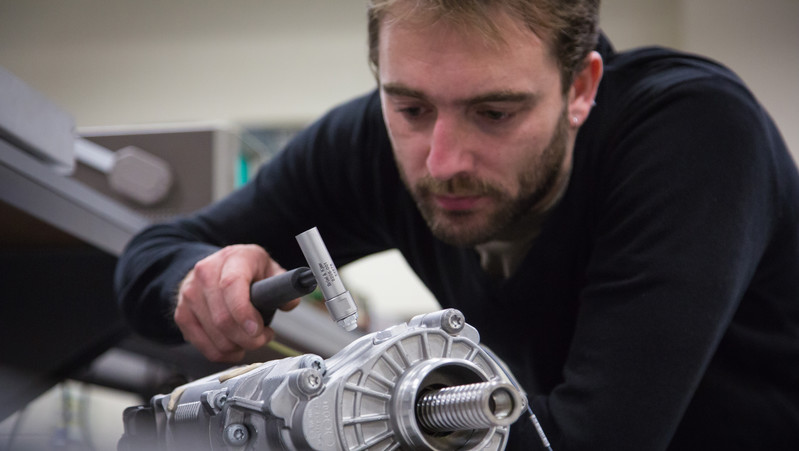 At the Acoustics Research Centre, we specialise in developing and implementing novel measurement and modelling methods for vibro-acoustics. Our main research areas include:
In-situ methods for characterising air-borne and structure-borne sound sources
Developing virtual prototypes – computational models of assemblies that can be listened to before physical prototyping
Characterisation of dynamic stiffness for vibration isolators and other resilient elements
Transfer Path Analysis techniques for diagnostic testing
Advanced measurement techniques
Noise control
Our work on the in-situ blocked force method for structure-borne source characterisation is in international standard ISO 20270:2019 (Characterization of sources of structure-borne sound and vibration — Indirect measurement of blocked forces), which has been adopted worldwide by leading automotive manufactures and OEMs. Other international standards we have been involved with include: EN12354, ISO18312, and BS EN 15657:2017.
Our current and future research focus includes:
Integrating experimental and numerical methods for vibro-acoustic design
Developing new methods for the diagnostic testing of structures
Building 'Digital Twins' and virtual prototypes
Condition monitoring
We work extensively with industry, providing PhD supervision, consultancy-based research and knowledge transfer.
Some examples of our research can be found through the links below.
Characterisation methods
Virtual prototyping
Transfer Path Analysis
General contact: Vibro-acoustics
For consultancy research and knowledge transfer please contact Andy Elliott at a.s.elliott@salford.ac.uk
For postgraduate research opportunities please contact Joshua Meggitt at j.w.r.meggitt1@salford.ac.uk