Public engagement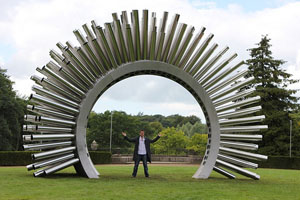 We have been involved in numerous projects engaging school children, families and the general public. Our aim is to make people more aware of acoustic science and understand how acoustic engineering can improve their sonic environment.
Our extensive resources to support the teaching of sound within schools and colleges are available on our Science Resources for Schools and Colleges website; these resources include:        
How Science Works GCSE and How Science Works Key Stage 3, curriculum & CPD    materials and programs fromTeachers.tv            
Promoting physics with a loud-poster – key stage 3/4 curriculum material development            
More sounds amazing – A/AS level curriculum material development            
Other projects have included:
Building acoustics engagement: a touring, singing sculpture
The search for the worst sound in the world – web and museum experiment
Sound Around You (IMPRINtS) – Surveying soundscapes using mobile phones
Sound Matters – a range of PE activities mainly for 9-19 year olds
Personal digistories about what inspired people to study engineering
You might also want to visit our Acoustics FAQ
Contact: Trevor Cox at t.j.cox@salford.ac.uk.
Promoting physics with a loud-poster
The aim of the project was to develop teaching materials and demonstrations that could be used by teachers to improve the teaching of the waves section of physics at key stage 4. The aim was to encourage pupils to pursue physics at A and A/S level by providing a resource to support teaching with demonstrations which would normally be unavailable in most schools.
This material makes links between the waves aspect of the key stage 4 syllabus and audio technology – sound waves, loudspeakers, amplifiers etc – to tap into the interests of pupils in music technology. These links are built using web-based materials presented in a multimedia context (sound / interactive text / pictures / animation). The original intention was to develop a series of 'cameos' of interesting aspects of acoustics, but it became apparent early on in the project, in consultation with teachers and our mentor, that the materials had to be a more complete teaching package if we were to maximise the number of people using them. This was felt to be particularly important in encouraging take up by more reluctant teachers. So the material had to be designed so it could be used to the whole class in a plenary session as well as by individuals or small groups at computers. Also, the web site contains worksheets, ideas for experiments, tests etc.. There are also taster presentations of audio and acoustic materials illustrating interesting and exciting ways in which the subject is taken forward at A-level and beyond as originally envisaged in the proposal.
To try and encourage take up of the material from direct mailing, a novel sound reproduction system was included in the mail shot. This was a Soundbug which radiates sound when attached to a surface such as a window. This was included alongside the more usual posters, postcards, CDROM and evaluation questionnaire.
The material can be download from our Schools section.
Example teacher feedback
"I've just done lessons 1 and 2 using the whiteboard version with middle ability year 10. The class were well engaged and loved the animations and sound bites. They seemed to have a good understating of the topic and seemed keen to continue using the site at home on their own. Thanks a lot – Great Resource"
Example student feedback
"I thought the site was great cos I want to be a DJ or in a band and it helped me with where the sound is coming from and how it works. I did well in the quizzes as well which is good and shows that I learned something."
EPSRC Promoting Public Awareness (PPA) project.
More sounds amazing
Many young people relate strongly to music. This project has harnessed this interest to aid their understanding of and interest in A/AS level Physics, by linking music and its production with underlying physical principles, in the waves and vibrations section of the syllabus. In conjunction with teacher partners, we have developed state-of-the-art learning resources using our acoustics expertise and facilities, that can be used either in the classroom or by students as self-study or revision aids. The material includes high-quality animations in a textual framework, and a large number of innovative slow-motion videos of acoustic phenomena which were facilitated by the loan of a high-speed camera from the EPSRC Engineering Instrument Pool, and working in collaboration with Martin Davies, a Leverhulme Artist in Resident at the Acoustics Research Centre. The material is delivered via our Science Resources for Schools and Colleges website and by the production and free distribution of 2000 DVD packs.
Feedback suggests that many students find that explanations and demonstrations illustrated via sound waves are often more intuitive and easily understood than those using light. The Institute of Physics cites the lack of perceived relevance of physics to our every-day lives as one reason why pupils fail to study physics at A-level ; by linking material to music, and other areas of interest such as mobile telephony, we have aimed to counter this perception in this project. The current project is an extension of a previous piece of PPA work – 'Sounds Amazing' – which developed resources for the GCSE science syllabus.
Teacher feedback
"You have designed and developed a fantastic website resource for wave motion and sound that surpasses, by far, any other available on the www."
Head of Department: Science, Australian school
"Whip crack, shattering glass, trumpeter's lips, cymbal vibrations…they're not easily seen in real time and are quite fascinating to watch in slow motion! Also, I don't know (and I've looked!) of any other videos/DVDs with these sort of demos on. All the demos are very relevant to AS and A2 Physics.".
Head of Physics, 6th form college, UK
Many teachers felt the materials would work well as 'attention grabbing' lesson starters, and welcomed the availability of the hi-res web/DVD video for classroom use which had resulted from formative feedback received during schools trailing of materials.
Student feedback
Student feedback has been likewise positive:
"Hey , I am writing from Rio de Janeiro, Brazil, student of engineering at PUC university just to tell that your SHM lesson site is really great! One of the best ones available. Keep up the good work!"
Representing students from the target UK audience:
"Fantastic site for A level, we need the whole A level course doing to this standard – awesome."
Age: > 18 Male
"The diagrams are useful in making the site more interesting as pages of text would be too much to take!"
"Visualisation of theories is useful however more use of maths would be valuable as it will be core to further understanding."
EPSRC Promoting Public Awareness (PPE) project, £20k
Building acoustics engagement: a touring, singing building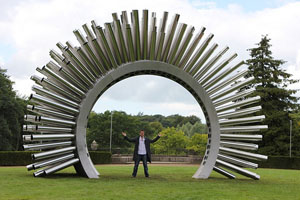 After 3 years Aeolus is set up at Lyme Park in Greater Manchester!
Aeolus – a singing sculpture
Lyme Park, Disley, 6th August – 29th August 2011
Eden Project, Cornwall, 19th September – 9th October 2011
Media City from 20th October 2011
The project: EPSRC PPE EP/G062773/1
Great science inspired by art
The relationship between art and science is eternal. Much great science has been inspired by art and much great art enabled by science. There is perhaps no stronger example of this relationship than the link between the art of sound and the science of acoustics. People of all ages can be moved, awed, inspired and intrigued by great music, grand reverberant spaces and strange new timbres. The sophistication of how we express ourselves with sound has developed with our understanding of the perceptual and physical science of sound. The art of sound will always be a way for many to appreciate, explore and understand science.
The 'building acoustics engagement' project will show how new, inspiring and intriguing art can engage curiosity and the desire to know through science. With the aid of a noted artist a large and beautiful new sculpture will tour the country; being sited at four successive locations. This unusual sculpture will be specifically designed to sing when excited by the wind or by people.
The visual and aural spectacle of a singing sculpture will inspire many with questions that surround how its strange sounds are naturally generated, propagated and perceived. Hence the tour will be accompanied by a well constructed education package of talks, events and activities delivered by enthusiastic advocates for acoustics and engineering. This will include:
Resources for schools including detailed lesson plans, activities and online resources to compliment Key Stage learning requirements;
Resources for the wider public including packs for guided tours, informative signage, accompanying on-site talks and interactive online resources.
Fun and accessible
These fun and accessible components will be designed to enfranchise the public with a greater knowledge of the role of acoustics in art and entertainment, wider technological development, the built environment and environmental law.With the aid of the education component the sculpture will be a highly attention grabbing and attractive vehicle for promoting science appreciation, engagement and even recruitment. By liaising closely with schools and community organisations, marketing for popular events and drawing on the public engagement pedigree of the UK's two principle acoustic research centres (Salford and ISVR); this project will be a highly visible, meaningful and enjoyable experience for the public.
Project website: www.aeolus-outreach.com
The worst sound in the world
Finger nails scrapping down a blackboard, the scream of a baby, your neighbour's dog barking: what is the worst sound in the world?
Sound is one of the primary means of communication and pervades all areas of our world. Acoustic science is about the production, transmission, manipulation and reception of sound; from unwanted traffic noise to beautiful music. Acoustics embodies both the physical properties of sound waves, and the psychological and physiological reaction of humans.
A major aim for this proposal was to produce an exhibit for the Xperiment hands on gallery at the Museum of Science and Industry in Manchester (MOSI). While some exhibits in the gallery deal with sound, these are mostly to do with physical phenomena (e.g. resonance). This appears to be true of most interactive galleries. An important part of acoustics is therefore not being fully explored, that is the often complex way in which people perceive and interpret sounds. Understanding human response is an important part of engineering design in acoustics. The aim of the exhibit was to make people more aware of the psychology of acoustic signals by examining what makes a sound unpleasant or unbearable to listen to.
First ever large scale Acoustics Internet experiment
Without control, sound may damage the environment, create annoyance and stress. On the other hand, correct acoustic design can greatly improve quality of life at work, in performance spaces and at home. An important part of acoustics research is to measure how people respond to sounds, so that appropriate engineering measures can be taken to abate unwanted sounds or enhance desirable ones. The second major aim of this PPE project was to run a mass Internet-based experiment to find the Worst Sound in the World and so enable a larger audience to be reached than achieved from the exhibit alone. At the time of writing, two million votes have been logged on the website. Many acoustics research projects examine the human response to sound. However, these are naturally limited in the number and range of participants. While Internet experimentation is becoming more popular, I believe that this project marks the first ever large scale acoustics Internet experiment, where people actually audition and rate sounds. This is now possible because nearly all computers are now sold Internet and multi-media ready. Consequently, alongside the publc engagement objectives of the project, the project became a test bed for a new experimental methodology resulting in three publications in an International refereed journal.
Watch Trevor Cox discuss BadVibes on Teachers.TV
EPSRC PPE project, £20k
T. J. Cox, 'Bad vibes: an investigation into the worst sounds in the world,' PPA-09-003, proc. 19th ICA Madrid. (2007).
Czigler I, Cox TJ, Gyimesi K, Horvath J, 'Event-related potential study to aversive auditory stimuli,' Neuroscience Letters 420(3): 251-256. (2007).
T. J. Cox, "The effect of visual stimuli on the horribleness of awful sounds," Applied Acoustics. (2008).
T. J. Cox, "Scraping Sounds and Disgusting Noises," Applied Acoustics. (2008).
Crowd sourcing soundscapes and noise levels
An EPSRC funded Partnerships for Public Engagement Project – ref EP/E06552X/1 'IMPRINtS – Internet and Mobile technologies for a Public Role in Science'. 2007-9.
Community-based environmental monitoring
Noise Levels vs Soundscapes
Soundscapes, like landscapes, have and important role in our lives. Just like a view from an office or bedroom window a soundscape can help make us feel comfortable, productive or happy or make us feel uneasy or distracted. There will always be some sound in our environment be it for example the rustle of leaves, bird song, distant traffic, clock chimes, computers, reverberant spaces, music, crowds, neighbours or road-works. Without soundscapes our lives would lack the contextual references that help contribute to the quality of our lives / though clearly there's fine line between welcome everyday bustle and noise nuisance. Getting the balance right is a challenge for urban/rural planning, development and construction and a challenge for how we as individuals chose to spend each day. Traditionally, outdoor sound is all about environmental noise and noise levels, but increasingly researchers are looking more holistically at all sounds, both positive and negative.
This project sort to raise public awareness of soundscapes and our relationship with them by inviting people of all ages to take part in a large national survey to measure and characterise the huge variety of soundscapes in Britain that effect different people in different places in different ways. We formed a 'citizen observatory' using smart phones and other mobile recording devices. Nowadays many people have smart mobile phones that can run applications such address books, mp3 players and games. Relative to the most expensive desktop computers of only a few years ago, most modern mobile phones can be considered as very powerful multimedia computing devices. One potential application of a mobile phone is as a quite sophisticated sound sampling and analysing device. Indeed, there are many apps for noise level measurement that can be downloaded. Also these days many people have access to desktop PCs linked to the internet via always on broadband connections that can in-turn be easily linked to their mobile phones via USB cables, Infrared and Bluetooth.
The project exploited these new technologies to enlighten, engage and empower the public whilst also being novel, timely and enabling research capable of gathering an unprecedented amount of important data from numerous participants spread across the world. This type of community-based environmental monitoring is becoming an increasingly common research methodology.
Members of the public who went to the SoundAroundYou.com web site registered as a participant and downloaded free software to install on their mobile phones. Such software allowed participants to sample and give opinion data on the variety of soundscapes that play an important role in their everyday lives; be they workplaces, during travel, when shopping, at home or when relaxing at the weekend. We asked the public to make a series 10 second samples of different everyday soundscapes and answer some simple questions. These include a brief one or two sentence discussion of each soundscape and some associated ordinal ratings for location quality, soundscape quality, eventfulness, exciting-ness, pleasantness, tranquillity and user activity. These soundscapes were then uploaded to user pcs to be collected and reconciled at a central server and hence presented visually and aurally on a Google map. By studying correlations (or lack there of) between objective acoustic parameters and subjective data, we hope to better understand the public's relationships with soundscapes and enfranchise the public with a better awareness of their acoustic environments and the role science can play in improving these and hence quality of life.
Working with SEPOINT Manchester the technologies and procedures of the project has been prototyped in schools by engaging students in Key Stage 4 activities relating to environmental science. With the aid of carefully constructed practical lessons students utilised the software on mobile phones alongside other sound recording devices to investigate their daily soundscape and their relationship with it.
Research Assistant: Charles Mydlarz
Principal Investigator: Dr Ian Drumm
Co-Investigator: Professor Trevor Cox
Website: http://www.soundaroundyou.com/