Wed 2nd November 12:30 – 13:30. This seminar will be held on Teams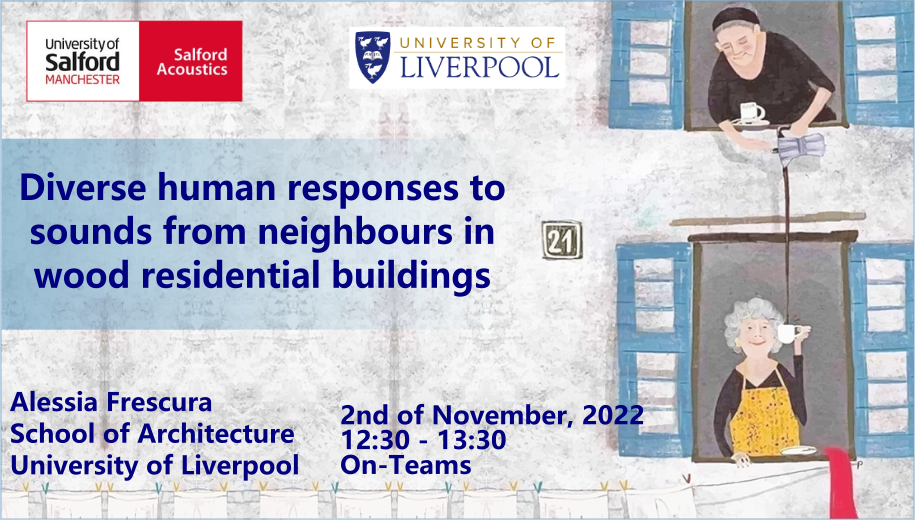 Alessia Frescura Alessia.Frescura@liverpool.ac.uk
Abstract
Sound from neighbours is a key locus of contestation in densifying cities where the construction of high-rise lightweight buildings is promoted as more sustainable for the environment. Neighbours' sounds invade private spaces, impairing their restorative potential and, sometimes, having dramatic effects on the quality of life. Additionally, reactions to such sounds are quite different across the residents. Inhabitants may have different sensitivity to noise, different attitudes towards their neighbours, and dissimilar circadian rhythm types.
In this seminar, I will introduce three laboratory experiments, which investigated psychological and physiological human responses to some of the most common sound from neighbours (i.e., footsteps, speech, and music), with consideration of personal characteristics of potential residents.
The first study focused on the effect of noise sensitivity on annoyance, emotions, and physiological responses (facial electromyography, electrodermal activity, and heart rate) when hearing footsteps, music, and speech sounds from neighbouring units singularly, or in combinations.
The second research extended the previous one, investigating the same sound sources by looking at the effect of noise sensitivity and attitude towards neighbours on EEG Alpha waves.
Finally, the third investigation examined the effect of spatial characteristics, time of the day, noise sensitivity, attitude towards neighbours, and circadian rhythm type on annoyance provoked by upstairs footsteps sounds. Overall, findings from these studies highlight the role of several acoustic and non-acoustic factors on the subjective evaluations of sounds in residential spaces, suggesting that participants with dissimilar personal characteristics rate and respond to neighbours' sounds in a significantly different way.
Biography
Alessia Frescura graduated from the University of Bologna with a Bachelor and a Master degree in Architecture and Building Engineering. Her thesis was a collaboration with the Audioscan practice in Barcelona concerning acoustics in eating establishments. 
Alessia joined at the School of Architecture in the University of Liverpool as an Early Stage Researcher (ESR) in the EU Marie Curie project-ACOUTECT in 2017.
Currently, she works on her full-time PhD on psycho-physiological evaluation of human exposure to floor impact sounds in lightweight buildings. The PhD is supervised by Dr PJ Lee and Prof. Carl Hopkins.