This photo is from the University of Salford's Photographic Archive. It is one of a number of photos we have depicting the redevelopment of the Ellor Street and Unwin Street area in the 1960s.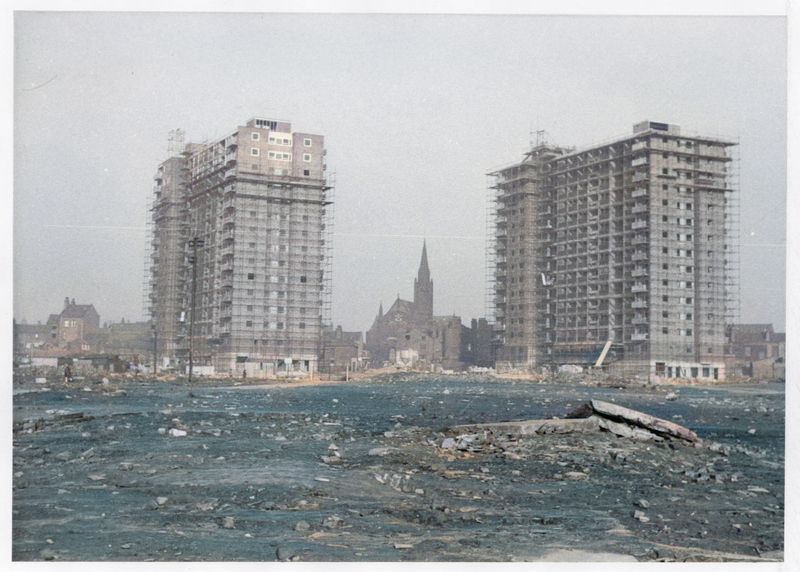 The perspective is really interesting in this photo. The church – probably built in the 19th century – is almost sandwiched between the high rise buildings. Its almost shocking – 10 years earlier, the church would probably have been the tallest building in the scene but is now overcome by the towering blocks of new housing and has been left looking quaint and toy-like.
The Ellor Street and Unwin Street development made way for Salford Precinct and Shopping City. Do you know what church this is in the photo? Perhaps you were one of the first residents in the towers? Let us know by leaving a comment.
---
If you would like to receive notifications of new blog posts email 'SUBSCRIBE' to themodernbackdrop@salford.ac.uk
We are interested in what you have to say about our posts. Please use the comment box below. Comments in our blogs and material sent to us will be displayed anonymously in an exhibition at Salford Museum and published in an exhibition catalogue.
We are also collecting personal memories, photographs, postcards, letters etc. from people who remember the daily life in Salford during the 1950s, 60s and 70s. If you would like to share a memory or a family photograph, please contact us: themodernbackdrop@salford.ac.uk