Sanctions, support and Service leavers: Social security and transitions from military to civilian life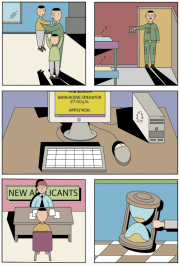 This project represents the UK's first substantive research to focus on veterans' experiences within the social security benefits system. This ground-breaking research brought to light a number of difficulties faced by those trying to navigate the benefits system. The project also included the commissioning of a graphic novel to support the dissemination of the findings.
Following the publication of the SSSL findings, the DWP have made a series of commitments to addressing key recommendations. Furthermore, a multi-million investment was secured within the Government's September 2019 Spending Review to enhance the DWP Armed Forces Champion role.
This project links to the existing prestigious Welfare Conditionality: Sanctions, Support and Behaviour Change project.
Central to our work is a desire to establish an original evidence base to inform future policy and practice in relation to Service leavers and their families. This will be achieved through two rounds of qualitative longitudinal interviews with Service leavers and their families, along with consultation with key national, regional and local stakeholders. Our research is also supported by an advisory group, including representatives from the College for Military Veterans and Emergency Services, The Royal British Legion and the Ministry of Defence.
Final Report: Sanctions, Support & Service Leavers
Briefing Paper: Social Security Benefits, Welfare Conditionality and Armed Forces Service Leavers
Article on the project can be found in GM Housing Provider Anti-Poverty Newsletter Issue 17, pg 39
Funder: Forces in Mind Trust (FiMT)
Principle Investigators: Dr Lisa Scullion
Co-Investigators: Dr Celia Hynes, Katy Jones & Phil Martin
External Co-Investigator: Professor Pete Dwyer, University of York
For further information see Welfare Conditionality project website and our Facebook page