Building acoustics engagement: a touring, singing building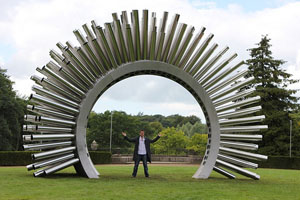 After 3 years Aeolus is set up at Lyme Park in Greater Manchester!
Aeolus – a singing sculpture
Lyme Park, Disley, 6th August – 29th August 2011
Eden Project, Cornwall, 19th September – 9th October 2011
Media City from 20th October 2011
The project: EPSRC PPE EP/G062773/1
Great science inspired by art
The relationship between art and science is eternal. Much great science has been inspired by art and much great art enabled by science. There is perhaps no stronger example of this relationship than the link between the art of sound and the science of acoustics. People of all ages can be moved, awed, inspired and intrigued by great music, grand reverberant spaces and strange new timbres. The sophistication of how we express ourselves with sound has developed with our understanding of the perceptual and physical science of sound. The art of sound will always be a way for many to appreciate, explore and understand science.
The 'building acoustics engagement' project will show how new, inspiring and intriguing art can engage curiosity and the desire to know through science. With the aid of a noted artist a large and beautiful new sculpture will tour the country; being sited at four successive locations. This unusual sculpture will be specifically designed to sing when excited by the wind or by people.
The visual and aural spectacle of a singing sculpture will inspire many with questions that surround how its strange sounds are naturally generated, propagated and perceived. Hence the tour will be accompanied by a well constructed education package of talks, events and activities delivered by enthusiastic advocates for acoustics and engineering. This will include:
Resources for schools including detailed lesson plans, activities and online resources to compliment Key Stage learning requirements;
Resources for the wider public including packs for guided tours, informative signage, accompanying on-site talks and interactive online resources.
Fun and accessible
These fun and accessible components will be designed to enfranchise the public with a greater knowledge of the role of acoustics in art and entertainment, wider technological development, the built environment and environmental law.With the aid of the education component the sculpture will be a highly attention grabbing and attractive vehicle for promoting science appreciation, engagement and even recruitment. By liaising closely with schools and community organisations, marketing for popular events and drawing on the public engagement pedigree of the UK's two principle acoustic research centres (Salford and ISVR); this project will be a highly visible, meaningful and enjoyable experience for the public.