SONA – Participant Recruitment Step by Step
Getting your "Researcher" account
You will only be able to use SONA for participant recruitment if you include this information in your ethics application.
Researcher accounts can only be issued by the system administrator
This is so no students can start advertising their studies before receiving ethical approval.
Once you've received your ethical approval letter, you need to email this to the system admins, (psytech@salford.ac.uk). An account will be created for you, and login details emailed to you.
---
The Researcher Home Page
The home page, unsurprisingly, is a hub containing links to everything you will need to run your study.
You can alter your

personal information

,

change your password

,

create

and

manage your studies

from the links presented here.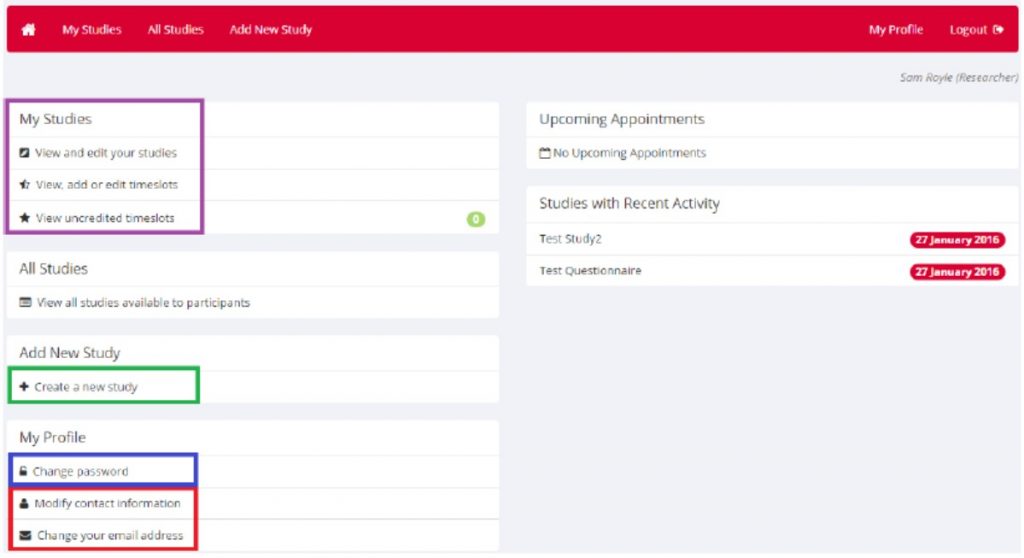 Uploading your study
To create your study, click the '

create a new study

' link.
You will then be presented with 4 options for the type of study you are conducting.
Study Types – Lab
Standard

Two-part standard study (aka longitudinal)

---
Study Types – Online
Though there are two options for online studies, you should only use 'Online External Study' if you are conducting an online survey. This will allow you to host your survey outside of the SONA system (i.e. on BOS).

You'll probably of noticed that with each study type comes two options: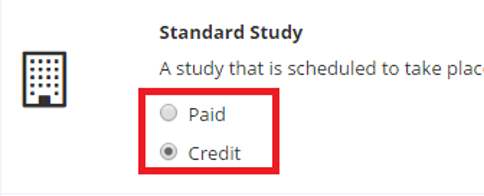 You will want to use the 'credit' option (as shown above) – This allows the system to grant research credits to participants in recompense for their participation.
---
Study Information
Once you've selected the appropriate study type and selected 'continue', you will be presented with a page for inputting your study information.
From here, you can save your progress at any time using the 'Add this Study' button at the bottom of the page – Don't worry, this doesn't make your incomplete study available to participants
What you enter into this page will depend on your study, but there are a few key fields to ensure you've completed correctly.
---
Payments
The system for credit rewards is as follows:
1 credit can be awarded for each 20 minutes, or part thereof, of participation.
So a 20 minute study is worth 1 credit, a 25 minute study (20 + part) is worth 2.
Studies that require participants to attend at a particular place and time (lab/field studies) can award 1 extra credit.
---
Codes
You will be asked to fill in a CRGEC approval code and expiration date.
These relate to your ethics application.
The CRGEC code is the code that designates your ethics application and will be available on your approval letter.
The CRGEC approval expiration is an ethical safety feature in SONA.
It ensures you can't collect data once your ethics approvals have expired.
Except, at Salford, we don't get ethics expiration dates.
So, you need to fill this in with a sensible date which represents a point by which you will of collected all your data (such as your dissertation deadline).
The last two fields in the basic options for SONA are 'approved?' and 'active study'.
Both of these need to be set to yes for your study to appear to participants.
If you want to keep working on your setup, simply leave one of these fields set to no when you save.

If you are running an online questionnaire study, you need to input the link to your questionnaire about half way down the advanced options
We won't cover any more advanced options today, but if you have any questions about the advanced options feel free to contact me.
If you are running an online questionnaire study, you need to input the link to your questionnaire about half way down the advanced options
Once your happy, click the 'save changes' button at the bottom of the page.

---
Timeslots
One last thing has to be done for your study to appear to participants on the SONA system, which is adding timeslots for participation.
First, select 'view, add or edit timeslots' from your researcher homepage (or alternately from the study menu drop down on the study page).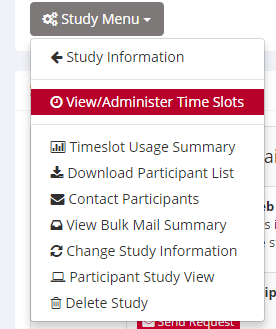 You will be presented with a list of your studies, with options to the right hand side.
Select 'Timeslots'.
And you'll be presented with the timeslot page for your study.

To add timeslots, click the '+ Add a timeslot button'.
How you set up timeslots is slightly different for lab and online studies

For online studies, we specify:
The final participation date and time
Max number of participants to collect data from (the same as the number you've said you'll recruit in ethics).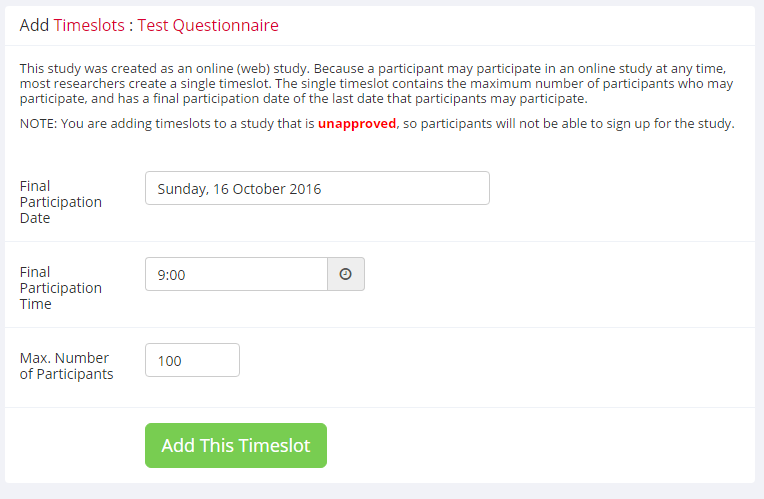 For lab studies, unlike with the online study, we need to specify a timeslot for each participant.
For lab studies, there is also an option to add multiple timeslots at once.

For lab studies we specify;
The number of timeslots to add
Date and start time of timeslots
Any free time we want between testing sessions
Optional – Business hours (limits timeslots within these hours)
The number of participants that can attend one timeslot
The location of testing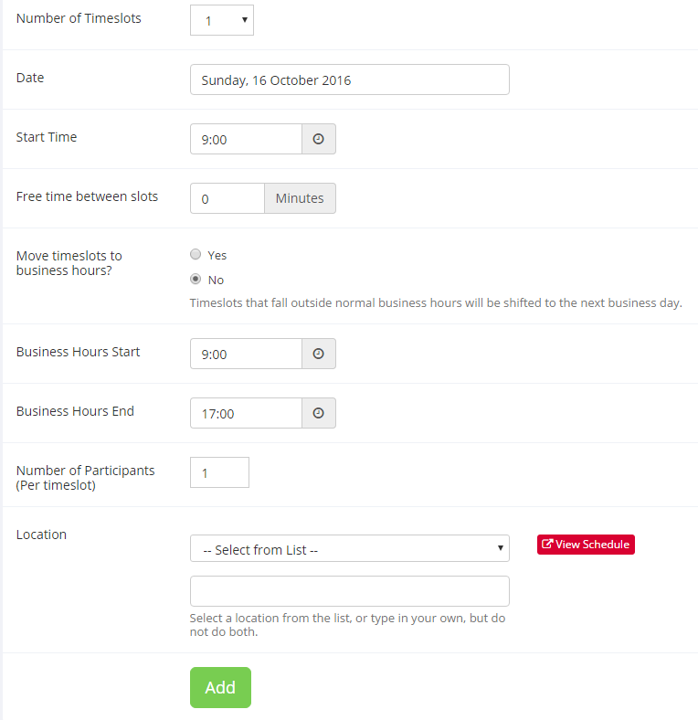 ---
Credit Rewards
Once participants have completed your study, you'll need to tell SONA to reward the credit.
With online questionnaire studies, you will need to ask for the SONA participation code of the participant within the survey, and then match this with the list of people signed up to complete your study in SONA.
To reward credits, use the 'View uncredited timeslots' button on the researcher home page.
You'll be presented with a list of the timeslots that have passed (lab studies) or a list of the participants signed up to complete your study (online studies).
To the right will be 3 options:
Participated – Use this to award credit for participation
Excused no-show – Didn't participate but for acceptable reasons
Unexcused no-show – Didn't participate.
(If participants in SONA receive 2 unexcused no-shows they will be locked out of the system to stop them wasting peoples time, so use this option responsibly).

---
Closing your advert
Once you've finished collecting data, you will need to close your survey (unless the maximum number of participants has been reached).
You can do this one of several ways:
Set 'active study?' or 'approved?' fields in study information to no.
Ensure no timeslots are available.
Set closing date to the current time/date.
---