Dr Chloe James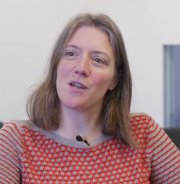 ---
Chloe's research explores the molecular mechanisms by which bacteria interact with their surroundings. She is particularly interested in how certain viruses (bacteriophages) influence the biology of bacteria and in the development and spread of antibiotic resistance. Her work has contributed to a better understanding of antibiotic resistance mechanisms and bacteriophages that integrate into bacterial hosts as prophages.
Active in science communication and public engagement, Chloe runs microbiology-based activities at science festivals to increase public awareness and understanding of AMR. She is interested in how immersive technology and art can be used to enhance learning about microbiology, and has developed a network of multidisciplinary collaborations to find new and exciting ways to do this. Chloe is also Chair Elect of the Impact and Influence committee for the Microbiology Society (2019-2023).
---
Current Projects
Improving local surveillance of antibiotic resistance and antimicrobial stewardship in Uganda. with Louise Ackers, Ian Goodhead and Richard Birtles Funded by THET and K4C
Prophage host interactions: pulling back the curtains on Pseudomonas puppet masters. In collaboration with Ian Goodhead and Heather Allison (University of Liverpool). Funded by BBSRC.
MICROBIhOME – mixed media installations exploring the human microbiome. In collaboration with Joe Latimer, Ian Goodhead and Sarah Withers Funded by The Microbiology Society and The Physiological Society.
Antimicrobial Surface Coatings for Infection control via chemical vapour deposition: evaluating the efficacy of antimicrobial surface coatings. In collaboration with Joe Latimer, Heather Yates and Sarah Withers and in conjunction with Melbec Microbiology Ltd., Funded by the Higher Education Innovation Fund.
Investigating the efficacy of prophylactic D-mannose in reducing adhesion of Uropathogenic Escherichia coli. In collaboration with The University of Oxford.
---
Selected outputs
Ackers-Johnson, G., Kibombo, D., Nsubuga, M. L., Kigozi, E., Kateete, D., Kajumbula, H., Walwema, R.,  Ackers, H. L., Goodhead, I., Birtles, R. & James C.E (2020) Antibiotic resistance profiles and population structure of disease-associated Staphylococcus aureus infecting patients in Fort Portal Regional Referral Hospital, Western Uganda.  BioRXiv  doi: https://doi.org/10.1101/2020.11.20.371203
Molitor A, James C. E., Fanning S, Pagès JM, Davin-Regli A (2018) Ram locus is a key regulator to trigger multidrug resistance in Enterobacter aerogenes. J Med Microbiol. (67) 2.

Pint of Science 2020 – Virtual Reality Games to enhance engagement in Microbiology
James, C. E. et al. (2017) Evolutionary diversification of Pseudomonas aeruginosa in an artificial sputum model. BMC Microbiology 17

James, C. E. et al. (2016) Temperate phages both mediate and drive adaptive evolution in pathogen biofilms. PNAS 113 8266-71