Eaga Charitable Trust Fuel Poverty Research Library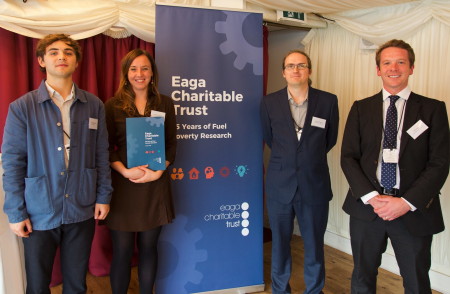 SHUSU worked closely with Eaga Charitable Trust to consolidate and document their 25-year output as well as look to the future of fuel poverty research.
An online library as been produced to document the legacy of Trust, which closed in late 2019. Founded in 1993, the Trust has supported diverse and highly policy relevant research for 25 years. This library brings together the entirety of this body of outputs under five key themes: Homes, People, Impact, Approaches and Concepts. The library was launched at a special event in the House of Lords on 16th October 2019.
The website also contains outputs from the project that summarise the Trust's outputs for a range of audiences:
a suite of animations on fuel poverty by University of Salford staff and students,
a summary brochure including a 25-year timeline,
topic guides for policy makers.
The project included two new studies:
the report of a Delphi study of expert opinion on future directions for the field of fuel poverty. 
A survey of researchers supported by the Trust.
Principal Investigator: Dr Graeme Sherriff
Co-Investigators: Philip Martin, Danielle Butler and Professor Philip Brown
Website: www.fuelpovertylibrary.info