Can Design Save Society? Symposium
Took place Monday 5th November 2018 from 16:00 to 18:00 (GMT)
University of Salford | New Adelphi Building
What role does design have in shaping the social issues around us?
Could design and the work of artists be an untapped resource in helping tackle pressing social concerns?
What are some of the issues in working on social policy issues from a creative standpoint?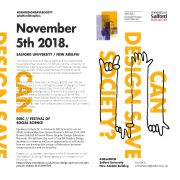 The School of Arts and Media (SAM) and the Sustainable Housing & Urban Studies Unit (SHUSU) at the University of Salford organised a symposium entitled 'Can Design Save Society?' as part of the wider Festival of Social Science (Economic and Social Science Research Council (ESRC).
SAM and SHUSU have been working together over the last couple of years on illustrating the power of design to make people and policy makers stop, think and reflect on established knowledge about the world and pressing social issues. We have collaborated on issues such as welfare, homelessness, racial justice, equality, domestic violence and other issues. This symposium aimed to show some of this work as well as hear from creative practitioners, policy makers and researchers.
A number of diverse speakers presented on areas relative to their artistic practice, charitable organisation or research. The work of our BA Graphic Design students were present and the opportunity to talk about how we can develop this unique collaboration between creative practice and social policy took place.
The event was held in the New Adelphi Building.