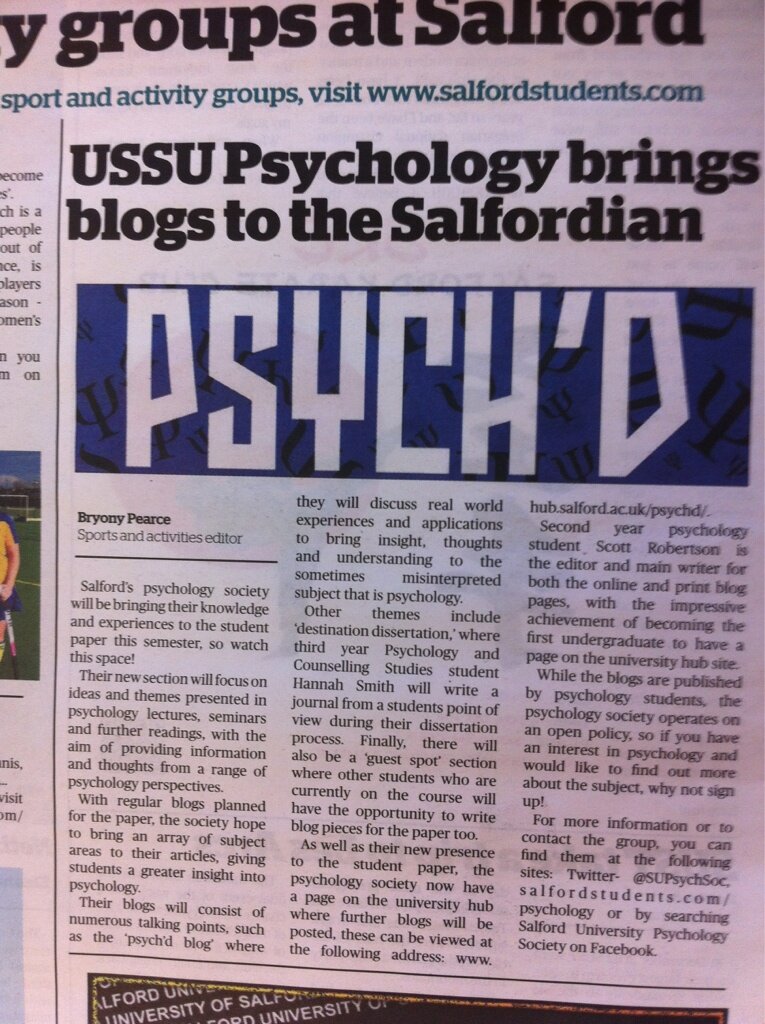 Recently a number of our psychology students have ventured into the world of blogging.  They are writing about psychology in the 'real world', their experiences of studying psychology, reviews of events they have attended and films they have seen.  Having a blog can help develop a person's online presence and demonstrate their ability to communicate on public platforms in a professional manner – an essential skill for aspiring psychologists who may work with vulnerable groups in the future.
Scott Robertson, a second year BSc (Hons) Psychology student, has established a blog and podcast network called 'Psych'd'. Scott has kindly given permission for us to republish his first post 'Pop Goes Psychology – Misconstrued Misconceptions' which launched the Psych'd blog (see below).  The post was originally published here.  Psych'd has already had some local media coverage (see image) and Scott has some interesting plans in the pipeline. To find out more, you can also follow him on twitter @totheendandback.
_________
Pops Goes Psychology: Misconstrued Misconceptions
As this is the first post, I would like to welcome you to the Psych'd Blog.
This week we will be looking at the generally recognised popular 'pop' psychology.
The term 'pop' psychology refers to concepts and theories about human mental life and behaviours that are predominantly based on psychology paradigms, these attain popularity among the general population. (Tosey & Mathison, 2006)
This phrase is often used in a somewhat dismissive fashion to describe psychological concepts that appear oversimplified, out of date, unproven or misinterpreted. However, the term may also be used to describe professionally produced psychological knowledge, regarded by most experts as valid and effective, that is intended for use by the general public.
The term 'pop psychologist' can be used to describe authors, entertainers etc. who are widely perceived as being psychologists. Not because of their academic credentials, but because they have projected that image or have been perceived in that way in response to their work. Pop Psychology can come in many forms, Self-help books; The Road Less Travelled by M. Scott Peck, TV, Radio and Print Advice; Dr Phil (America) and Dear Abby and Psychological terminology making its way in to everyday language or Psychobabble; Inner Child, Freudian Slip or as it should be known Parapraxis. (Dilts et al, 1980 and Corballis in Sala, 1999)
Pop Psychology is an essential ingredient of the self-help industry. According to Fried and Schulte's, criteria for a good self-help book include- "claims made by the author as to the book's efficacy, the presentation of problem-solving strategies based on scientific evidence and professional experience, the author's credentials and professional experience, and the inclusion of a bibliography". (Witkowski, 2010 and Stollznow, 2010)
Some potential dangers of self-help books according to are Lum, (2001) are; People may falsely label themselves as psychologically disturbed, People may also misdiagnose themselves and use material that deals with the wrong problem and People may not be able to evaluate a program and may select an ineffective one.
Psychobabble is described as the misuse and or overuse of technical psychological terms as described earlier. Sometimes Psychological jargon is used to dress up sales pitches, self-help programs, and New Age ideas to lend these endeavours a respectable scientific appearance. Other times, people use psychological terminology to describe every day, normal experiences in a way that musicalises a normal behaviour, such as feeling sad after a loss, by suggesting that unpleasant emotions are a type of Psychopathology, like major depressive disorder.
People may use Psychobabble because they believe that complex, descriptive or special esoteric terms more clearly or more dramatically communicate their experiences of social and personal situations, or because they believe that it makes them sound more educated.
Some of these terms that have an origin in Psychological terminology and are typically misused include co-dependent, dysfunctional, meaningful relationship, narcissistic, and synergy.
Despite the various publications, the general public have a minimal understanding of what Psychologists do and what 'Psychology' is all about. Many believe Psychology was "mind reading and spiritualism", (O'Connor, Joseph & John Seymour, 1993) and that it had no real application in everyday life.
In reality, Psychology is more about studying human behaviours and experiences that have strong applications to everyday life.
Written by SGR
With Thanks to Lorna Paterson and her wonderful inspiration for this blog post
References
Corballis, MC., "Are we in our right minds?" In Sala, S., (ed.) (1999), Mind Myths: Exploring Popular Assumptions About the Mind and Brain Publisher: Wiley, John & Sons. ISBN 0-471-98303-9 (pp. 25–41)
Dilts, R., Grinder, J., Delozier, J., and Bandler, R. (1980). Neuro-Linguistic Programming: Volume I: The Study of the Structure of Subjective Experience. Cupertino, CA: Meta Publications.
Lum.C (2001). Scientific Thinking in Speech and Language Therapy. Psychology Press. pp. 16. ISBN 0-8058-4029-X
O'Connor, Joseph & John Seymour (1993). Introducing Neuro-Linguistic Programming: Psychological Skills for Understanding and Influencing People. London, UK: Thorsons. ISBN 1-85538-344-6.
Stollznow.K (2010). "Not-so Linguistic Programming". Skeptic 15 (4): 7.
Tosey, P. & Mathison, J., (2006) "Introducing Neuro-Linguistic Programming Centre for Management Learning & Development, School of Management, University of Surrey.
Witkowski (2010). "Thirty-Five Years of Research on Neuro-Linguistic Programming. NLP Research Data Base. State of the Art or Pseudoscientific Decoration?". Polish Psychological Bulletin 41 (2): 58–66.