Free Programme for Start Up Entrepreneurs
Are you aged 50 or over and starting (or think about starting) a new business in the Greater Manchester Area? Laterpreneurs is a free programme that's here to help.
This programme is designed to create the support group or "Business Club", that you need to start up a new business with success. Laterpreneurs provides expert business support for people over the age of 50 who are either looking to start a business or have recently started one.
Salford University has significant experience engaging with this age group through the Silver Workers project: a European funded project which engaged with over 100 participants and 200 employers.
This project helps entrepreneurs to overcome the barriers and challenges associated with setting up a new business with particular reference to the differing needs of those over the age of 50. Alongside expert business support, the Laterpreneurs support group will provide a welcoming and inclusive network to help build longer term relationships that support your business development and growth.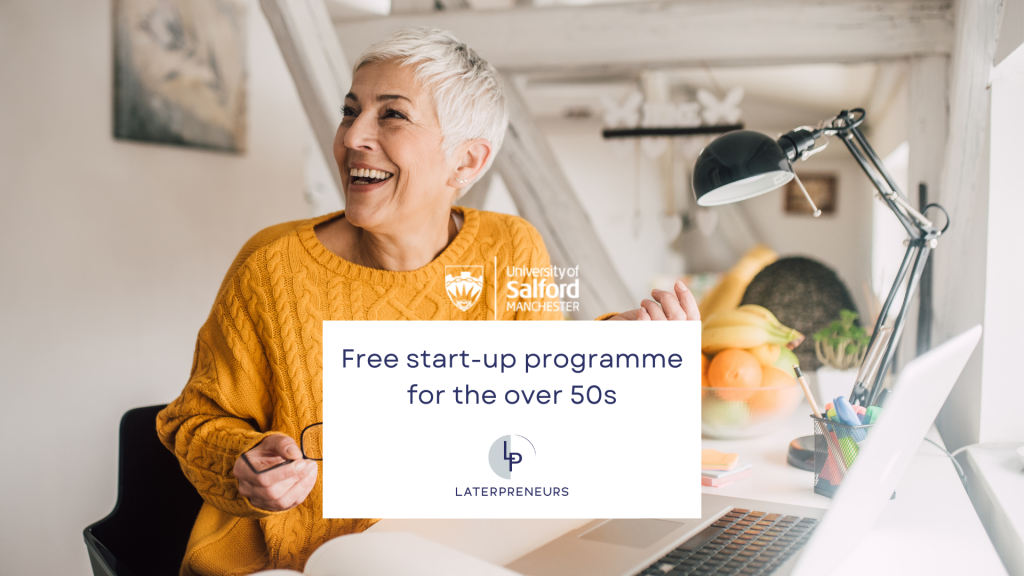 NEW Cohort beginning in early 2023.
Why join the Laterpreneurs Programme?
A supportive network of like minded entrepreneurs
A bespoke and free training programme to help you find success first time
Practical coaching & support from programme tutors and academics
Workbook modules focused on supporting your business growth
Expert training delivered in cohorts of start up entrepreneurs
Links to, and support from, wider networks for start-ups including: Greater Manchester Business Growth Hub, Greater Manchester Chamber of Commerce, Local community groups, Local authorities
"No business is too small, if you want to start a business, start now."
The Project Team
All members of the project are experienced academics and business coaches working at the University of Salford with years of expert and practical experience to share….