Projects
CDR has led and contributed to a wide range of projects within the broad theme of disaster resilience:
Funding from diverse, prestigious and innovative sources, including EU Framework 7, EU Lifelong Learning, EU Asia Link, European Social Fund, Foreign and Commonwealth Office, British Council and RICS.
Addressed major local and global challenges such as climate change adaptation, social impact of post-conflict reconstruction, gender, curricular development, knowledge management, continuity planning, and capacity building for resilience.
Projects carried out in close collaboration with academic, government and non-government partners.
Our current and recent research projects include:
EU circle
EU-CIRCLE – A pan- European framework for strengthening critical infrastructure resilience to climate change
EU-CIRCLE is funded by the European Union's Horizon 2020 research and innovation programme under grant agreement No 653824. The EU-CIRCLE consortium has 21 partners. The University of Salford is one of the partners who are leading the Task of developing a EU-CIRCLE resilience framework for critical infrastructure.
Climate related hazards have the potential to substantially affect the lifespan and effectiveness of European Critical Infrastructures with devastating impacts in EU appraising the social and economic losses. The main strategic objective of EU-CIRCLE is to move towards infrastructure network(s) that is resilient to today's natural hazards and prepared for the future changing climate. Furthermore, modern infrastructures are inherently interconnected and interdependent systems ; thus extreme events are liable to lead to 'cascade failures'.
EU-CIRCLE's scope is to derive an innovative framework for supporting the interconnected European Infrastructure's resilience to climate pressures, supported by an end-to-end modelling environment where new analyses can be added anywhere along the analysis workflow and multiple scientific disciplines can work together to understand interdependencies, validate results, and present findings in a unified manner providing an efficient "Best of Breeds" solution of integrating into a holistic resilience model existing modelling tools and data in a standardised fashion.
For more information please contact Dr Chaminda Pathirage (C.P.Pathirage@salford.ac.uk )
EDURISK
EDURISK – Evolving Disaster Vulnerability and Resilience through the Involvement of School Kids
Natural disasters can have an enormous impact on children. Knowledge, understanding and awareness regarding disaster risk can effectively reduce their vulnerability to disasters. Participation of children for disaster risk reduction (DRR) activities is important as once they become parents, the knowledge and understanding obtained today will be transferred to their own children in keeping continuity of the disaster management knowledge transfer from one generation to another (UN/ISDR, 2012). Knowledge transferring from children to individual households on DRR can be used to educate the society as a whole. Engagement of children for DRR activities therefore will not only improve the effectiveness of them but also will be sustainable for years to come (UN/ISRD, 2012).
Methods that seek to educate children have to be carefully planned, in order to communicate and disseminate knowledge on DRR effectively. Initiatives such as games, debates, and workshops that involve the active participation of children and community members are increasingly becoming popular as opposed to traditional classroom lectures and seminars.
The proposed project EDURISK seeks to develop a board game or other interactive method to improve the awareness of school children in Sri Lanka regarding disaster risk reduction practices that can be used to avoid and mitigate the impact from the disaster(s).
Following tasks will be carried out for the project:
Identify the most suitable disaster(s) that needs to be addressed in Sri Lanka
Investigate the existing DRR strategies for the identified disaster
Explore the existing interactive methods available for disseminating knowledge on disaster risk in Sri Lanka*Investigate the criteria that have to be considered in developing an interactive board game within the context of Sri Lanka
Develop a board game or other interactive method by considering the DRR strategies and key requirements
Project Team:
Dr Udayangani Kulatunga (U.Kulatunga@salford.ac.uk )
Tariq Hisham (H.Tariq@edu.salford.ac.uk )
CLimate Impacts in Malaysia: Attenuation Through an Integrated Safer built Environment (CLIMATISE)
Dr. Udayangani Kulatunga of the Centre for Disaster Resilience (CDR) has secured a research grant from the British Council under the Newton Institutional Links programme for developing a resilient built environment for climate induced extreme weather events in Malaysia with the partner institution Universiti Tun Hussein Onn Malaysia (UTHM). The project is titled "CLimate Impacts in Malaysia: Attenuation Through an Integrated Safer built Environment (CLIMATISE). The total value of the project is £80,642 over a period of one year.
As climate change is predicted to endanger human health, the global food security, economic development and the built and natural environment it is a prudent strategy to adopt multiple collaborative strategies for purposes of mitigation and adaptation. In Malaysia it has been revealed that increases in temperature due to climate change has multiplied the intensity and frequency of storms and rainfall resulting in climate-induced extreme weather events (EWEs) such as floods, storms, landslides, and soil erosion. As it is difficult to completely eliminate the impacts from climate-induced EWEs, it is important that cities are resilient against them. Within this context, the ability of the built environment to withstand the impacts of climate-induced EWEs plays a direct role in determining how resilient the cities are.
This project intends to develop built environment specific strategies for adaptation and mitigation of climate-induced EWEs with the national and international collaboration of academics, practitioners and professional bodies. Development of a CPD programme, curriculum evaluation at the partner institutions, staff development and knowledge exchange activities, carrying out joint publications, and creating long-term strategic partnership between partners are the objectives of the study.
CLIMATISE provides an ideal platform to further the links between UK and Malaysia in creating a safer built environment and to conduct knowledge exchange and knowledge transfer at an institutional level following on from the previous Malaysia – UK Researcher links project grant CARE-RISK the centre received in November 2015.
Recent events/news
CLIMATISE workshop
CLIMATISE framework validation
Malaysian delegate visit
Conference participation
Project details
Principal Investigator: Dr Udayangani Kulatunga
The project starts on the 1 May 2015. For more information, please contact U.Kulatunga@salford.ac.uk
CARE-RISK
CApacity building to REduce disaster RISK in the UK and Malaysia
CARE-RISK: UK- Malaysia partnership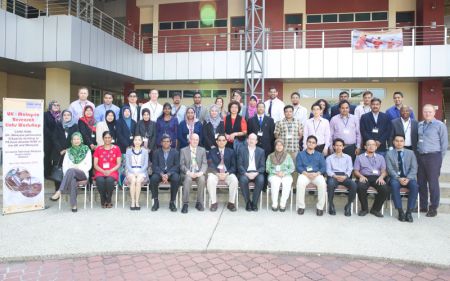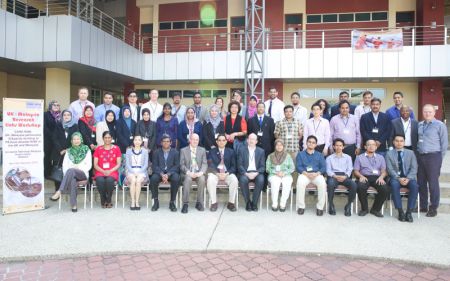 The CARE-RISK UK-Malaysia partnership was successfully held in Universiti Teknologi Malaysia from 9 – 12 February 2015. Dr Udayangani Kulatunga a member of the Centre for Disaster Resilience and a Senior Lecturer within the School of the Built Environment organised the workshop in collaboration with Dr Siti Tobi of the Universiti Teknologi Malaysia (UTM), Malaysia.
Seventeen early career researchers form the UK and twenty five from Malaysia participated at the workshop respectively. Four senior researchers both from the School of the Built Environment, University of Salford, UK and UTM, Malaysia also participated at the workshop as mentors. Guest speakers from Red Cross International; National Security Council, Malaysia; Mercy Malaysia an International NGO and Construction Research Institute of Malaysia (the research arm of CIDB) also contributed to the workshop. Further, representatives from the British Council, Malaysia; and British High Commission, Malaysia, also participated.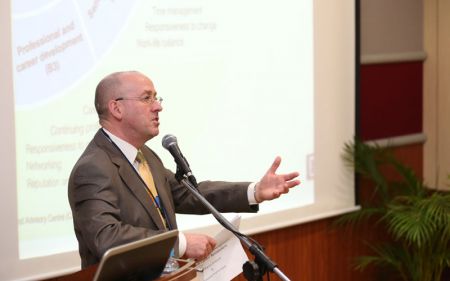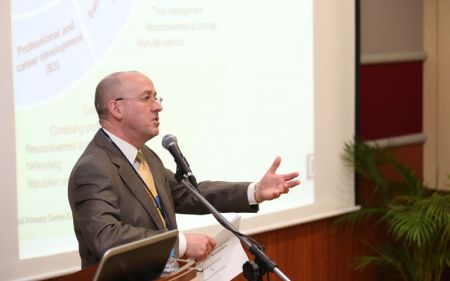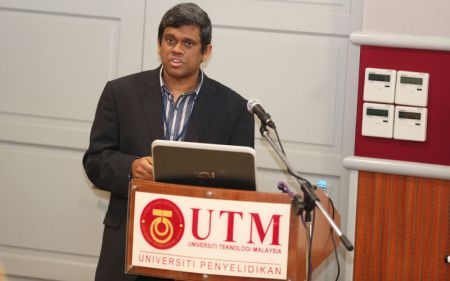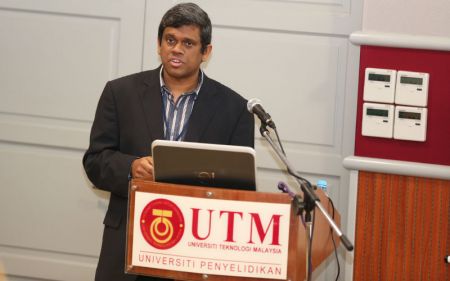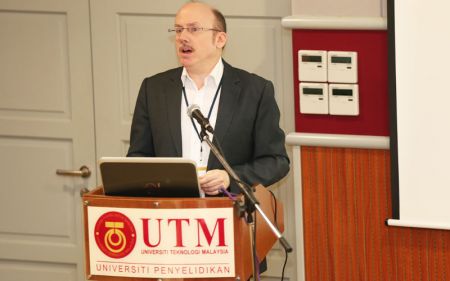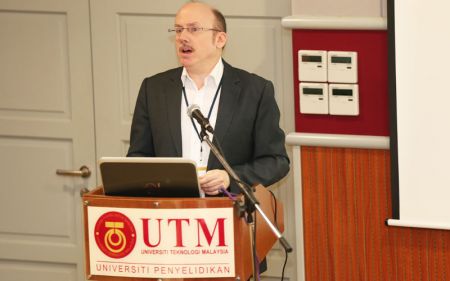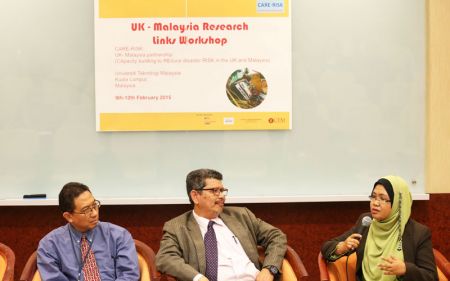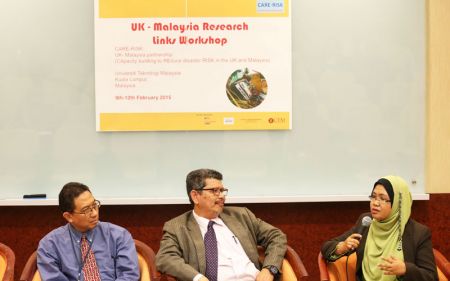 The workshop consisted of key-note speeches, academic and research skills development activities, poster presentations, group discussions, networking activities, cultural event and, a site visit. Dr Bingunath Ingirige from Centre for Disaster Resilience, University of Salford led the key note speeches addressing the main theme of the workshop capacity building for disaster risk reduction. In addition to that sessions were carried out by Prof Marcus Ormerod, University of Salford; Professor Chris Preece and Dr Abdul Rahim from Universiti Teknologi Malaysia on developing research profile of early career researchers, carrying out journal/conference publications and getting funding for research grants.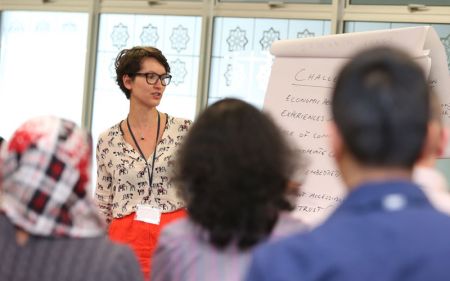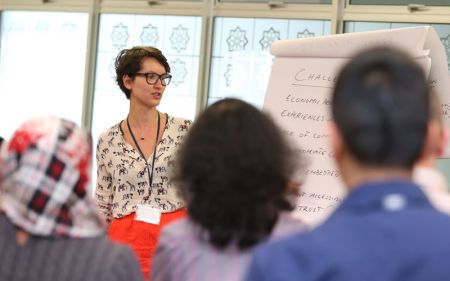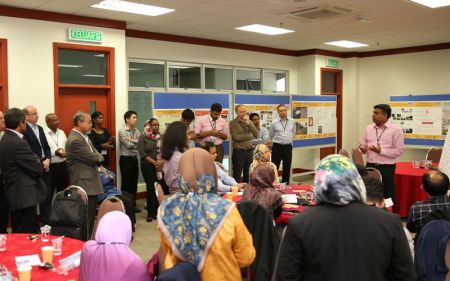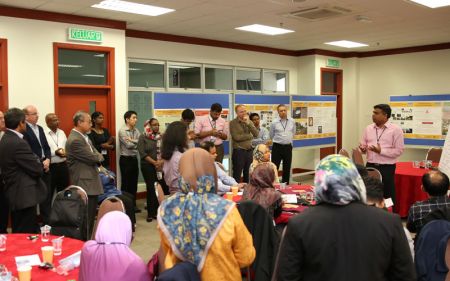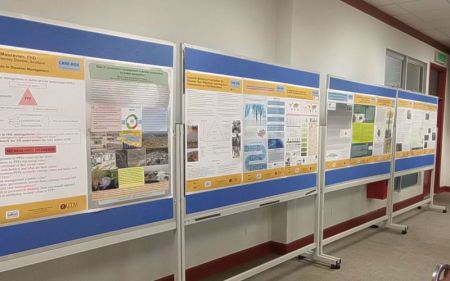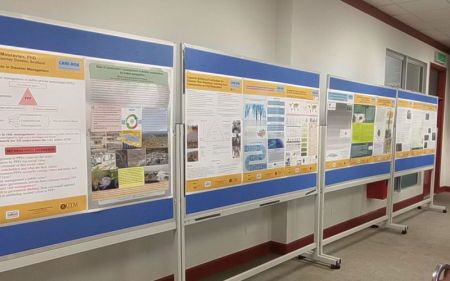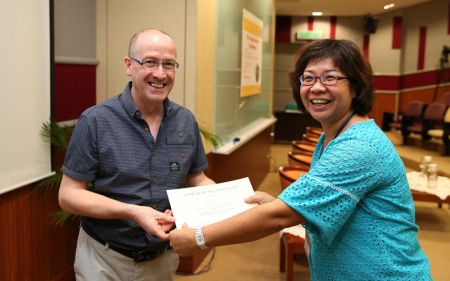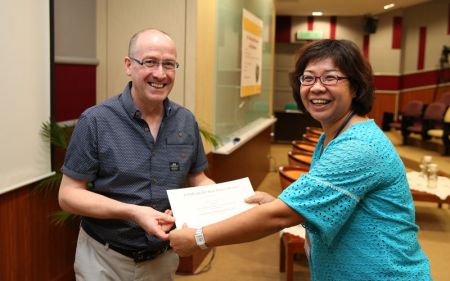 The workshop provided a unique opportunity for early career researchers from Malaysia and the UK to develop a sustained long-term research network for capacity building for disaster risk reduction. The workshop explored the current research needs, gaps, challenges and opportunities with particular reference to capacity building for disaster risk reduction. One of the highlighted areas of the discussions was lack of awareness during the preparedness stage of disasters. Accordingly, key emerging research themes were identified and working groups were formed to address this research need. Going forward, the following key themes were identified as areas that can be developed in a collaborative way between UK and Malaysia.
Mapping,
Mainstreaming disaster risk reduction,
Community engagement approaches,
Early warning strategies and
Natural flood management.
During the workshop, the participants were able to visit the longest multi-purpose tunnel in the world the SMART Tunnel; a combined storm water and motorway tunnel, which is not only a flood mitigation scheme but also a major source of easing traffic congestions to the city of Kuala Lumpur.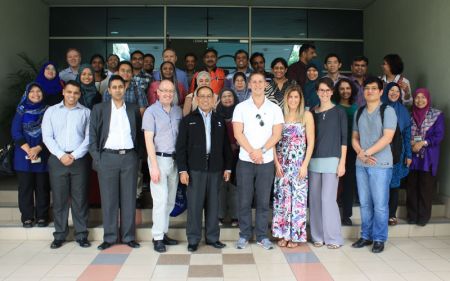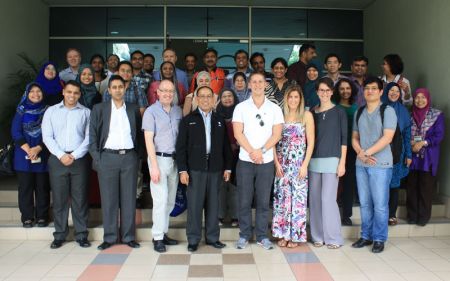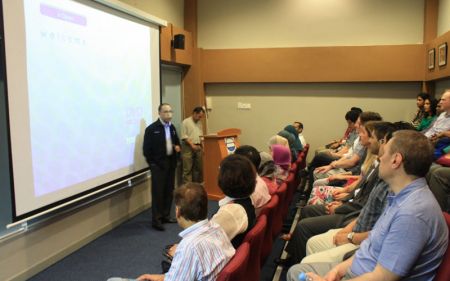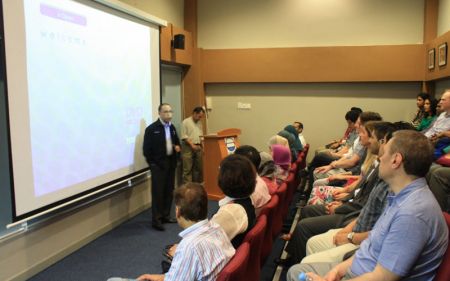 A book of abstracts consisting of the research work of the UK and Malaysian participants were published as part of the workshop. Special Issue on capacity building for disaster risk reduction in Built Environment Project and Asset Management journal was also launched at the workshop.CARE-RISK-book-of-abstractsDownloadSpecial-issue_BEPAM-with-logoDownload
CARE-RISK UK Malaysia partnership project has been funded by the British Council under their Researcher Links programme.
For more details please contact Dr Udayangani Kulatunga (U.Kulatunga@salford.ac.uk)
INCIDENT
Dr Bingu Ingirige and Prof Terrence Fernando have been successful in securing funding from ARUP under their UK, Middle East and Africa (UKMEA) fund to conduct an exploratory study into the cascading effects of a disaster event on critical infrastructure at a city scale. The project is titled "Impact aNalysis of City Infrastructure Disaster EveNT (INCIDENT)".
Infrastructure facilities such as transportation, telecommunications, healthcare, water supply and electricity are deeply embedded within social systems in cities. Intense disasters can cause systemic failures of infrastructure due to the strong interconnections between its components. INCIDENT takes this complexity of the networked infrastructure into account to prepare an exploratory structural model that captures the cascading impacts and consequences due to disaster events at a city scale. The exploratory project will provide the basis for a more comprehensive failure analysis study to be performed in the future.
Critical infrastructure facilities in many cities are vulnerable to both natural and anthropogenic disaster events and this exploratory project allows the integration between CDR skills of resilience building and visualisation and to work together with a leading global company like Arup to offer solutions to enhance resilience at a city level.
For further information about the project, please contact Dr Udayangani Kulatunga: U.Kulatunga@salford.ac.uk
CASCADE
CASCADE (Collaborative Action towards Societal Challenges through Awareness, Development and Education) is a project funded under the European Union's 7th Framework Programme.
It aims to provide the foundation for a future International Cooperation Network (INCONET) programme targeting South Asian Countries and which will promote bi-regional coordination of Science & Technology (S&T) cooperation, including priority setting and definition of S&T cooperation policies. The project is delivered through a consortium of 17 European and Asian research institutions which is coordinated by the University of Salford.
Commencing in October 2013, CASCADE is an 18-month support action project that comprises five work packages. Three RTD work packages (WP2 to WP4) are supported by project management (WP1) and dissemination (WP5). The RTD WPs have been structured to support: the identification and prioritisation of thematic global societal challenges of mutual EU-Southern Asian interest as the basis for future bi-regional cooperation (WP2); the identification of national and regional stakeholders that can influence the global challenges and research priorities relevant to the South Asian region (WP3); and, the stimulation of participation by Southern Asian stakeholders in Horizon 2020 (WP4).
The combination of these work packages achieves the overall aim of CASCADE: to prepare ground for a future INCONET programme that targets South Asian Countries and promotes bi-regional coordination of Science & Technology (S&T) cooperation, including priority setting and definition of S&T cooperation policies.
CASCADE will raise awareness on research and innovation priorities for fostering cooperation and towards building mutual understanding on how to address common global societal challenges linked to Horizon 2020. One of the key objectives CASCADE project is to assemble a regional position paper that identifies global challenges, research priorities and increases awareness on how to address common problems being faced by the two regions linked to Horizon 2020.
For further information about the project, please contact Dr Udayangani Kulatunga: U.Kulatunga@salford.ac.uk
ANDROID
The CDR-led Academic Network for Disaster Resilience to Optimise educatIonal Development (ANDROID) is an Erasmus academic network that aims to promote co-operation and innovation among European Higher Education to increase society's resilience to disasters of human and natural origin.
ANDROID, which is funded by the European Commission, runs from October 2011 to January 2015. The network has 67 representatives from 31 countries, 28 in the EU, as well as organisations from Australia, Canada and Sri Lanka.
The network's teaching and research is concerned with what resilience is, what it means to society, and how societies might achieve greater resilience in the face of increasing threats from natural and human induced hazards. The network will create a European approach that will help us understand the attributes that enable physical, socio-cultural, politico-economic and natural systems to adapt, by resistance or changing in order to reach and maintain an acceptable level of functioning. The network will also raise awareness and promote a common understanding among stakeholders of the importance of disaster resilience education and the essential role of European HEIs in improving society's ability increase disaster resilience.
ANDROID will:
Promote discourse among European applied, human, social and natural scientists to, pool their results and findings, discuss methods and develop inter-disciplinary explanations that increase society's resilience to disasters;
Describe, analyse, and compare the capacity of European cities and HE to address disaster risk, and thereby reinforce the link between education and society;
Build the capacity of HE to address emerging challenges in disaster resilience, strengthen the link between research and teaching, and inform policy development.
Its research and engagement has a significant influence on policymaking and practice and includes joint work to describe, analyse and compare the capacity of European cities and higher education institutions to address disaster risk. The network provides data, advice and guidance for policymakers and practitioners on the role of building and construction to anticipate and respond to unexpected major events which damage the environment.ANDROID-project-flyerDownload
The periodic Exchange Newsletter which gives more news about ANDROID can be downloaded from the ANDROID website.
You can also download the full proceedings of the ANDROID conference.
Read the UNISDR news article on ANDROID network: "EU creates academic network for disaster resilience".
For further information about the project, please contact Dr Menaha Thayaparan. Email: M.Thayaparan@salford.ac.uk
For further details on the project, please see the ANDROID website.
CADRE
CADRE (Collaborative Action towards Disaster Resilience Education) is funded by the Education Audiovisual and Culture Executive Agency, and aims to address current and emerging labour market demands in the construction industry to increase societal resilience to disasters.
The project will improve the quality and relevance of higher education through active cooperation between Higher Education Institutes and partners from outside academia, including construction professional bodies, local/national/international bodies and social partners. CADRE will achieve this aim by:
Establishing a framework for ICU integration to address societal concerns
Developing and testing an innovative professional doctoral programme that integrates professional and academic knowledge in the construction industry to develop societal resilience to disasters
Creating world-class curricula and modules to support the programme and address current and emerging capacity gaps in the development of societal resilience to disasters
Exploiting ICT to enable cross-border cooperation in the sharing and delivery of educational resources that support the professional doctoral programme.
CADRE is a 3 year project commencing October 2013. Centre for Disaster Resilience (CDR) is the lead partner for CADRE, and the work is being carried out with six other partners: Vilnius Gediminas Technical University, Lithuania; Tallinn University of Technology, Estonia; Northumbria University, UK; United Nations International Strategy for Disaster Reduction, Switzerland; University of Moratuwa, Sri Lanka; and Federation of Sri Lankan Local Government Authorities, Sri Lanka.
For further information about the project, please contact Dr. Menaha Thayaparan; Email: M.Thayaparan@salford.ac.uk.CADRE Press ReleaseDownload
CEREBELLA
Duration: 3 years commencing March 2011
Lead partner: Centre for Disaster Resilience, University of Salford, UK
Partnership: Collaborative research project with Patuakhali Science and Technology University, Bangladesh
Funded by: British Council INSPIRE Strategic partnership programme
CEREBELLA – Community Engagement for Risk Erosion in Bangladesh to Enhance Lifelong Advantage was recently funded by the British Council under their INSIPIRE scheme.
This will facilitate a long term strategic partnership between the School of the Built Environment's Centre for Disaster Resilience and Patuakhali Science and Technology University, Bangladesh. The partnership aims to share skills, knowledge and experience on climate change and disaster management.
This is the first research collaboration that Salford has won to work with Bangladesh.
The Salford academic team, will work closely with the Bangladeshi institution to: carry out hazard, vulnerability, and risk analysis; develop risk response strategies for disaster risk reduction and climate change adaption in Bangladesh; make recommendations for urban safety planning based on disaster risk and climate change impacts; update and develop curriculum on disaster risk reduction and climate change adaption; and, facilitate staff exchange and training programmes to enhance the capacity of partner institutions
It is hoped that the initial grant will facilitate the development of an effective and sustainable partnership the School and the Bangladeshi partner institution.
For further information about the project, please contact Dr Udayangani Kulatunga. Email: U.Kulatunga@salford.ac.ukCEREBELLA PosterDownload
CENEAST
The Centre is teamed up with institutions in the Russian Federation to enhance the quality and relevance of built environment education. The three-year research project – CENEAST (Reformation of the Curricula on Built Environment in the Eastern Neighbouring Area) – has secured €998,601 of funding from the Tempus EU Programme.
The key aim of CENEAST is to upgrade the curricula relating to the built environment in the universities of Belarus, Russia and Ukraine to ensure that building and civil engineering students possess the relevant skills for an international labour market. The project commenced in October 2012 and is led by Vilnius Gediminas Technical University, Lithuania and has 13 other partners from Belarus, Estonia, Italy, Lithuania, Russian Federation, Ukraine and United Kingdom.
The main objective of CENEAST is to upgrade curricula of BSc/specialists, MSc and PhD programmes with new modules on energetically and ecologically sustainable, affordable and healthy built environment in universities of Belarus, Russia and Ukraine in order to enhance the quality and relevance of education to labour market needs.
The project will develop 20 study modules and a virtual inter-university networked educational system to ensure cooperation among the partner universities in education and research.
Please visit http://www.ceneast.com/ for more details.
Enhancing resilience of critical road infrastructure: bridges, culverts and flood ways
Lead partner: RMIT, Australia
Key theme: "Hardening: buildings and infrastructure"
Duration: 7 years
Value: Aus$ 5 million
CDR represents the only international partner in this consortium.
Planned outcomes of this project include:
Quantitative evaluation of vulnerability of road structures under multi hazards of fire, flood, earthquake and climate change
Social, Environmental and Economic consequences of failure: community, emergency services staff and road/local government authorities.
Input for decision support at local government and state road authorities
A generic research methodology which can be applied to other infrastructure such as transmission towers, and water infrastructure.
Reconstruction for Peace
Duration: 12 months, starting May 2011
Lead partner: Centre for Disaster Resilience, University of Salford, UK
Partnership: 4 Sri Lankan institutions
Salford Team: Professor Richard Haigh, Professor Dilanthi Amaratunga and Professor Martin Hall
Funded by: UK Foreign and Commonwealth Office (this is the first University of Salford based project funded by this source)
This project is a major study to understand how infrastructure reconstruction programmes have impacted on women and vulnerable groups and affected social cohesion among local communities in conflict-affected areas of Sri Lanka – 'Conflict Prevention through Youth Engagement in Infrastructure Reconstruction,' funded by British High Commission, Sri Lanka. Investigators: R Haigh, D Amaratunga
While war in the North and the East of Sri Lanka has ended, peace, especially sustainable peace, is not so easily forthcoming.
Post-conflict reconstruction supports the transition from conflict to peace through the rebuilding of the socio-economic framework of the society. However, there is a need to pay special attention to conflict dynamics that may arise through development work. Interest in helping to support a lasting resolution to the Sri Lanka conflict has led some to focus efforts on strengthening incentives for peace and reconciliation, including encouraging conflict sensitive approaches and supporting post conflict recovery and reconstruction.
Physical infrastructure – broadly defined to include services that are essential ingredients to quality of life and economic activity – has the potential to connect or divide communities. Reconstructing physical infrastructure after a war can help in the peace building process through restoring dignity, providing much needed employment opportunity and promoting conflict sensitive approaches. Any physical reconstruction needs to be tailored to the needs of the affected people, including diverse ethnic groups. Precautions need to be taken to avoid repeating mistakes that occurred during post tsunami reconstruction efforts – lack of consideration of ethnic co-existence.
Conflict also tends to deepen gender discrimination and disadvantages faced by women. Similarly, youth, who have been born into and often participated in the war, must overcome persisting inequalities and differential access to opportunities, while the elderly face challenging economic constraints and often require special care. There is growing recognition that reconstruction requires interdisciplinary solutions; those professions traditionally involved in reconstruction of infrastructure – the construction industry – must understand the sensitive environment in which they will be operating. Understanding the needs of those living in the region will be vital if reconstruction is to help prevent future conflict.
Reconstruction for Peace was a one-year programme of research and capacity building that sought to explore the interaction between youth and infrastructure reconstruction programmes in the North and East of Sri Lanka as a means to prevent future conflict in the region.
The team specifically examined:
How reconstruction programmes engage, employ, connect and divide youth in the region;
The extent to which inequality in access to infrastructure affects social cohesion among youth;
The factors of infrastructure reconstruction programmes that are most sensitive to impacting conflict prevention.
The study was used to inform policy development and build the capacities of Universities in the North and East of Sri Lanka; and, the Sri Lankan construction industry (including SMEs) and local government engaged in reconstruction projects within the region. It is impact that this project will help us to demonstrate our research – by making a real impact towards the society that has suffered by the 30 year long civil war. In our view, this impact cannot be measured in financial terms.Reconstruction For Peace FlyerDownloadReconstruction For Peace Research SummaryDownload
DEFENCES
Developing Flood Expert kNowledge in CharterEd Surveyors, or DEFENCES in short, is a RICS (Royal Institution of Chartered Surveyors) Education Trust funded research project
Effects of flooding have been felt by many parts of the UK resulting in extensive damage to properties. Many businesses failed to cope with these flood events and suffered extensive damage. Among businesses, Small and Medium-scale Enterprises (SMEs) were the worst affected as they were the least prepared in comparison to their larger counterparts.
The Government review of the 2007 summer floods revealed that businesses lacked the information needed for flood adaptation. The lack of this vital knowledge and the ability to cope affects the sustainability and longer term growth of businesses in general and SMEs in particular.
The DEFENCES research project investigated the gaps in existing skills, knowledge and understanding of chartered surveyors in order for them to be able to provide independent, reliable and valid advice on property level flood adaptation measures to businesses; specially SMEs.
The Final Report of the DEFENCES project is now available to be downloaded from the RICS website:
For further information about the project, please contact Dr Udayangani Kulatunga: U.Kulatunga@salford.ac.uk
CREW

A consortium of researchers drawn from 14 universities developed a set of tools for improving the capacity for resilience of local communities to the impacts of future extreme weather events. Community Resilience to Extreme Weather (CREW), which is an Engineering and Physical Sciences Research Council (EPSRC) funded research project.
Taking a case study of five south-London boroughs, CREW sought to investigate local-level impacts on householders, SMEs and local policy/decision makers of a range of EWEs including flooding, subsidence, heatwaves, wind storms and droughts, and to develop a set of tools for improving their capacity for resilience to the impacts of future EWEs. The project exploited both physical and social sciences and comprised of a consortium of over 30 researchers drawn from 14 UK Universities.
One of the main objectives of CREW project was to undertake stakeholder-led social research to better understand how groups within a local community (policy makers, households and SMEs) respond to extreme weather, and study the impact of complex relationships between these groups have on local community resilience.
Dr Bingu Ingirige was a co-investigator of the programme package "Community Coping – Resilience capacity and coping strategies" of the CREW project.
For further information about the project, please contact Dr Udayangani Kulatunga: U.Kulatunga@salford.ac.uk
For more information about CREW, please visit the project website at www.extreme-weather-impacts.net
ISLAND I & II
'ISLAND & ISLAND II: Inspiring Sri Lankan Renewal and Development,' funded by RICS Education Trust, were a series of studies to develop key knowledge variables for post-disaster scenarios and platforms for creating and managing knowledge among major stakeholders, including government, industry and academia.
Frequency and extent of natural disasters are increasing on a global scale. Natural disasters claim many human lives and damage a great deal of property.
The urgent need to reduce disaster risk and develop a resilient community capable of recovering from disasters is of increasing concern in many countries. Knowledge management can play a vital role through ensuring the availability and accessibility of accurate and reliable disaster risk information when required and through effective lesson learning.
ISLAND aimed to increase the effectiveness of disaster management by facilitating the sharing of appropriate knowledge and good practices in land, property and construction. Due to the broad scope of disaster-management related activities, this initial research focused on creating a knowledge base on the post-tsunami response, with specific reference to case material in Sri Lanka. In this context, Sri Lanka provided a good base for data collection due to its experiences associated with the Indian Ocean Tsunami in 2004. The findings resulted in the production of several academic papers and presentations made at international conferences. As part of project findings, the need to concentrate on different phases of the disaster mitigation cycle was emphasised.
'ISLAND-II' (Inspiring Sri- LankAn reNewal and Development – Phase II) research project set out to identify key disaster knowledge factors pertaining to disaster management and incorporate appropriate knowledge and good practices relating to different types of disasters. The research was conducted according to four Work Packages (WPs): WP1- Test the Effectiveness of the Existing Knowledge Base; WP2- Identification of Key Knowledge Variables within the Disaster Management Cycle; WP3- Population and Expansion of Knowledge Base with more Case Studies; and WP4- Disseminate Research and Identify Future Research Directions. A review of existing literature, expert interviews and focus group discussions were used to deliver research outputs.
Disaster knowledge factors are classified into several categories based on their characteristics: Technological, Social, Environmental, Legal, Economical, Operational/Managerial, Institutional and Political. These factors are common for all types of disasters and across three phases of disaster cycle; mitigation/preparedness, relief/recovery and reconstruction/rehabilitation. Social factors have a very high influence level in managing disasters successfully.
Technological, operational/ managerial, economic, social, legal and environmental factors seem to have direct influence over the disaster management cycle, while the influence of institutional and political factors seemed indirect and it is through other factors identified. The mitigation/preparedness phase seemed influenced by almost all the disaster knowledge factors.
Among key challenges, the lack of detection and warning systems, the need for effective education, training and awareness raising programmes, the need for regular updating of disaster related laws, lack of funds for economic planning measures, poor planning, poor communication, poor leadership, and poor institutional arrangement were highlighted. Peoples' attitudes and perceptions hinder their involvement in disaster management; hence, in order to manage disasters successfully it is important to overcome these attitudes and perceptions.
For further information about the project, please contact Dr Chaminda Pathirage. Email: C.P.Pathirage@salford.ac.ukISLAND project brochureDownloadISLAND final reportDownloadISLAND RICS reportDownload
BELLCURVE
BELLCURVE (Built Environment Lifelong Learning Challenging University Responses to Vocational Education) was a European Commission funded research project conducted at the School of the Built Environment, University of Salford, UK, in collaboration with Department of Construction Economics and Property Management, Vilnius Gediminas Technical University, Lithuania and Department of Building Production, Tallinn University of Technology, Estonia. BELLCURVE ran from October 2009 to January 2012.
This project addressed issues associated with the mismatch between graduate skills and labour market requirements particularly in the Built Environment sector. In addressing this, BELLCURVE considered 'student engagement' as a continuous through-life process rather than a temporary traditional engagement limited by the course duration. This through-life studentship defines the essence of the new innovative "Lifelong University" concept, whereby providing an opportunity for learners to acquire and develop skills and knowledge enabling responds to changing construction labour market needs on a continuous basis. This requires a reform in governance systems based on strategic priorities to respond labour market needs effectively while promoting the lifelong learning agenda.
For further information about the project, please contact Dr Chaminda Pathirage. Email: C.P.Pathirage@salford.ac.ukBellcurve flyerDownload
Constructing Women Leaders
Construction in the UK is expanding and it is one of the region's largest industries and fundamental to all other economic activity. However, a scarcity of women in leadership positions in construction has persisted despite their increasing numbers in contraction training.
The issue regarding the lack of women leaders in construction has been a concern for many years, attracting government and industry wide attention. This has been made more prominent recently due to the potential managerial skills shortage facing the industry.
Accordingly, the Constructing Women Leaders project, led by Professor Dilanthi Amaratunga and Dr Richard Haigh from the Centre for Disaster Resilience aimed to research the underlying reasons for the scarcity of women in leadership positions in the region's construction industry, and to find out the ways to improve the current position of women leaders in construction.
This research attempted to:
Understand the role of women as leaders in construction in terms of : Their duties and their job satisfaction; Their leadership styles and their personal attributes; Acceptance of their leadership by others and their ability; Significance of their role (Number of women leaders, Extent of their contribution, and Positions or levels in the organisational hierarchy )
Understand the barriers confronting women in leadership positions in the construction Industry in terms of their personal and organisational dimensions
Identify potential remedies for overcoming these barriers
Examine the experiences of women leaders from other sectors and the initiatives undertake to overcome these challenges
Provide recommendations and good practice guidelines to addressing the barriers (including the identification of strategic leadership skills)
For further information about the project, please contact and Dr Menaha Thayaparan and Dr Udayangani Kulatunga. Email: M.Thayaparan@salford.ac.uk or U.Kulatunga@salford.ac.ukConstructing Women Leaders project brochureDownloadConstructing Women Leaders final reportDownload
Construction and Women
Supported by European Social Fund, the "Construction and Women" project aimed to identify the causes of a lack of women in professional construction: both in industry and academia in the North West of England. Policies, strategies and best practice guidelines were produced and disseminated to encourage women to pursue careers in construction, and improve retention in the industry.
The issue regarding the lack of women in construction has been a concern for many years, attracting government and industry wide attention and has been made more prominent recently due to the potential skills shortage facing the industry. Despite it being such a great concern though, there has been very little change in the number of women working in industry.
Numerous initiatives promoting construction careers to women have been developed but none have had the desired effects. Accordingly, increasing the number of women working in construction may go some way to improve the current status of the industry within the region, firstly by utilising the full range of skills available in the population and secondly by assisting construction organisations to become more efficient and adaptable to the needs of its customers.
More women working in construction will better the industry's image and will help to improve the current skills shortage by aiding the recruitment of others.
For further information about the project, please contact Dr Menaha Thayaparan M.Thayaparan@salford.ac.ukWomen and Construction flyerDownloadWomen in Construction Final ReportDownload
EURASIA
'Asia Link Project': EURASIA – European and Asian Infrastructure Advantage, EC (Framework) was a capacity development programme for Asian and European Higher Education Institutions undertaking training, teaching and research into disaster – resilient infrastructure. This project involved staff exchanges, programme development and a doctoral programme.
EURASIA aimed to enhance the capacity of the partner institutions for training, teaching and research activities required for the creation and long-term management of public and commercial facilities and infrastructure. It targeted (direct) postgraduate students, and junior and senior faculty members from the EU and Sri Lankan partner institutions and (indirect) researchers, other public sector organisations, consultancies and industry.
The main activities included deployment of a Virtual Teaching and Research Centre, development of a professionally accredited postgraduate curriculum, a split-site PhD programme for nominated staff of Sri Lankan partner Universities to enhance their capacity for teaching and research in the field, staff exchange programmes, design and delivery of training courses, and dissemination of the results of collaborative activities.
The partnership comprises England, Estonia, Lithuania and Sri Lanka and the project duration is 36 months.
EURASIA was funded by European Commission's Asia-Link Programme – a programme dedicated to higher education networking between Europe and Asia, addressing the above requirements of both the Asian and European continents.
For further information about the project, please contact Mr David Baldry: D.Baldry@salford.ac.ukEURASIA project brochureDownload
Avoiding Man-made Disasters: University-Community Water, Sanitation and Hygiene Project
This study aims to enhance the standard of living of communities by addressing water, sanitation and hygiene problems through increased awareness and good practices.
Bangladesh is one of the world's poorest countries having a population density of 1000 people/km2 which ranks it among the top most densely populated country in the world. Poverty is also a hallmark of many regions where safe water supply, standard sanitation and garbage disposal system are ill developed. On the one hand, supply of pure drinking water is limited while on the other hand, raw sewage and house hold wastes are discharged directly into rivers or nearby water bodies making the scarcity of fresh water prominent. Lack of knowledge among the people about hygienic practice and importance of safe disposal of sewage and waste drastically affect the health of individual living in the rural and urban areas. An attempt can be made to enhance the quality of the life of the people of rural and urban area by raising awareness among them about the importance of safe disposal of waste water and faecal matters.
Objectives:
Identification and capture of existing problems, practices and challenges on water, sanitation and hygiene of selected communities in Bangladesh
Planning appropriate actions in the consultation with relevant experts such as universities, NHS, NGO's etc based on identified problems and challenges
Implementation of awareness programmes/ campaigns on importance of clean water, hygiene and safe disposal of waste water
Sharing of good practices, guidelines and standards relating to water, sanitation and hygiene
Project is funded by British Council as part of Bangladesh Policy Dialogue- Building Bridges between Universities and Communities programme.
UK Lead Partner – Dr Chaminda Pathirage, Centre for Disaster Resilience, University of Salford, UK
Partner Institution – Dr. S.A. Hossain, Dean, Faculty of Biological Sciences, University of Dhaka, Bangladesh.
For further information about the project, please contact Dr Chaminda Pathirage. Email: C.P.Pathirage@salford.ac.uk
VEBER (Virtual Environment for Built Environment Researchers)
A team at the Centre for Disaster Resilience led the development and testing of a virtual environment to support international collaborative research projects.
Due to the challenges and opportunities associated with globalisation of the research agenda and advancements in ICT, research collaborations (both international and national) have become increasingly popular over the last decade.
The concept of Virtual Research Environments is emerging as a way of addressing the complex challenges associated with conducting collaborative research. Virtual Environment for the Built Environment Research (VEBER) has been developed by the Centre as a web based collaborative tool based on a state-of-the-art online communication framework. VEBER is based on an open source distributed toolset called Moodle, which was originally developed as an open source Virtual Learning Environment (VLE). Moodle is a dynamic data driven web application written in PHP and supports a number of different Database Management Systems (DBMSs) as the backend.
VEBER has been developed by using this toolset as a basis and by adding and adapting the functionalities required for a Virtual Research Environment. VEBER does not demand special skills for its usage; a general knowledge on how to handle an internet browser is sufficient.
VEBER provides a broad range of functionality that facilitates administration and coordination of an international collaborative project:
Collaboration and communication support – traditional communication modes are less capable of meeting the demands of multiple partner institutions in a collaborative research environment, therefore a set of communication tools embedded in VEBER is used for this purpose. These tools include communication channels such as announcements, discussions, group emails, forums and chat.
Information handling and exchange support – a file hosting tool provides a robust platform for information and document handling and exchange. VEBER is equipped with file hosting and sharing mechanisms including a common document repository and a private workspace to keep and share private and confidential documents securely.
Project management support – administration across partners is supported with calendar, task and notification tools.
Data collection and dissemination support – to overcome potential geographical barriers, VEBER provides a survey tool to aid data collection during a research project and a file hosting tool to facilitate joint paper preparations.
Research training support – VEBER provides discussion forums, file hosting, chat, online workshops and related learning materials, and library services, to support research training.
Access rights and allocation of responsibilities – VEBER provides user authentication mechanisms and strategies to share authorities and responsibilities. The sense of ownership is increased by increasing trust and facilitating leadership. Tools such as project calendars and task assignments help to establish and monitor commitment, transparency and clarity of activities desired for success. Communication tools such as forums, chatting facilities, and document repositories facilitated communication and project monitoring.
For further information on VEBER, contact Dr. Kaushal Keraminiyage at k.p.keraminiyage@salford.ac.uk