Social Prescribing and inequalities conference – 2022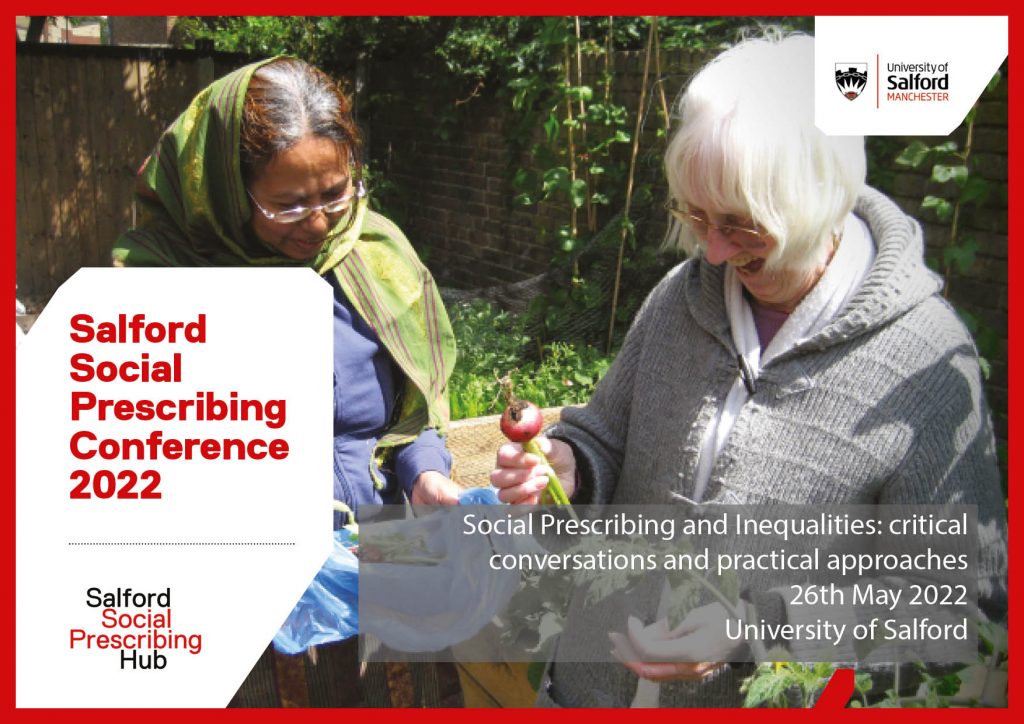 Conference title: 'Social Prescribing and inequalities: critical conversations and practical approaches'
Date: 26th May 2022
Venue: University of Salford – online
Tickets: https://shop.salford.ac.uk/conferences-and-events/health/salford-social-prescribing-hub/social-prescribing-and-inequalities-critical-conversations-and-practical-approaches
Email: spconference@salford.ac.uk
Programme HERE
This conference will explore innovative approaches to help reduce health and social inequalities through social prescribing. The conference will help develop practical ideas and strategies which attendees can take away and implement within their own work and infrastructures.
Social prescribing is now firmly on the UK's national agenda. From the embedding of social prescribing link workers in every Primary Care Network in England, to the key role social prescribing offers within the NHS's Personalised Care agenda, it is clear that social prescribing is here to stay and will only continue to grow.
Just as this new picture emerged, Covid hit, and had a direct impact on social prescribing, including lockdowns preventing the running of face to face services, a spike in mental health issues, and the emergence of long Covid. Covid has further widened existing inequalities, and placed renewed emphasis on the need to address the social determinants of health.
Huge progress has been made by social prescribing practitioners policy makers etc in a short space of time. However, key challenges and concerns remain for practitioners and commissioners of social prescribing services. These challenges and concerns include:
Tackling inequalities – the UK is a highly unequal society, which has been further widened by Covid – how can social prescribing address this and make a genuine difference to those most in need?
Link worker capacity – in an extraordinarily turbulent time for the health and social care system, link workers have shown incredible resilience and innovation. However, many link workers are struggling with workload and the lack of support, and even experiencing burn out as a result.
Voluntary sector & communities – the social fabric of the UK has been stretched, in many places to breaking point. Given that the social prescribing ecosystem depends on this social fabric, how can we ensure that communities and the organisations that support them, many of which are in the voluntary sector, are given sufficient resources to meet needs?
Integrated pathways and systems – how can GPs, link workers, other health care professionals and frontline services work together to ensure people are given all the support they need? How and to what extent is this integration being done both within and outside of the PCN infrastructure, and how is social prescribing integrating with other health professionals practice?
The conference has been designed to provide ultra-practical strategies and real-life examples to support and manage the continued growth of social prescribing. It will explore how cross-sector relationships – e.g. NHS, local authorities, statutory services, voluntary sector organisations and community groups – can work to support people and communities, and develop innovative solutions to the social problems we face.
Join us for 'Social Prescribing and inequalities: critical conversations and practical approaches', where people with a range of expertise and experience will share ideas, identify challenges, and explore innovative and practical approaches. We envisage a highly engaging and informative day, in which we invite all participants to help shape the social prescribing agenda and maximise its value for people and communities.
Submit your proposals HERE