Research and Development
The Salford Social Prescribing Hub has engaged in a range of innovative research and development projects – some of which we detail on this page.
Salford Social Prescribing Planning and Assessment Tool & Link Worker Training
The Salford  Social Prescribing Hub has developed a tool to support person-centred assessment and planning for those working in social prescribing (e.g., link workers and community connectors), in order to improve outcomes for both social prescribers and service users. 
The tool is intended to guide social prescribers through a person-centred process, from the beginning to the end of their engagement with the service user. The tool helps social prescribers to co-design a plan with the person and find the best social prescription and outcome for that person.
The tool is available to those who have completed the training by the University of Salford and have an active licence. The training is an integral part of the tool, and covers the use of the tool, the tool's underlying theory, and how the tool guides social prescribing practice.
KTP with Elemental
Our KTP (Knowledge Transfer Partnership) with Elemental is working to ensure that population health profiling and public health priorities are built into the Elemental digital platform as outcome metrics.
One of the key purposes of this KTP is to explore the best means of capturing data for use by specific and varied stakeholders.
This work aligns with the University of Salford's strategic research objectives for 'Digital' as we are actively working with partners to explore innovative digital methods and helping to promote the use of everyday tech within the social prescribing context.
RHS Bridgewater – Wellbeing Garden
As part of the RHS's development of its new garden in Salford – RHS Bridgewater – the University of Salford worked with the RHS, local NHS teams and other partners to develop and evaluate a social prescribing programme for Salford residents with long-term health conditions.
A transformative approach was developed by the project partnership, moving away from traditional forms of medical and therapeutic intervention towards providing participants with fun, creative, practical and sociable ways to manage their health and wellbeing, including support from their peers and engagement with their communities.
Key findings included:
Nature-based activities can transform wellbeing of people with long term conditions.
Therapeutic value relies on the creation of a healthy and safe space.
Person-centred activities allowed for meaningful participation and personal development.
Activities allowed participants to lose themselves in nature and activity, and find themselves in the process.
A research paper on this project was published in the journal 'Health & Place': Howarth, M., Lawler, C., & da Silva, A. (2021) Creating a transformative space for change: A qualitative evaluation of the RHS Wellbeing Programme for people with long term conditions. Health & Place, Volume 71.
Salford 'Wellbeing Matters'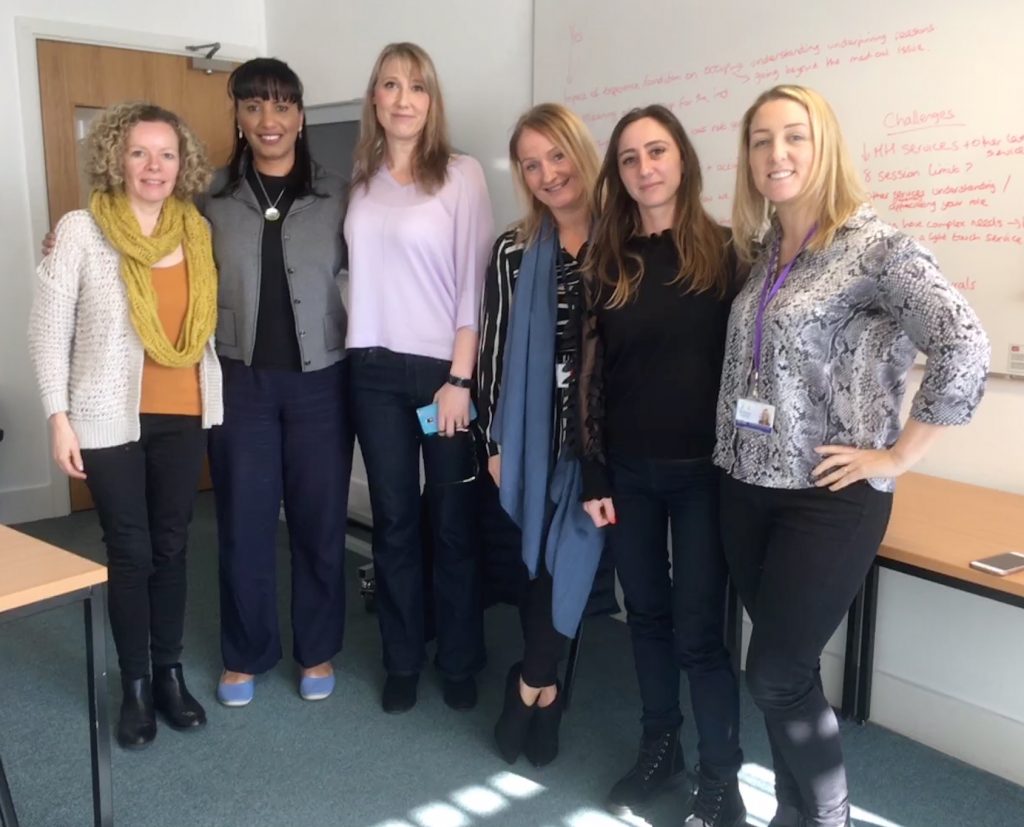 This evaluation of the Wellbeing Matters programme in Salford looked at the development of the social prescribing service in Salford with a key focus on the involvement of, and impact on, the voluntary sector, as part of Voluntary Community and Social Enterprise (VCSE)-led transformation in Salford. The Wellbeing Matters programme was coordinated by Salford CVS (Salford Community and Voluntary Services), and the evaluation was led by the University of Salford and undertaken collaboratively with Salford CVS and the six anchor organisations: The Big Life Group, START inspiring Minds, Unlimited Potential, Social adVentures, Inspiring Communities Together and Langworthy Cornerstone.
The project's overall long-term aims were twofold:
To help reduce demand on costly areas of health provision (hospitals, etc.)
To contribute to improving the health and wider wellbeing of Salford residents through use of person- and community-centred approaches, including the creation of an overarching social prescribing model for Salford.
The SP Hub team worked with Salford CVS's Wellbeing Matters Team to evaluate the work across the five anchor organisations and understand what the key enablers and challenges are from the perspectives of carers, beneficiaries, staff and commissioners.
Our data has been drawn from a range of sources including GPs, Community Connectors, Wellbeing Matters staff, Volunteer Development workers, and importantly, beneficiaries themselves. Collectively, this evidence has highlighted the beneficial impact that the Wellbeing Matters programme has had on enabling those most vulnerable in life to manage their own decisions and choices through non-medical approaches. The Wellbeing Matters programme has demonstrated significant positive benefits for the wider health and social care sector and communities.
Social Prescribing and Fuel Poverty in the Outer Hebrides
This project evaluated an initiative to tackle fuel poverty in the Outer Hebrides through social prescribing. The initiative represented a significant expansion of health services in the Outer Hebrides, requiring strategic and cross-sector development, with the involvement of a range of professionals (including GPs, community nurses) and organisations (e.g., fuel poverty, mental health, citizens advice).
Almost 200 people were given support through the project – including tangible improvements to housing energy efficiency (e.g., new boilers or insulation), advice on energy & tariffs, and debt reduction.
Key findings included:
GPs were positive about the project but often struggled to refer their patients for project support – partly due to time pressures. Widening the referral pathway to other healthcare professionals, e.g., community nurses, had a dramatic effect on referrals.
Home visits played a key role in diagnosing the need for home and energy support – partly due to the nature of housing on the islands, but also partly to do with stigma of needing help often experienced by islanders.
There were a variety of health benefits of the project, not only feeling happier and healthier in warmer homes, but also with reduced debt and increased social connection and mobility.
Read the final report here.
A research paper outlining the larger implications of this work, including a framework for how social prescribing can tackle the social determinants of health, is in publication.
State of the Sector Survey 2021
This research was commissioned by Salford CVS on behalf of the 10GM partnership (Action Together in Oldham, Rochdale and Tameside; Bolton CVS; Macc in Manchester; and Salford CVS; GMCVO; Bury VCFA (Voluntary Community & Faith Alliance)Centre for Social and Health Research at the University of Salford. The final report (below) forms part of a wider collection of reports which may be downloaded from www.10gm.org.uk. To describe growth patterns, trends and draw some comparisons, this survey is based on previous State of the Sector questions originally developed by Sheffield Hallam University (2013 and 2017).
Read the final GM and all other Locality reports here.
SPOT the difference: linking Social Prescribers and Occupational therapists across Greater Manchester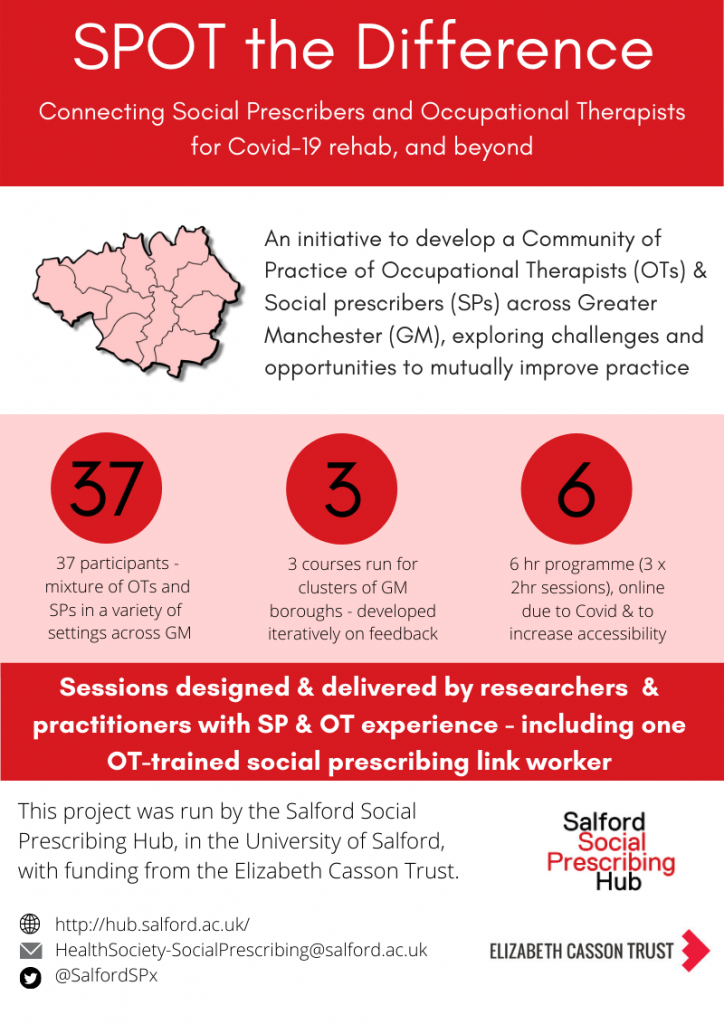 This project, situated in Greater Manchester (GM), and funded by the Elizabeth Casson Trust, aimed to create a community of practice of occupational therapists and social prescribers, so they better understand each other's roles, and can establish clear pathways to facilitate affective collaborative working around Covid-19 community rehabilitation.
The project included the design of a 6-hour real time community of practice programme, delivered in 3 x 2hour online sessions to meet Covid-19 restrictions and increase accessibility. The programme was delivered three times for specific GM regions, with up to 15 participants per delivery. An evaluation of the usefulness and acceptability of the programme was then conducted.
The Community of Practice Programme:
Focused on Greater Manchester Social prescribers and community occupational therapists due to its high incidence of Covid-19, and established links with community occupational therapists and social prescribers.
Was jointly delivered by an occupational therapist and a social prescriber.
Facilitated team working between local occupational therapists and social prescribers, enabling them to understand, value and maximise each other's contributions to Covid-19 rehabilitation.
Highlighted local referral pathways, including gaps, challenges and blocks, and enabled participants to develop problem solving action plans where these issues existed.
Served to provide proof of concept for potential wider adoption by occupational therapists and social prescribers around the UK.
See final project infographic here.
Garden Needs
In 2017, Dr Michelle Howarth was commissioned to undertake an evaluation of a mental health recovery programme which used therapeutic horticulture as a method to support people with mild to moderate mental health problems. Therapeutic Horticulture is a nature-based method which can be used to promote wellbeing for people with mental health problems. Typically, nature-based approaches include a range of green activities, such as gardening (Howarth et al 2016). It is believed that Therapeutic Horticulture provides a person-centred approach that can reduce social isolation for people with mental health problems.
The aim of the project was to evaluate the impact and use of Therapeutic Horticulture within a Mental Health Recovery Programme (MHRP) on social inclusion and engagement for people with mild mental health problems.
The data indicated that participants were working towards self-reliance, furthermore, there was a positive impact on employment, social networks and self-esteem. The findings highlight that the MHRP enabled participant integration into the community through providing a space to grow confidence and re-engagement with society.
The results suggest that therapeutic horticulture can support people with mental health problems to socially re-engage. Nature based activities could be used within the 'social prescribing' movement to encourage partnership working between primary, secondary and voluntary sector organisations which can complement existing mental health services.
The use of a MHRP can support people with mental health problems to re-engage with the community and is integral in the rehabilitation process and should be promoted within the social prescribing movement as an evidence-based opportunity to support people in the community.
Partnerships
Partnerships are core to our work. We have engaged and developed partnerships with a large number of organisations, including:
Salford CVS (Community and Voluntary Services)
GMCVO (Greater Manchester Centre for Voluntary Organisation)
HEE (Health Education England)
Elemental
The University of Manchester
MMU (Manchester Metropolitan University)
John Moores University
University of Worcester
University of the West of England
Inspiring Communities Together
START in Salford
Unlimited Potential
RHS (Royal Horticultural Society)
Northern Roots
Social Farms & Gardens
Pennine Care Alliance
Foundation of Nursing Studies
Queens Nursing Institute
RCOT (Royal College of Occupational Therapists
The RCN (Royal College of Nursing)