We're hosting a conference!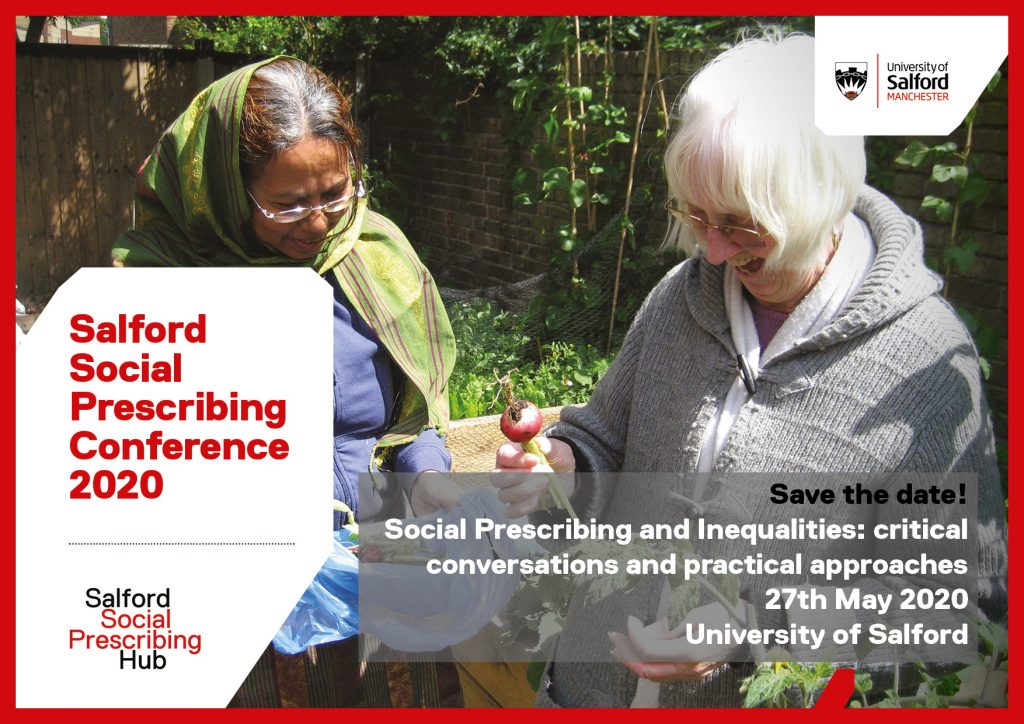 What? 'Social Prescribing and Inequalities: critical conversations and practical approaches'
When? 27th May 2020
Where? University of Salford
This conference will explore how social prescribing can help reduce health and social inequalities and how inequalities impact on social prescribing. It will provide an opportunity for academics, practitioners, commissioners and providers to share case studies including the likes of: loneliness, dental challenges, women and children, homelessness and mental health. The conference will help develop practical ideas and strategies which organisations can take away and implement within their own infrastructures.
Social prescribing is now firmly on the national agenda. From the government's commitment to support the development of social prescribing services in every Primary Care Network to combat loneliness (DCMS, 2018), to the NHS acknowledging the key role social prescribing offers within NHS England's Personalised Care agenda, it is clear that social prescribing is here to stay and will only continue to grow.
However, key challenges – as well as concerns – remain for practitioners and commissioners of social prescribing services. These challenges and concerns include:
Tackling inequalities – the UK is a highly unequal society – how can social prescribing address this? How can social prescribing make a genuine difference to those most in need? How can it be genuinely accessible to all?
Workforce development – how can we support link workers and the link worker career pathway, given that they hold such a crucial role in determining the success of social prescribing?
Voluntary sector & communities – the social fabric of the UK has been stretched, in many places to breaking point. Given that social prescribing depends on this social fabric, how can we ensure that communities and the organisations that support them, many of which are in the voluntary sector, are given proper resources to meet needs?
Links to book your place and find out more will be shared soon.
For now…. Save the date in your diary!