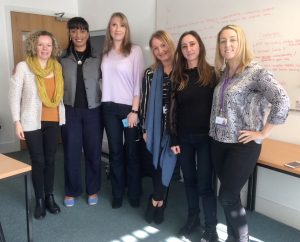 On 27th February, Salford's Community Connectors came to the University of Salford to learn about the Salford Social Prescribing Tool and explore how it could help them with their work.
The Community Connectors are part of the 'Wellbeing Matters' programme, coordinated by Salford CVS in partnership with five 'anchor' organisations, each of which is the base for one of the Community Connectors, each of whom covers a particular area of Salford. (More info on our evaluation work on the project on 'Our Projects' page.)
In order to give some insight into the tool and where it comes from, Sarah Bodell from the Hub gave an overview of Occupational Science – its history, focus and key concerns – and discussed its resonance with the Connectors' view of their work.
Sarah also outlined what we've gleaned from speaking to link workers, as well as surveying the literature on link working, before going onto discuss. Health Education England's Competency Framework for Care Navigators. This gave a good opportunity for the Connectors to talk about what they do and how they see their role. The Connectors are deeply passionate about the nurturing aspect of their work: it's not about 'doing things to the person', or 'getting the person to do things'; it's about empowering the person, and supporting them to do what they want to do.
We then took some time to examine the assessment tool we've developed, and to put it into practice through a rehearsal exercise (similar to role-play) – exploring what kinds of responses are elicited by particular questions, and how to use information gathered to build a holistic assessment and meaningful referral.
It was a great day overall, and we got some really useful feedback on the tool, which will enable us to improve it – which is our current phase of work on developing the tool.
We will be continuing the discussion with the Salford Community Connectors team about how they will be using the tool, which will then inform and shape whether and how our tool will be integrated within the Salford CVS Elemental platform (which would be another exciting development for us).
The Salford Community Connectors are a fantastic group of people, and we feel very privileged to be working with them.