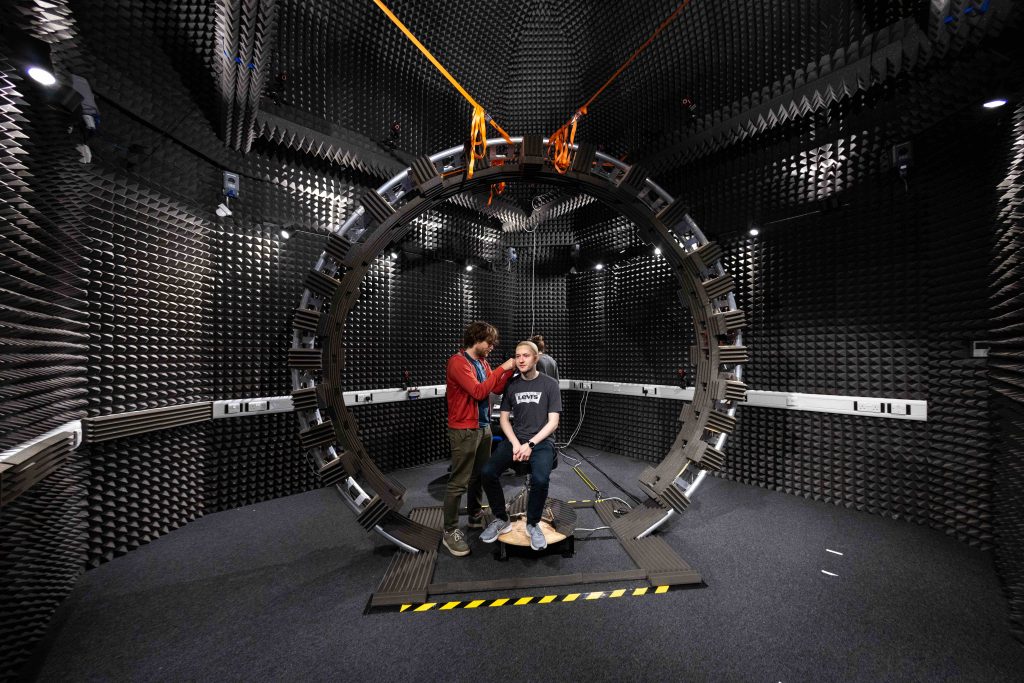 Wed 19th October 12:30 – 13:30. This event has past. You can watch it back here:
Dr. Lorenzo Picinali l.picinali@imperial.ac.uk
Abstract
Virtual Reality (VR) has the potential to provide dynamic and immersive audio-visual experiences which are at the same time very realistic and highly controllable. Several successful attempts have been made in the past to create and validate VR versions of standard audiological tests, as well as to design and prototype new assessment procedures and technologies in order to obtain more meaningful and ecologically-valid data. Similarly, work has been done looking at hearing training, therefore at improving perceptual skills in tasks such as speech understanding and sound sources localisation. Despite the potential of these approaches, several challenges are still open, and several others have not yet been tackled.
In this presentation we will be looking at recent advances in the areas of spatial acoustics and immersive audio, focussing specifically on challenges in the binaural spatialisation domain, such as HRTF personalisation and accommodation, which are most relevant when looking at VR. After an overview of the research and technologies, we'll move forward to the applications, in particular in the areas of hearing research and clinical hearing.
Biography
I am a Reader in Audio Experience Design and I lead the Audio Experience Design team at Imperial College London. Our research is currently focussed on spatial acoustics and immersive audio, looking both at perceptual and computational matters, as well as at real life applications. In the past years I have worked in Italy, France and UK on projects related with 3D binaural sound rendering, spatial hearing, interactive applications for visually impaired individuals, hearing aids technologies, audio and haptic interaction and, more in general, acoustical virtual and augmented reality.
https://www.linkedin.com/in/lorenzo-picinali-b7ba1340/