Wed 28th September 12:30 – 13:30. This seminar will be held on Teams and shown in Chapman Upper-Open Study Space 1.13, first floor, Chapman.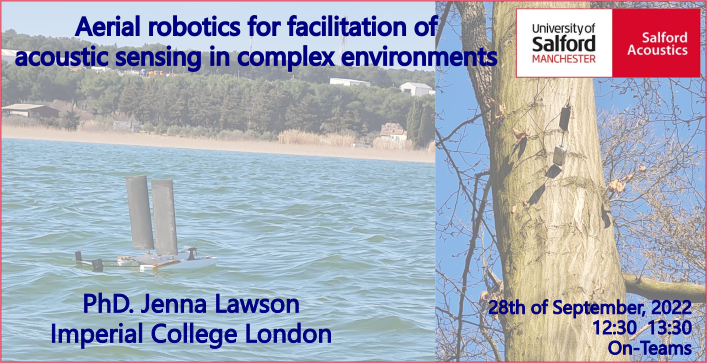 Dr. Lawson, Jenna Louise j.lawson17@imperial.ac.uk
Abstract
Monitoring and evaluating the response of biodiversity to anthropogenic change and evaluating the effectiveness of current strategies is essential for effective management and improved decision making. Yet despite decades of research, we still lack rapid and efficient methods to assess how species respond to habitat changes across human-modified landscapes and the knowledge to implement conservation strategies to protect them. The emerging field of passive acoustic monitoring (PAM) is helping biologists to collect data on vocal species at greater spatio-temporal scales, whilst reducing invasiveness and required person-power. Combined with powerful analysis methods such as soundscape analysis and species-based AI, bioacoustics is becoming a key method in the study of biodiversity and ecosystems. As an emerging method, there are still challenges to overcome, such as site accessibility, and integrating multiple technologies can prove even more effective for overcoming limitations of ecological data collection.
We show how, by combining passive acoustic monitoring with both aerial and aerial-aquatic robotics systems, we are able to improve site accessibility and the spatial scale of data collection in both freshwater and forested ecosystems in Croatia. Results highlight the inaccuracy of current PAM methods for studies in forested ecosystems owning to the significant difference in acoustic activity in the shrub and upper canopy layers. Additionally, we demonstrate the effects of human disturbance on freshwater environments in areas that were previously inaccessible.
Biography
Jenna Lawson holds a PhD in Bioacoustics, Landscape Ecology and Conservation at Imperial College London. Before doing the PhD. she spent 3 years working in the NGO sector. Dr Lawson currently works as a post doc in the Department of Aeronautics at Imperial looking at how robotics can be used to facilitate acoustic sensing. She has spent a lot of time overseas doing fieldwork, mainly in the tropics in Costa Rica but more recently in Croatia. Dr Lawson also does a lot of outreach work using acoustics to highlight the effects of anthropogenic change on ecosystems and has recently produced an audio-visual immersive experience with a local group of artists:
https://www.super-collider.com/blog/2020/7/23/biodiverse-earth