On Wed 24th Nov we have a presentation from two Salford alumni on use of Machine Learning within Professional Audio Products, such as their flagship Midas Heritage-D HD96 console (pictured below). Please come along to hear more about how they use this powerful technique. This seminar will be available on Teams and also face-to-face on campus in Peel 103. It will run 12:30 – 13:30 UK time. Click here to join the Teams meeting.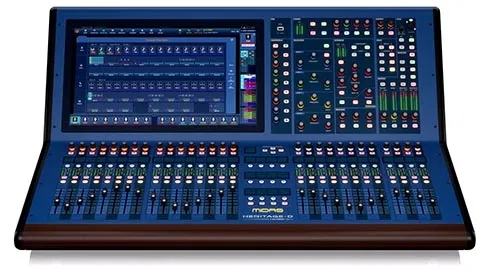 Adding Intelligence to Professional Audio Products
Paul Kendrick, Carlo Bolla – MUSIC Tribe
The AI team at MUSIC Tribe leverages machine learning to augment professional audio products with Audio Intelligence. Audio Intelligence is a collection of technologies aimed at creating products that make sense of sound like humans do and empower users to become more creative. Paul is a Research Artificial Intelligence Specialist in the AI team and will provide some perspective of his role and give an overview of some of the projects he is working on including musical instrument classification, musical onset detection and symbolic music generation. Carlo joined Music Tribe in 2018 as Research Artificial Intelligence Specialist in the AI team. His research focus is both on DSP/Psychoacoustics and human-machine interaction. In this presentation he is going to show how those disciplines can play an important role in the development of an intelligent audio system.