Assessment and Planning Tool
The Salford Social Prescribing Assessment and Planning Tool is a resource to support the social prescribing process and improve social prescribing outcomes, by helping link workers co-design a plan that is meaningful and useful to the person they are working with.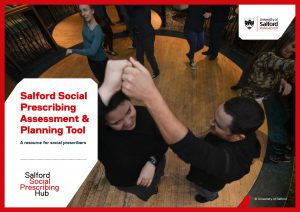 The tool has been developed by the Salford Social Prescribing Hub, based on the theory of Occupational Science. It is also rooted in good practice, having had input from social prescribing link workers, managers, commissioners, researchers, and many others.
The tool helps identify strategies and pathways to support people, including those with complex needs. To structure the social prescribing process, the tool contains the following resources:
Conversation framework
Process flowchart
Analysis framework
Action plan
In conjunction with the tool, the Salford team runs training for link workers to achieve improved and more person-centred outcomes. Together, the tool and training constitute a support package for link workers, to help improve both link workers' practice and the wellbeing of their clients.
Background – why was this tool developed?
Person-centred outcomes in social prescribing are usually largely related to how people feel about the activities that they have been referred to, and/or the impact they have had on them.[1] Tools such as WEMWBS are useful for capturing quantitative data about people's perception of the impact of the interventions on their overall wellbeing, however they don't offer an explanation of why these outcomes come about. In other words, they don't explain why people's feelings, health and wellbeing are affected (positively or negatively) by the activities in which they participate.
There is also a recognised need to understand and support the work of link workers, who play a pivotal role in social prescribing and the success of its outcomes.[2] Link workers have wellbeing conversations with the person to find out 'what matters to them'; however little is defined on how this is done in practice, and training and resources for link workers remain patchy.
Why Occupational Science?
Occupational Science, the theory underpinning Occupational Therapy, is the study of human participation in meaningful and purpose-led activities. It focuses on understanding the relationship between what people do, and how it makes them feel, for the benefit of improving the health and wellbeing of individuals and societies.[3]
Occupational science offers a theoretical conceptualisation of the relationship between doing, health and wellbeing, and an evidence base that may assist practitioners in maximising the therapeutic value of their work.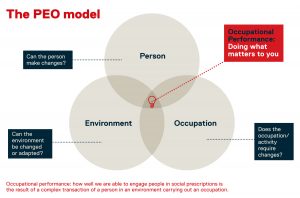 We draw on a number of Occupational Science frameworks, but a key framework is the relationship between Person, Environment and Occupation.[4] This holds that in order for a social prescription to be effective there must be a careful assessment of the person, the environment in which they function, and the prescribed activity. Only when those elements align will the benefit of the prescription be realised.
Taking an occupation-focused approach to social prescribing can both explain the 'why' of outcomes, and lead to increased consistency in the effectiveness of social prescribing. It can also help understand why people don't take up referrals – an area in need of further research. With social prescribing as a key component of NHS England's Universal Personalised Care strategy,[5] we believe Occupational Science can make a significant contribution to inform the theory and practice of social prescribing.
What are the benefits of the tool?
Link workers we have worked with have said that the tool has helped broaden and enrich their thinking about their role and practice and has helped "centre" them in the process.
The tool is now being offered through the Elemental social prescribing platform. Jennifer Neff, CEO and Co-founder of Elemental, says: "What the University of Salford have developed represents everything that effective social prescribing should be about, personalisation. When Link Workers are presented with patients with more complex needs, a tool like this can really enable them to co-create care plans that aren't just off the shelf, but suited to their needs of their patients at a time when they need it. The research that underpins the development of this tool also emphasises the importance of the role that Occupational Therapists play in social prescribing. We're delighted to now be able to offer this tool through our Core platform, and we can't wait to see how it develops."
The Wellbeing Matters team in Salford, who have had significant input into the tool's development, say: "We are really excited that this tool can now be added to our Elemental platform, which supports our entire process. The tool will help us to have consistency in our approach across all neighbourhoods in Salford and will be useful for building our future workforce."
How to access the tool and training
Together, the tool and training constitute a licensed package by the University of Salford. Costs are given below, and cover a one-year licence for use of the tool, and a full day (or equivalent) training on the underlying theory of the tool, and practical insight on how to use the tool and embed it into your practice.
Bespoke training & licence for single organisations (10-15 staff) Tailored training for 10-15 staff from a single organisation, plus licence for one year for each of these staff.
Face to face
£2,440 (+VAT)
Online
£2,300 (+VAT)
Open access training & licence for individuals or smaller organisations Training for individuals or smaller organisations (9 or fewer staff), plus licence for one year for each of these individuals/staff. Depending on numbers, sessions may be comprised of individuals from multiple organisations.
Face to face
£228 (+VAT) pp
Online
£215 (+VAT) pp
Contact us
If you're interested in finding out more about the tool and how to access the tool and training contact Cormac Lawler at: HealthSociety-SocialPrescribing@salford.ac.uk
References
[1] Polley M, Whiteside J, Pilkington K. (2018) What are the outcomes of social prescribing — a mixed methods approach? 1st International Social Prescribing Research Conference. University of Salford, 14th June 2018.
[2] Moffatt S., Steer M., Lawson S., Penn, L., O'Brien, N. (2017) Link Worker social prescribing to improve health and well-being for people with long-term conditions: qualitative study of service user perceptions. BMJ Open, 2017(7).
[3] Kielhofner, G. (2002) A Model of Human Occupation: Theory and Application (3rd ed.). Lippincott Williams & Wilkins.
[4] Law, M., Cooper, B., Strong, S., Stewart, D., Rigby, P., Letts, L. (1996) The Person-Environment-Occupational Model: A transactive approach to occupational performance. CJOT, 63(1), 9-23.
[5] NHS England (2019) Universal Personalised Care: Implementing the comprehensive model.