Events
We hold periodic events in order to share what we and the people we work with are doing, to share good practice, successes, challenges, and ideas. See below for some of the upcoming events that we and others are organising.
Social Prescribing & Inequalities Conference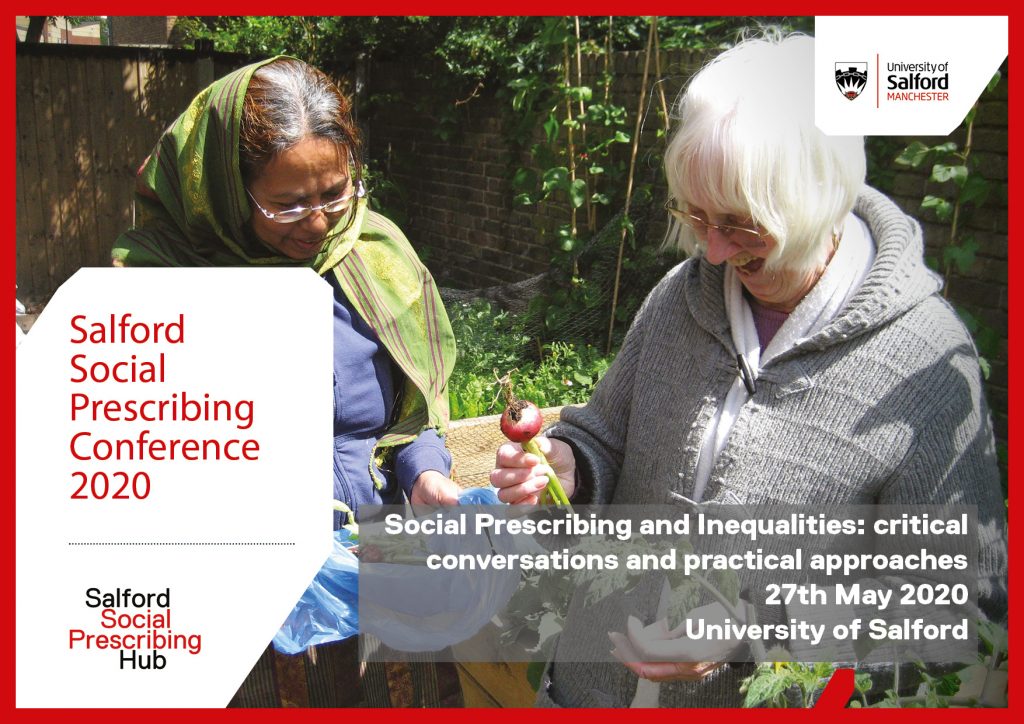 27th May 2020, University of Salford
Book here
This conference will explore innovative approaches that are being used and could be developed to help reduce health and social inequalities through social prescribing. The event will provide an opportunity for practitioners, commissioners, providers, community organisations and academics to share ideas, experience and practice on a range of issues including the likes of: loneliness, marginalised groups, women and children, homelessness, dental challenges, mental health and others. The conference will be a forum for creative and critical conversations to help develop practical ideas and approaches.
Key topics to be explored at the conference include:
tackling health and social problems and inequalities
funding sustainable social prescribing services and ecosystems
capturing and sharing the value of social prescribing
running and designing social prescribing services for maximum access and effect
Join us for 'Social Prescribing and inequalities: critical conversations and practical approaches', where people with a range of expertise and experience will share ideas, identify challenges, and explore innovative and practical approaches. We envisage a highly engaging and informative day, in which we invite all participants to help shape the social prescribing agenda and maximise its value for people and communities.
Book here
Celebrating Social Prescribing – sharing experience and practice
14th March 2019, 1-4 pm, Working Class Movement Library

14th March is International Social Prescribing Day! As part of this, we are holding this event to share our work in the Hub, and the great work being done around us in Salford and Greater Manchester.
Eventbrite (fully booked!)
An introduction to therapeutic horticulture
19th March, 7-9 pm, University of Salford
Linking with our partnership project with the RHS Garden Bridgewater, this talk by Damien Newman from Thrive will give an overview of therapeutic horticulture, its benefits for wellbeing, and how it can be used in a variety of settings.
Other social prescribing events
2nd International Social Prescribing Network Conference – Social Prescribing Network
11th-12th July, Marylebone campus, University of Westminster
Link worker success conference – National Association of Link Workers
8th July, City Hall, Queen's Walk, London