Robotics and intelligent automation for the food industry
Food automation researchers at the University of Salford undertake advanced scientific research to develop all aspects of the food chain production process and to address the key needs of process automation and robotics within the food industry. The main objective of this work is to provide the food industry with fully functional, low cost and customised robotic and automation solutions.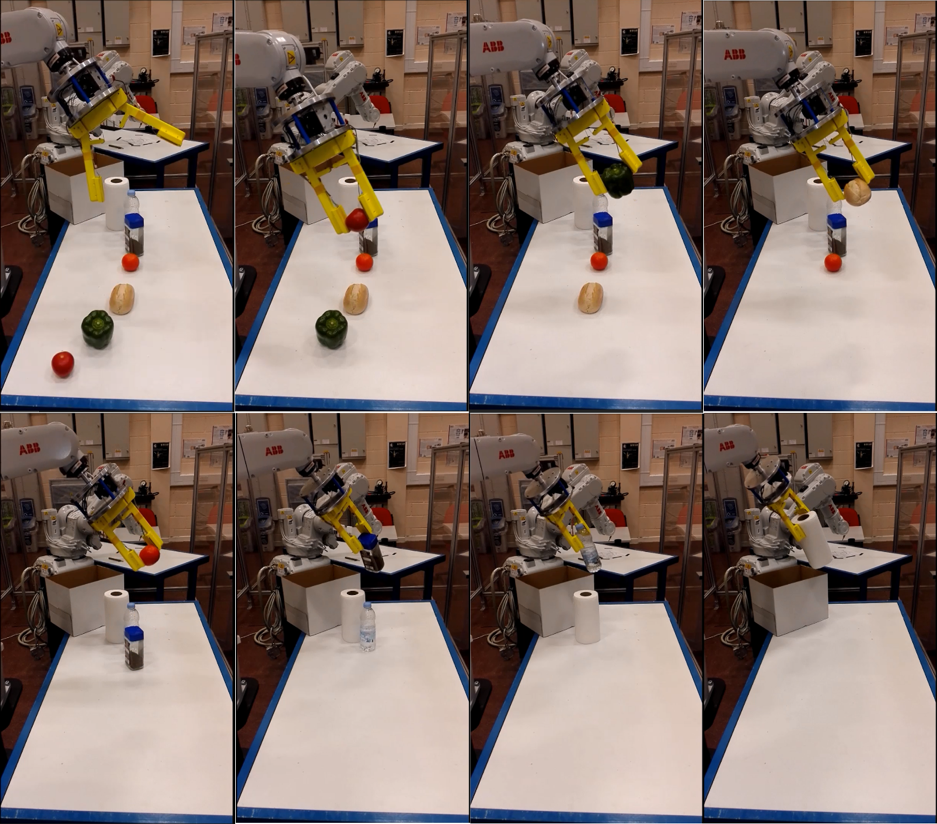 Our Work in the Area of Food Automation
The Autonomous Systems and Advanced Robotics Centre has worked with the food industry for almost 20 years. The first project undertaken with the food manufacturing sector was a Defra funded project 'Automated Sandwich Making' (October 2000 until June 2001). The then Ministry of Agriculture, Fisheries and Food (MAFF) identified a lack of links between the food industry and academics working in the fields of robotics and automation. As a result, Salford University was awarded the contract to host the EPSRC Network on Automated Food Assembly, which ran for 4 years and helped to link academics working on robotics with the food industry and food manufacturers.
The Centre was next awarded the EU European Regional Development Fund (ERDF) project on 'Automation for the Food Sector', which ran from 2003 until 2005. This project provided assistance to food manufacturing SMEs in the Northwest region to embrace automation. At the time, much of the region's food manufacturing was moving to Eastern Europe due to lower labour costs. The project assisted manufacturers to reduce costs and therefore be able to remain in the region, safeguarding jobs. During the project, the University supported approximately 50 food manufacturers ranging in size from as few as one or two employees to medium sized companies employing up to 250 members of staff.
The regional development agency Yorkshire Forward saw the work the University was undertaking with the food sector in the Northwest and wanted to replicate it within their region. They awarded the Centre a three year contract to establish the Centre for Food Robotics and Automation (CenFRA) in 2007 and the University remained central to delivering its services until CenFRA became an independent organisation in 2009. During this period, the University assisted 40-50 food manufacturers.
The University of Salford was also a partner in the EU Framework Programme 6 project 'Novel Processing Methods for the Production and Distribution of High-Quality and Safe Foods' (NOVELQ). This multimillion Euro project investigated all aspects of food processing and production and worked with more than 40 food manufactures, including large multinationals such as Coca-Cola, Unilever and Kraft Foods as well as many smaller businesses. The University of Salford delivered a range of innovative and hygienic grippers for handling food objects.
More recently, in 2013, the University of Salford was awarded the €4m Sustainable Manufacturing through Advanced Robotics Training in Europe (SMART-E) project. SMART-E brought together a team of world-renowned experts in the areas of advanced manufacturing, embodied intelligence, novel compliant actuators lightweight, human factors, soft and safer robotic structures using smart materials enabling higher performance, dexterity and agility.
Co-ordinated by Salford, the project team included academic institutions and industry partners from across Europe and included Marel and Agco GmbH. SMART-E produced cutting edge research and trained 15 future leaders (to PhD level) in robotics and advanced manufacturing and addressed challenges in the food sector.
The project advanced the state of the art in dexterous, soft and compliant robotics in manufacturing; reconfigurable and logistics robotics and safe human – robot interaction.

Industrial Projects
The Research Centre has developed numerous automated systems for the food industry on a commercial basis. Some examples include:
Automated Sandwich Assembly and Packaging
The pre-packed sandwich market is enormous, but the production of sandwiches is very labour intensive. This project included industrial partners, Gunstones Bakery, who manufacture sandwiches for Marks and Spencer, INBIS plc and the University.
The project involved the design, construction and testing of an automated system for the assembly and packaging of triangular sandwiches. The work analysed the current manual production techniques and developed a number of modular workstations, which could be incorporated into an existing line in place of human operators. The developed machine completes the final assembly of the sandwich and then cuts and packages it into a plastic skillet (container) for dispatch.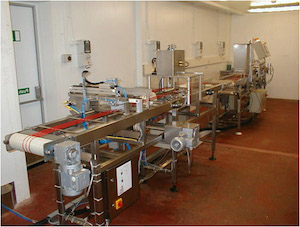 To test the overall performance of the system, real plant trials were conducted with the machine in a sandwich production factory.
Grippers and End-effectors
Due to their natural variation and the fact they deform whilst being handled, food products are notoriously difficult to handle automatically. The Research Centre has extensive experience of developing end effectors and grippers for grasping difficult-to-handle products.
Sliced Fruit and Vegetables
This project developed a gripper for the handling of delicate sliced fruit and vegetable products commonly found in the food industry. The device operates on the Bernoulli principle, whereby air flow over the surface of an object generates a lift. The gripper allows objects to be lifted with minimal contact thereby reducing the chances of damaging or contaminating the object. The gripper was demonstrated with slices of tomato, which are especially difficult to handle. A secondary benefit of the gripper is that it can also be used to remove surface moisture from the product produced during slicing. This drying effect is a feature particularly useful in some areas of food production. This system has been patented by the University.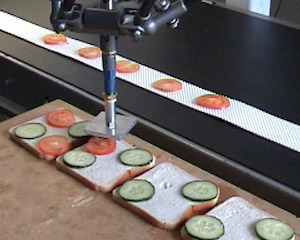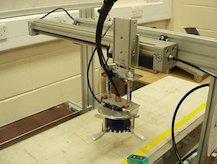 Fresh Lasagna
Due to the fact that they are coated in starch, fresh sheets of lasagna have proven particularly difficult to handle using automated systems. Instead, they tend to remain stuck to whatever is used to lift them. This novel gripper, inspired by a chef lifting pastry using a rolling pin, was developed by the University. The pasta sheet is picked up by rolling it around a metallic cylinder. When the direction of the cylinder's rotation is reversed, the pasta is unwound and any adhesion is broken.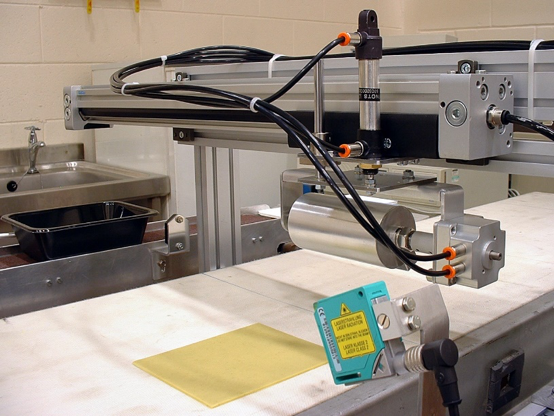 Multifunction Gripper
One of the issues faced by food manufacturers is that if they change their products regularly, and therefore may not have an end-effector suited to grasping that new product. This means that installing automation can be very expensive as many different grippers are needed. In this case humans are often used as the human hand is multipurpose and people can be re-tasked quickly and easily. The Centre has developed an intelligent multi-function gripper that replicates the abilities of the human hand. The gripper is able to grasp a broad range of food products without any prior knowledge of the object to be grasped or its exact location. The system has been patented by the University.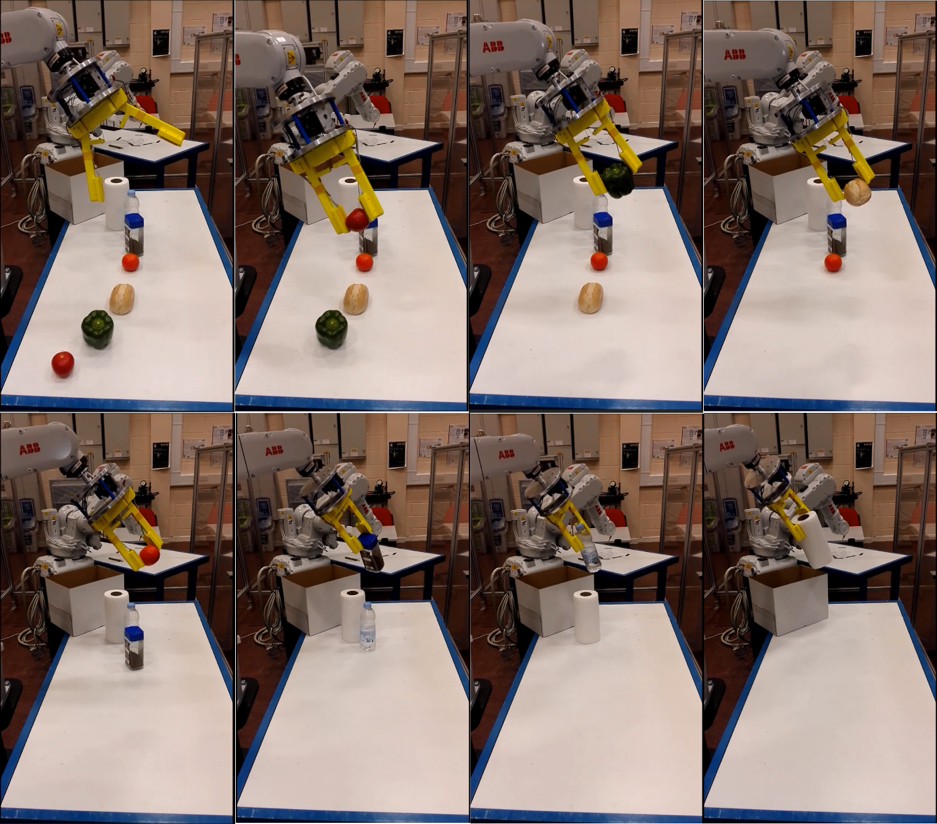 Novel Mechanisms
Often, established automation approaches are not suited to the food industry due to the nature of the products being handled. The University has an established track record of developing novel techniques and mechanism to address automation challenges within the food sector.
An example of this is a project, which considered automation in the preparation of Brussels sprouts. Within the processing of Brussels sprouts several tasks already have automated solutions but these require that the sprouts be fed to them in an exact and repeatable manner. To achieve this, feeding of the machines is performed manually. This work explored options for automating this product feed. A prototype machine was developed and tested using real products to align 30 sprouts per minute in the desired orientation. This was achieved by exploiting the unique way, in which a Brussels sprout rolls.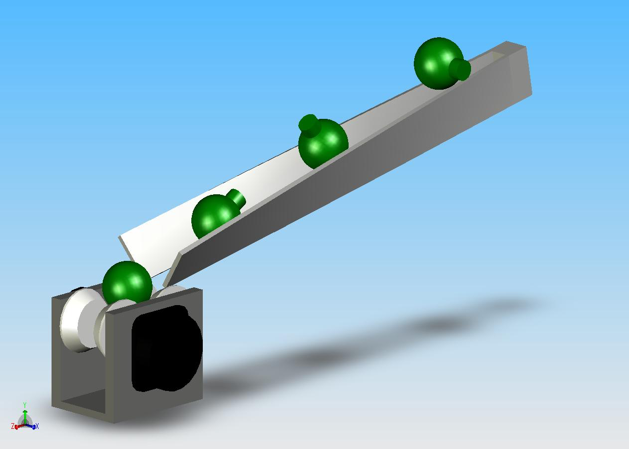 Low Cost Automated Machines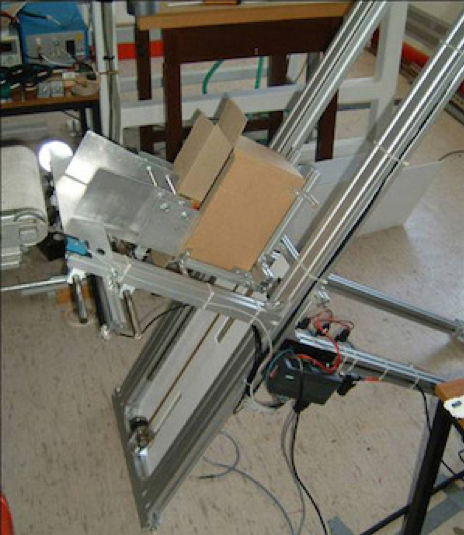 Traditional case packing machines tend to be expensive and often limited to a small range of products. Robots offer a much more flexible solution but these can too be an expensive and often low-speed solution. The Centre developed a low cost gravity-fed packing machine, which could be adjusted to place both boxed and bagged products into cardboard cases.
The Centre was also approached by a company who wanted to explore using robots to place the lids on strawberry punnets. Whilst this was demonstrated, the Research Centre showed that a low cost dedicated piece of automation could provide far superior performance at a fraction of the cost. A proof of concept demonstrator was able to achieve 100 punnets per minute, matching the speed of five human workers.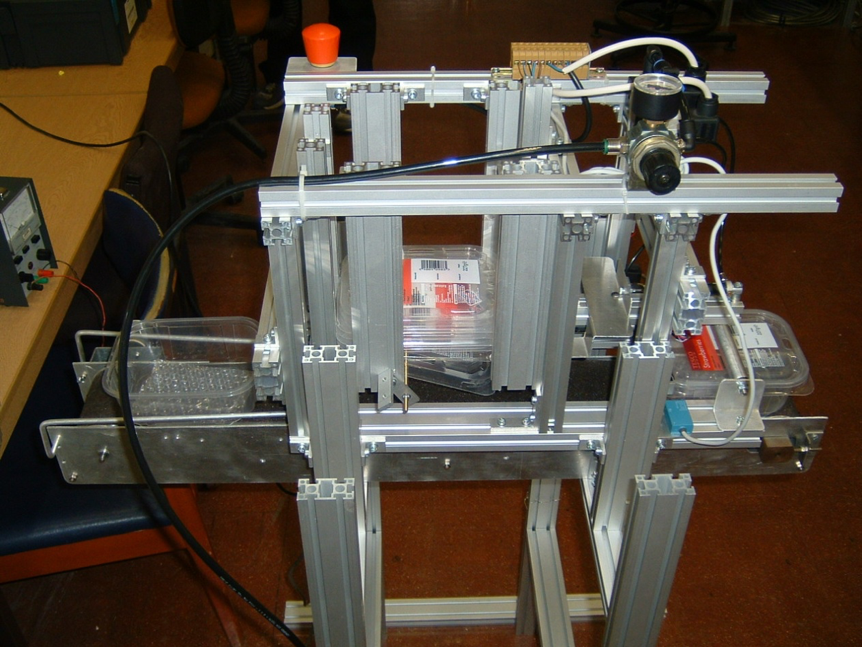 Publications
In addition to the direct assistance provided to food manufacturers, the Autonomous Systems and Advanced Robotics Research Centre has also undertaken significant fundamental research in the area of automation for the food industry. The Centre had several patents and has published extensively in high impact academic journals on novel automation and grippers for the food industry, safe human-robot interaction and predictive maintenance for food manufacturing production lines.
Selected publications
End Effector Development for Automated Sandwich Assembly. Journal of the Institute of Measurement and Control, Vol 40, No 7, 2007.
Automation in Food Processing. Chapter 60. Springer Handbook of Automation. 2009.
Automation for Value Added Prepared Vegetables – The Brussels Sprout. Journal Trends in Food Science and Technology. Vol. 21, No.3, March 2010.
A Bernoulli principle gripper for handling of planar and 3D (food) products. Industrial Robot: An International Journal, Vol. 37 Issue: 6. 2010.
Design of a magnetorheological robot gripper for handling of delicate food products with varying shapes. Journal of Food Engineering, Vol 98, Issue 3. June 2010.
A new design approach of robotic gripper for reducing operating cost for handling food product. 2010 IEEE 9th International Conference on Cybernetic Intelligent Systems. Sept. 2010.
A hygienically designed force gripper for flexible handling of variable and easily damaged natural food products. Journal Innovative Food Science and Emerging Technologies. Vol. 12, No 3. July 2011.
Robotics in the food industry: an introduction. Robotics and automation in the food industry: Current and future technologies. Woodhead Publishing Series in Food Science, Technology and Nutrition. 2012
High-Performing Adaptive Grasp for a Robotic Gripper Using STSMC. International Conference on Robotics and Automation. Singapore, May 2017.